Lobster Mushroom Maki Rolls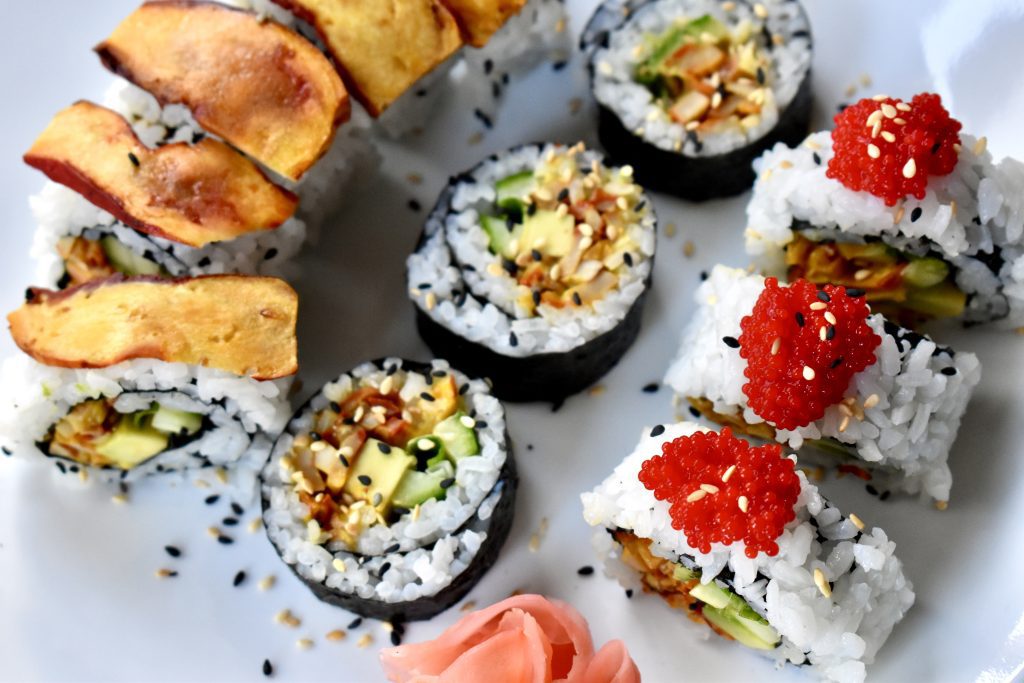 These lobster mushroom maki rolls are a fun way to make sushi out of wild mushrooms. Roll them in the regular fashion, or inside out!
For smaller maki rolls, cut the nori seaweed sheets in half and use less fillings. 
Prep Time

1 hr 10 min

Cook Time

20 min

Total Time

1 hr 30 min

Yield

6 whole rolls, 36-42 pieces
Cuisine

Course

Cooking Method

Suitable for Diet

Special Equipment
Ingredients
For the Rice
2 cups raw sushi rice
1 teaspoon kosher salt
1/4 cup rice vinegar
1 tablespoon white sugar
For the Rolls
1lb cleaned lobster mushrooms
1 tablespoon neutral oil
1/2 teaspoon kosher salt
1 cucumber, seeded and cut into thin strips
1 avocado, pitted and sliced into batons
2 scallions, cut into long thin strips
2 tablespoons mayo
1/2 teaspoon sesame oil
1/2 teaspoon soy sauce
6-8 sushi seaweed sheets (nori)
To Serve
1 cup Japanese soy sauce
Pickled ginger
Wasabi
Black and white sesame seeds
Cured fish roe (optional)
Preparation
For the Sushi Rice
1
Rinse the rice thoroughly, then add it to a pot with 2.5 cups of water and a pinch of salt.
Bring it to a boil, stirring so the rice doesn't stick. Put a lid on the pot, reduce heat to low, and cook for 20 minutes.
Let rice stand for 10 minutes without taking off the lid.
Fluff with a fork, then add the vinegar and sugar, stirring it in well.
Let rice cool to room temp. 
For the Mushrooms
2
Slice the lobster mushrooms into thin planks. Set aside about 12 planks, then julienne the rest.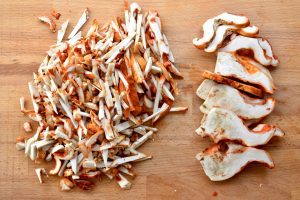 Add the oil to a skillet over medium heat. Add the julienned mushrooms and cook for about 8 minutes, stirring occasionally.
You don't want these to brown, just soften, so reduce heat if necessary.
Add the salt and cook for another 2 minutes.
Transfer to a bowl and let cool completely. 
Add the planks of mushroom to the pan and cook them for 8 minutes or so, flipping them once, being careful not to brown.
Set aside to cool.  
3
Mix the shredded mushroom with the mayo, sesame oil, and soy.
4
Check out this kimbap recipe for a pictorial on how to roll.
Lay out a sheet of seaweed paper, shiny side down, onto a bamboo rolling mat. 
Use a spoon dipped in water to gently spread out the rice so that it covers the sheet. 
On the edge closest to you, lay down a strip of scallions, avocado planks, cucumber strips, and then spoon the mushroom mixture in a line over top. 
Take the edge closest to you and roll it over the fillings. Continue to roll into a log, then gently press so that it seals. Lay the log seal-side-down while you complete the rest. 
When ready, slice into disks with a sharp knife dipped in water.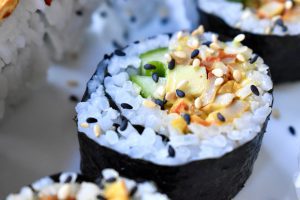 5
To do an inside-out roll, press the rice onto the nori sheet. 
Take a piece of plastic wrap and lay it over the rice. Carefully flip the roll over, so that the rice is now facing down with the plastic wrap in between the rice and the rolling mat. 
Lay down your fillings on the edge closest to you as described above. Roll it up into a log. 
Slice the log into disks, stand the disks up on end and drape a piece of the lobster mushroom plank on top of each. 
6
Serve with a bowl of soy sauce, a knob of wasabi, and a rose of pickled ginger. Sprinkle sesame seeds over the artfully arranged sushi rolls. Enjoy! 
Notice how I didn't have you scroll through pages of mundane nonsense to get to the recipe? Notice that there were no annoying pop-ups or ads? That was on purpose!
I want finding and using my recipes to be easy for you, not frustrating. That does translate into a lot of lost income for me though. If you made this recipe and loved it, would you consider "buying me a coffee" and donating a buck or two through the Buy Me a Coffee app? It will help me keep pumping out recipes like this one!