Venison Bulgogi Kimbap Rolls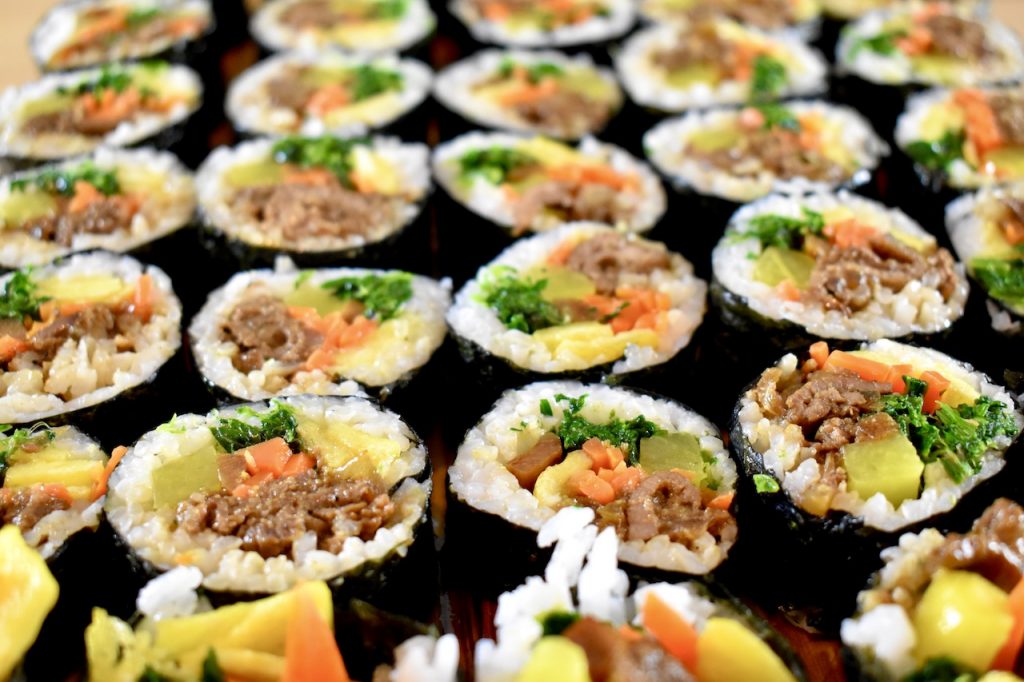 Kimbap (aka gimbap) are a Korean version of maki sushi, that often involve larger amounts of filling and cooked meat. 
I made mine with venison eye of round, though you could use beef as well. 
This is a labour of love. You'll need a lot of different ingredients, many from Asian or Korean grocery stores. You'll need to cook several things separately, and then combine them at the end. 
This will take time and effort, but the reward outweighs the cost! 
If you can't find certain ingredients for the kimbap, feel free to make due with what you have on hand, it will still be delicious! 
Prep Time

1 hr 30 min

Cook Time

20 min

Total Time

1 hr 50 min

Ready in

2 Hrs + 4Hrs Marinating Time

Yield

30-40 pieces

Serving Size

6-10 pcs
Cuisine

Course

Special Equipment

Difficulty

Somewhat difficult and time consuming. Lots of different parts.
Ingredients
For the Venison
12oz (340g) venison eye of round, loin, round, rump, or sirloin, partially frozen
1 Asian pear, or tart apple, peeled, cored, and chopped
1/4 cup (60ml) soy sauce
1 tablespoon (15ml) honey or maple syrup
2 tablespoons (30ml) mirin
1 tablespoon (15ml) sesame oil
1 tablespoon (15ml) water
2 tablespoons (15g) brown sugar
4 cloves garlic, chopped
1 small onion
1 teaspoon (2g) fresh ginger, minced
1/4 teaspoon (0.5g) black pepper
1 tablespoon (15ml) vegetable oil
For the Rice
2 cups (225g) white sushi/sticky rice 
2.5 cups (625ml) water
1 teaspoon (4g) kosher salt
2 tablespoons (30ml) rice wine vinegar
1 tablespoon (12g) white sugar
For the Kimbap
3 eggs
Pinch of kosher salt
Vegetable oil
2 carrots, peeled and julienned
6oz (175g) frozen spinach, thawed and squeezed dry
4 oz (120g) danmuji (Korean yellow pickled radish)***
4 oz (120g) ueong jorim (Korean burdock root, braised in soy sauce)***
Nori sheets (seaweed paper)
2 tablespoons (30ml) sesame oil
Preparation
For the Venison
1
This works best with a partially frozen cut of meat. I used venison eye of round. 
Slice meat as thinly as possible. 
Cut the onion in half and set aside one of the halves for later. 
Add everything but the meat, reserved onion half, and vegetable oil to a blender. Blend on high until completely smooth. 
Mix the liquid into the venison slices and massage them until every slice is covered. Marinate for at least 4 hours, or overnight. 
2
Slice the reserved onion half thinly. 
Add the oil to a cast iron or stainless steel pan over high heat. 
Add the half of the sliced onion and half of the saucy meat mixture in one flat layer. Cook for 2 minutes without stirring, forming a bit of a char and crust on the meat. Flip everything over and sear on the other side for another minute or so. 
Transfer to a bowl, then repeat with the other half of the onion and meat. Set aside while you complete the rest of the recipe. 
For the Rice
3
Rinse rice under cold water until it runs mostly clear. 
Add the rice, water, and salt to a pot with a tight fitting lid. 
Bring to a boil, stirring every so often so the rice doesn't stick. 
Once it comes to a boil, cover with a lid and reduce heat to low. Cook for 15 minutes. 
Take off of heat. Without opening the lid, let the pot sit off the heat for another 10 minutes, then open it up and fluff the rice with a fork. 
In a small bowl, stir together the vinegar and sugar until the sugar is dissolved. Add the liquid to the rice and stir it in.
Let the rice cool as you prepare the other items. 
For the Omelette
4
Whip the eggs with a small pinch of salt in a bowl until well-beaten. 
Add a touch of oil to a non-stick pan over medium heat and pour the eggs in. Swirl the pan so the egg covers the bottom evenly. 
Cook until set, carefully flip it over, and cook for 30 seconds. 
Transfer to a cutting board and cut into strips. Set aside for the time being. 
For the Carrots
5
Add another touch of oil to the non-stick pan over medium heat. 
Add the julienned carrots and cook for about 3 minutes, or until they're softened. Set aside. 
For the Rolls
6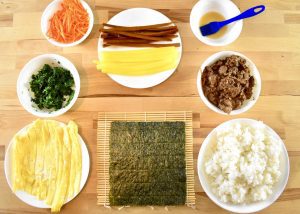 Set up a work station, placing everything you need around your bamboo rolling mat. 
Pour the sesame oil into a small bowl and have a brush on hand. 
Place a full nori (seaweed) sheet, shiny side down onto the rolling mat. 
7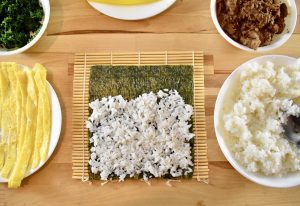 Using a spoon dipped in cold water, gently spread the rice onto 2/3rds of the nori sheet in a layer 1-2 rice kernels thick. 
8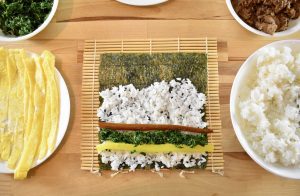 Add the yellow radish, burdock, and spinach on the side closest to you. 
9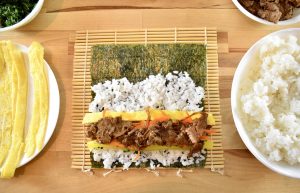 Add a strip of omelette, a sprinkling of carrots, and a layer of venison bulgogi. 
10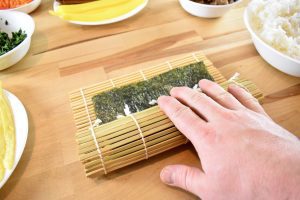 Start rolling it up, using the rolling mat to help bring the initial edge over and tuck it into the other side of the toppings.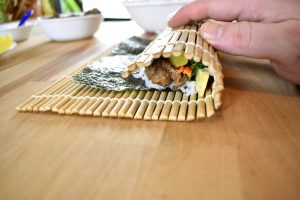 Be sure to pull the edge of the rolling mat back, so you don't roll it up into the kimbap.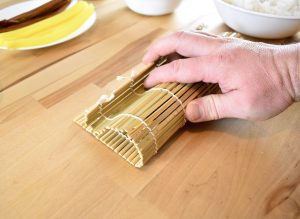 Keep rolling until the kimbap has become a cylinder and the rolling mat can be wrapped entirely around it.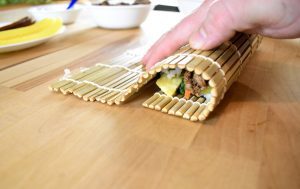 When you've finished, gently squeeze the wrapped kimbap, making sure everything is tight and solid.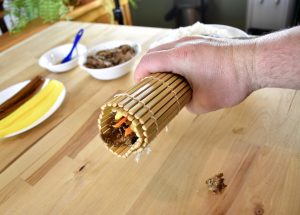 11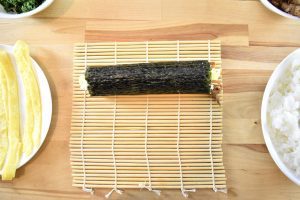 Now unroll the mat and you should have a solidly rolled tube with ingredients poking out of the ends. If the edge of the nori didn't seal, dab on a little bit of sesame oil to close it.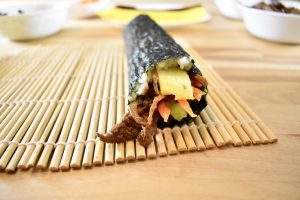 12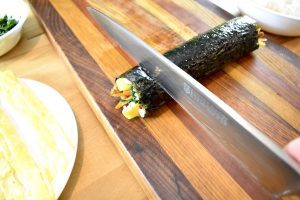 Transfer kimbap roll to a cutting board. Slice the roll into 1 inch (2cm) pieces using a very sharp knife.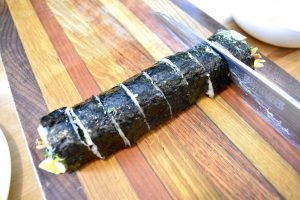 If the knife is sticking, run it under cold water.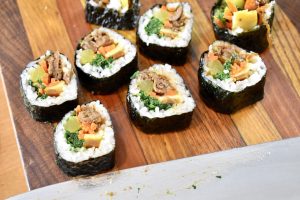 You can either save the ends to serve with the kimbap, or you can eat them as a snack while you're preparing them. 
Now repeat this process until you run out of ingredients to roll up. Probably 6-9 rolls. 
13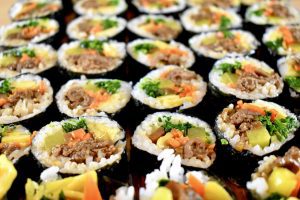 Arrange on a serving platter and brush the tops of the pieces with sesame oil.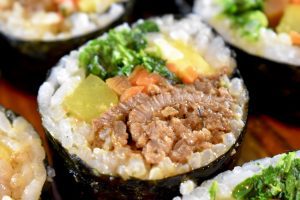 Serve as soon as possible, along with some kimchi and other ban chan (Korean side dishes) if desired. Enjoy!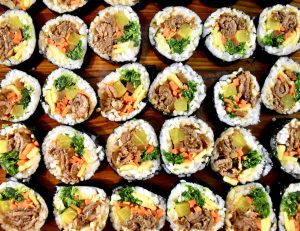 *** These are available in Korean and many pan-Asian grocery stores, often sold together for making Kimbap. If you can't find them, you can omit them from the recipe.