Wild Turkey and Nettle Brothy Beans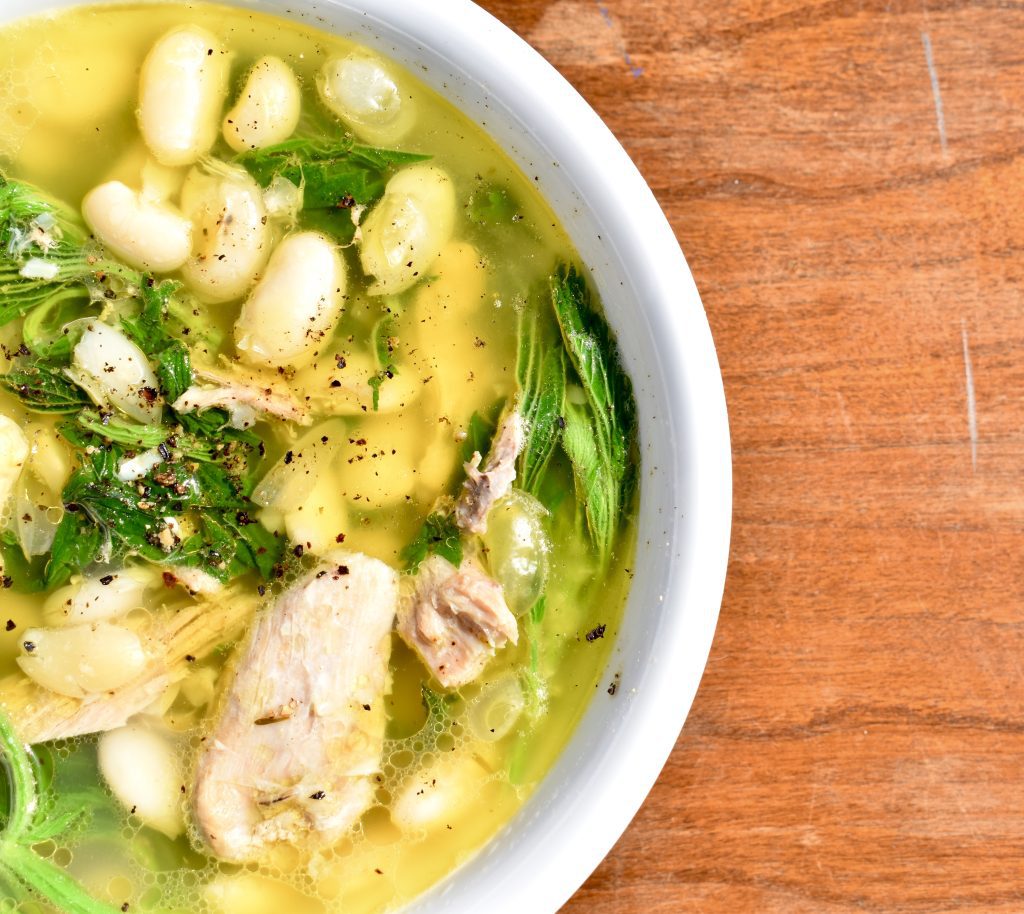 This wild turkey and nettle brothy beans dish is an excellent way to enjoy wild spring-time delicacies in one hearty and delicious dish!
You can replace the wild turkey wings with store bought turkey and the nettles with spinach if you don't have access to the wild ingredients. 
If using canned beans (not ideal) add them in with the nettles at the end of the recipe. 
Prep Time

30 min

Cook Time

5 hr

Total Time

5 hr 30 min

Yield

4 large servings
Cuisine

Course

Cooking Method
Ingredients
1.5 cups dry white navy beans
2 full turkey wings, OR 1 large leg drumstick
Kosher salt
1 onion
6 cloves garlic
1 teaspoon (3g) dried thyme
7-10oz (200-300g) stinging nettle tips 
1 teaspoon (2g) black pepper
1 tablespoon (15ml) white wine OR cider vinegar
Good quality extra virgin olive oil
Preparation
1
Add the beans to a large bowl and cover with water. 
Let soak overnight. 
2
Add the turkey wings to a large pot and cover with water. Add a pinch of salt, the whole onion, and 3 whole cloves of garlic. 
Bring to a boil, then reduce to a low simmer. 
Simmer for 3-4 hours, or until meat is tender enough to pull from the bone. 
Take the meat off of the bones, shred, then add back to the broth. Remove the onion and garlic. 
3
Add the soaked beans to the broth, along with 3 cloves of chopped garlic and the thyme. 
Simmer for 1 hour, or until beans are tender. 
4
Bring a separate pot of water to the boil. Add the nettles in batches and cook for 1 minute. 
Wring the water out, then add them to the beans along with the pepper and vinegar. 
Cook for 5 more minutes. 
5
Taste for seasoning and add more salt if necessary. 
Transfer the brothy beans into bowls and top with a good glug of olive oil before serving. Enjoy!
Notice how I didn't have you scroll through pages of mundane nonsense to get to the recipe? Notice that there were no annoying pop-ups or ads? That was on purpose!
I want finding and using my recipes to be easy for you, not frustrating. That does translate into a lot of lost income for me though. If you made this recipe and loved it, would you consider "buying me a coffee" and donating a buck or two through the Buy Me a Coffee app? It will help me keep pumping out recipes like this one!