Egg Salad on Rye with Chervil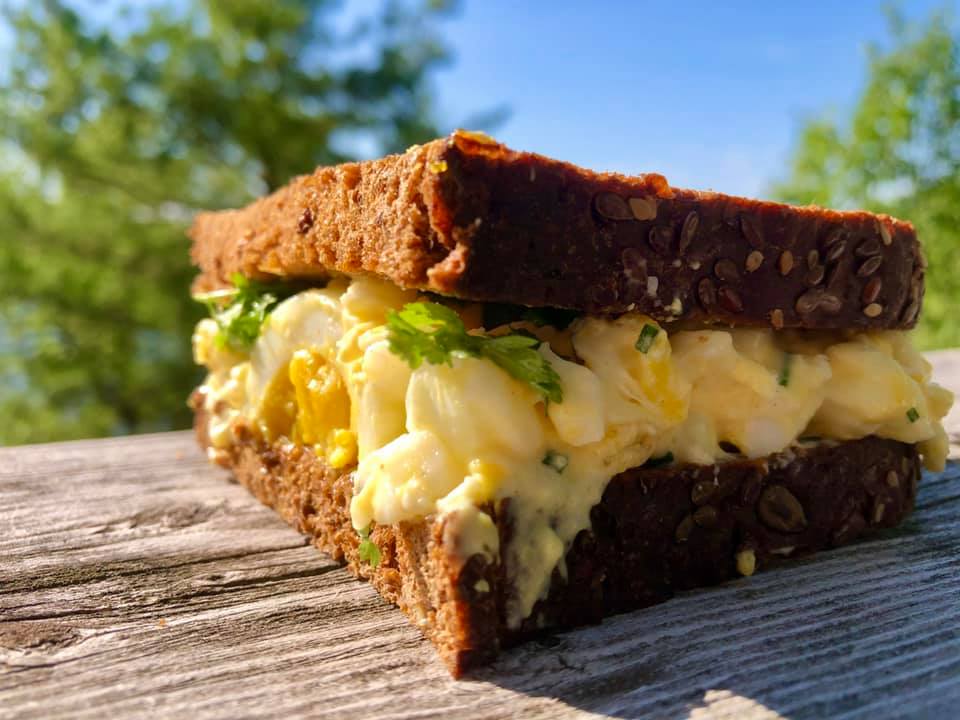 This egg salad sandwich is exactly what you need for lunch! The whole egg in the centre in completely optional but makes for such a beautiful presentation, it is well worth the extra effort. 
Chervil is an herb with a subtle anise flavour often associated with eggs in western Europe. It can be hard to find on this side of the Atlantic, but cilantro, dill, or fennel fronds can be used to replace it. It is very easy to grow, so add some seeds to your herb garden so you'll always have some on hand!
Prep Time

17 min

Cook Time

8 min

Total Time

25 min

Ready in

25 minutes

Yield

2 Sandwiches
Cuisine

Course

Cooking Method

Suitable for Diet
Ingredients
5 room temperature eggs*
4 slices dark caraway rye bread
1 tablespoon fresh chives, minced (optional)
2 tablespoons fresh chervil, roughly chopped
1/4 teaspoon white sugar
pinch of Kosher salt
2 tablespoons real mayonnaise* 
Preparation
For the Egg Salad
1
Bring a large pot of water to a boil. 
Gently lower eggs* into the water with a spoon. 
Boil eggs for exactly 8 minutes (set your timer for this!) then dump into sink and run cold water over them until they are cool to handle. 
2
Peel eggs by tapping the pointy end onto a hard surface and breaking the shell, then slipping fingers under the thin membrane attached to the actual egg, and peeling off the rest of the shell. Doing this under running water often helps. 
3
Take 3 of the 5 eggs and transfer them into a medium sized bowl. Using your hands (or a fork) squeeze each egg so pieces of it explode through your fingers, going back to squeeze any very large chunks that made their way through so they become small bite sized pieces. This method makes for a more interesting texture in the egg salad. 
4
Next, add the rest of the ingredients into a small bowl and whip together with a fork until everything is well combined. Add the sauce to the eggs and fold everything together until the eggs are well-dressed with the sauce. Taste and adjust seasoning if necessary. 
Sandwich Assembly
5
Take the two leftover eggs and cut the top third off of the pointed ends (you can add these tops to the egg salad). Slice each egg in half from top to bottom. 
Lay down two slices of bread. 
Place two egg halves face side down in the middle of 1 slice of bread, with the cut tops facing each other and almost touching. Repeat for the other slice of bread.
With a knife, make a nick in each side of the bread where the egg halves meet, so later you'll know exactly where to cut the sandwich in half. 
Pile the egg salad around and over the whole eggs on the slices of bread. 
Lay the top piece of bread beside the bottom piece and cut it in half, matching the spot where you nicked the bottom piece. This is so you don't squish everything when you cut the completed sandwich in half. Repeat for the other sandwich as well. 

Put the top pieces on, and cut down the centre where you made you nicks, slicing between the egg halves. You should now have a halved sandwich that matches the recipe photo.
Serve, and don't hesitate to brag a little bit about that ridiculously beautiful sandwich you just created!



*Room temperature eggs are less likely to crack when lowered into boiling water
*Japanese style Kewpie mayonnaise is excellent here if available, otherwise use Helmanns mayonnaise or homemade