Flounder Tacos with Jicama Mango Slaw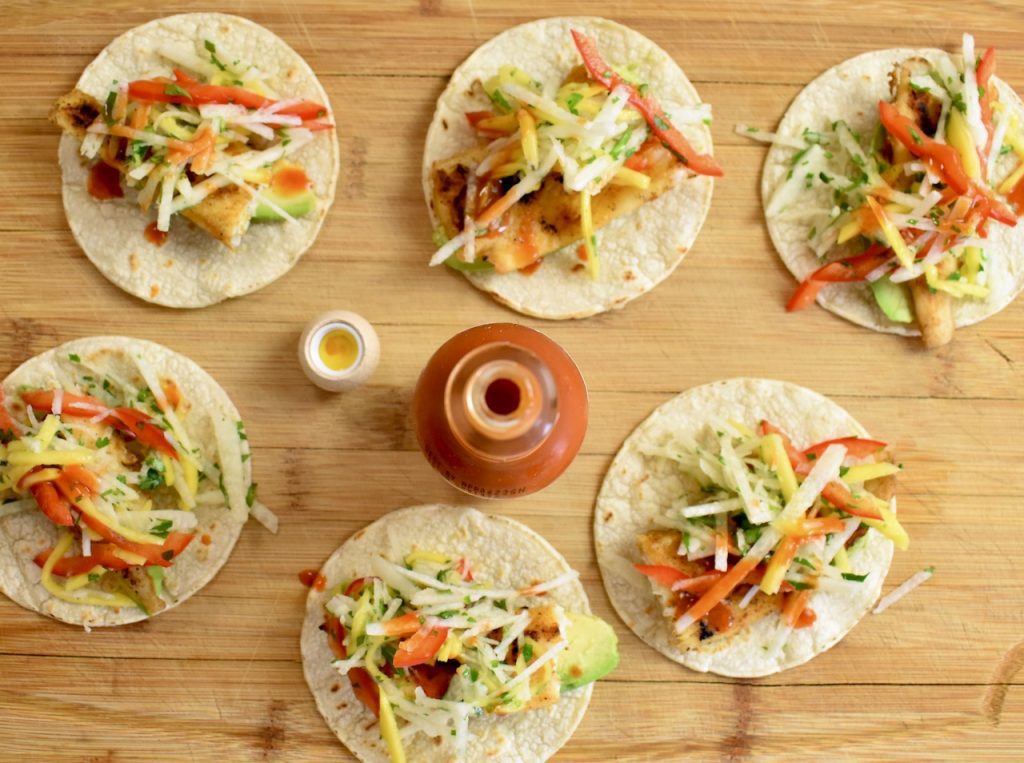 Flounder is a mild, slightly sweet tasting fish that goes really nicely in tacos. You could use halibut or tilapia if you can't get your hands on it. 
Jicama is available in many grocery stores these days. It's a tuber with thin brown skin and a crispy white interior that had a texture similar to Asian pear or water chestnut. You can eat it cooked, but I love it raw; it's so refreshingly crispy.
This recipe calls for half a jicama, try cubing the rest and dusting it with chili powder and lime juice and eating it as a snack.
I like using the very small street-style tortillas to make these tacos. Two or three bites and you're done!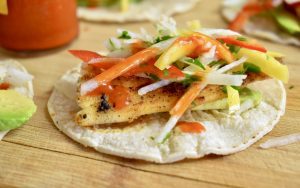 Prep Time

25 min

Cook Time

5 min

Total Time

30 min

Yield

4 servings

Serving Size

3 tacos
Ingredients
1/2 jicama, peeled and julienned (cut into thin matchsticks)
1/2 semi-ripe mango, peeled and julienned
1/2 red pepper, thinly sliced
1 serrano or jalapeño chili, seeded and minced
1/2 cup cilantro, chopped
Juice from 1 lime (2 if dry)
1 pinch kosher salt
4 flounder fillets
1/2 cup (60g) all purpose flour
1/2 teaspoon (2g) kosher salt
1/2 teaspoon (1g) pepper
1 teaspoon (2g) jerk spice blend (or Cajun, Creole, chili, curry, BBQ, etc.)
2 tablespoons (30ml) vegetable oil
1 avocado, peeled and sliced
12 small (5") street-style corn tortillas
Mexican hot sauce to serve
Preparation
1
Mix together the jicama, mango, red pepper, chili, cilantro, lime juice, and a pinch of salt in a bowl and mix well. Set aside. 
2
Mix together the flour, salt, pepper, and spice blend on a plate. 
Pat the fish fillets dry with paper towels. Cut in half lengthwise along the "seam" or indentation. 
3
Heat up a dry skillet over medium high heat and toast all of the tortillas until lightly spotted with char marks. Set aside. 
Add the 2 tablespoons of oil to the skillet. 
Dip the pieces of fish in the flour, making sure they're entirely coated, then add them to the skillet. 
Fry for 45 seconds per side, or until crispy and flaking.
Cut each piece in half.
4
Add a slice of avocado to each tortilla. Add a piece of fish, and a big pinch of slaw. Top with hot sauce to serve. Enjoy!