Sudanese Rijla – Purslane, Lamb, and Lentil Stew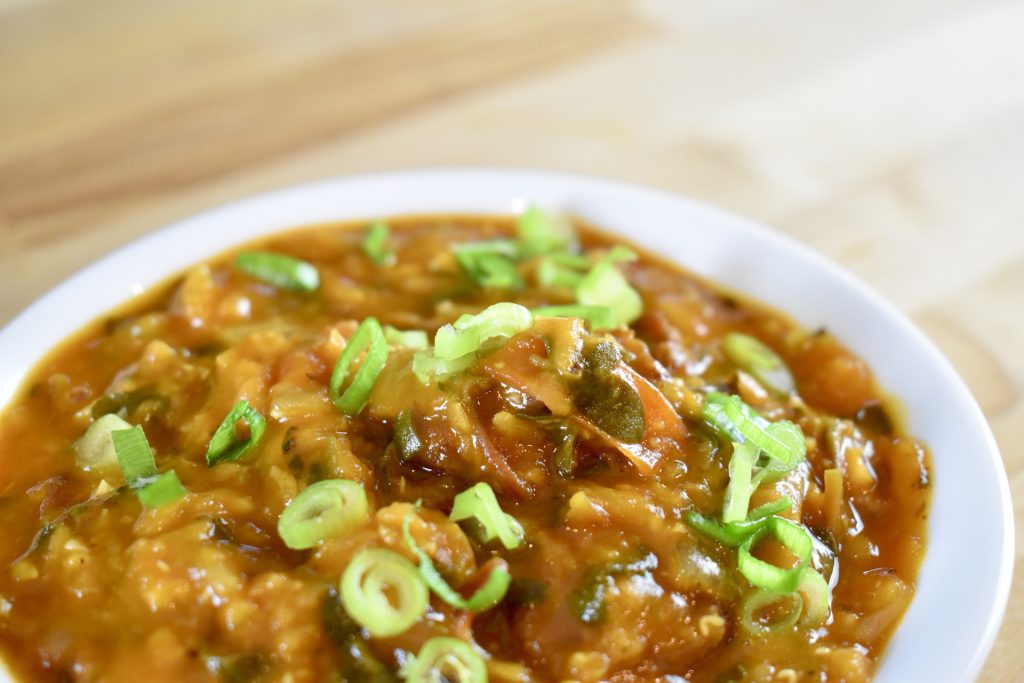 This delicious recipe hails from South Sudan where stews like this one are commonplace in the cuisine. The sour nature of purslane comes from the oxalic acid, a natural compound found in many plants (like sorrel, beet greens, chard, rhubarb, etc.). This subtle sourness plays well with the rich overtones of the stew and complements the lamb nicely. 
You can sometimes find purslane in the stores, but wild purslane can be found pretty much anywhere, even in sidewalk cracks (though you may want to avoid those plants due to contamination by dogs)! The best place to find it though is in gardens or on organic vegetable farms where they're considered weeds. You'll likely be able to find large specimens of the plant, and you can help a farmer get rid of their 'weeds' for them by taking them home!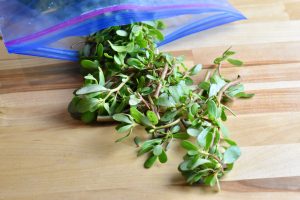 I made this recipe with the traditional lamb, but it would go great with venison as well. Use any tough cut with lots of connective tissue so it can cook down into delicious tenderness.
You could also make this without any meat at all, just add some nice mushroom or vegetable broth for a deeper flavour. 
Prep Time

15 min

Cook Time

1 hr 30 min

Total Time

1 hr 45 min

Yield

4 servings
Cuisine

Course

Cooking Method

Stewing
Simmering
Browning

Suitable for Diet

Vegetarian (if you remove the meat)
Ingredients
2 tablespoons (30ml) vegetable oil
1 lb (454g) boneless lamb or venison stewing meat (cut into bite-sized pieces)
2 onions, chopped
1 teaspoon (2g) ground coriander
1 teaspoon (2.5g) ground pepper
1 teaspoon (6g) kosher salt
2 large cloves garlic, chopped
2 tablespoons (30ml) tomato paste
2 tomatoes, chopped
1/2 cup (100g) dry red lentils
2 cups water or stock
5oz (150g) purslane, roughly chopped
Preparation
1
Heat the oil up over medium high heat in a Dutch oven or thick bottomed pot. 
Add the meat and cook until very brown on all sides, about 10 minutes or so. 
2
Add the onions, coriander, pepper, and salt and cook until the onions are nice and browned, about 10 more minutes. 
3
Add half of the garlic and the tomato paste and cook, stirring often for another 5 minutes or so, letting the tomato paste brown a little bit.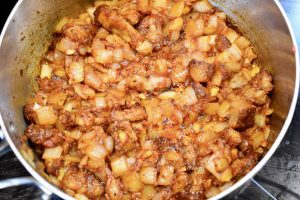 4
Add the chopped tomatoes, 2 cups of water, and the lentils. 
Bring to a boil, then reduce to a simmer and cover. 
Cook for about 40 minutes, opening up the pot and giving everything a stir every 10-15 minutes so nothing sticks to the bottom of the pot. 
5
After 40 minutes, add the purslane and the other half of the garlic and stir it in. 
Bring to a stronger simmer and cook uncovered for for another 20 minutes, stirring regularly. 
6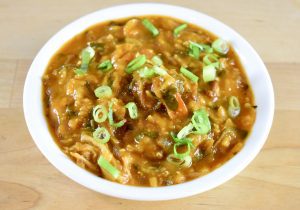 Serve on its own, or with rice, Sudanese lamb's quarters, and a refreshing glass of kerkede, or Sudanese hibiscus cold tea.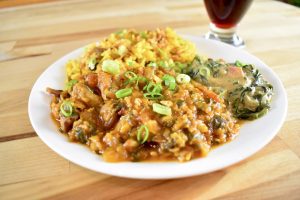 Enjoy!