Chicken, Chorizo, and White Bean Soup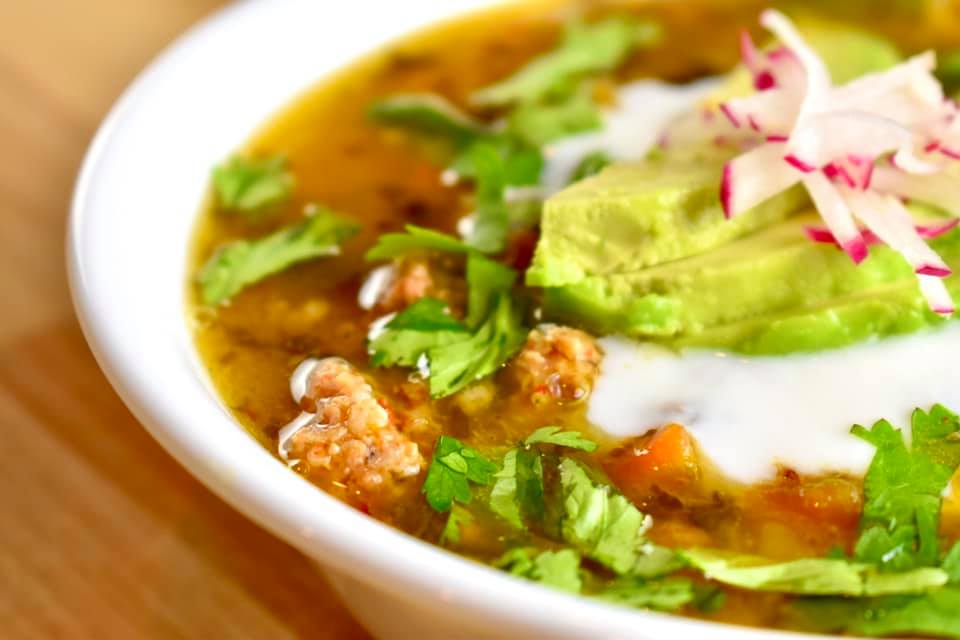 This easy soup can be made in the oven or in a slow cooker. The combination of chicken, sausage, and beans make for a hearty, warming dish that can be topped with cooling ingredients like sour cream, yogurt, or avocado, or can be left to shine on its own. Feel free to sub in Italian sausage if you can't find chorizo or like things a little milder. Make sure you soak your dried beans the night before unless they are quite fresh. If you want to use canned beans, add them in for the last hour of cooking.
Prep Time

10 min

Ready in

5 Hrs

Yield

4 servings + leftovers
Cuisine

Course

Cooking Method
Ingredients
1 cup dried white beans
1 chicken quarter (drumstick and thigh)
2 chorizo (or Italian) sausages*
1/2 tablespoon vegetable oil
3 ribs celery, chopped
2 large carrots, peeled and chopped
1 large onion, peeled and chopped
1 bunch of green kale, de-stemmed and chopped
3 cloves of garlic, peeled and chopped
5 cups (1250mL) chicken stock
1/4 cup sour cream or plain yogurt (optional)
1 avocado, peeled and sliced (optional)
2 radishes, cut into super thin matchsticks (optional)
Handful of fresh cilantro, chopped
Preparation
Night Before
1
Dump the beans into a large bowl and cover with several inches of water. Do this before you go to bed. 
The Next Day
2
This soup will take approximately 5 hours in the oven or all day on low in the slow cooker. 
Preheat oven to 225°F (110°C, gas mark 1/4).
3
In a large frying pan, add the oil and heat over medium-high. 
Add the chicken and the sausage and cook on all sides until well browned. 
Remove from pan, turn the heat to medium, then add all of the chopped vegetables. 
Cook for about 10 minutes, or until everything has become softened. 
4
If using whole sausages, cut them into thick coins.
Add all of the ingredients (including the soaked and drained beans) to an oven-proof casserole dish, Dutch oven, or the slow cooker and cover.
5
If using the oven method, put in oven for about 5 hours. Remove from oven and carefully remove chicken quarter. Take out the bones, shred the chicken, then stir it back into the soup. Taste for seasoning and add salt or pepper if needed. 
Do the same if using a slow cooker, after 5-8 hours. 
6
Ladle the soup into bowl and top with a dollop of yogurt or sour cream, sliced avocado, julienned radish, and a sprinkling of fresh cilantro. 
Enjoy!
*Or 1/2 lb loose chorizo sausage