Venison and Celtuce Stir Fry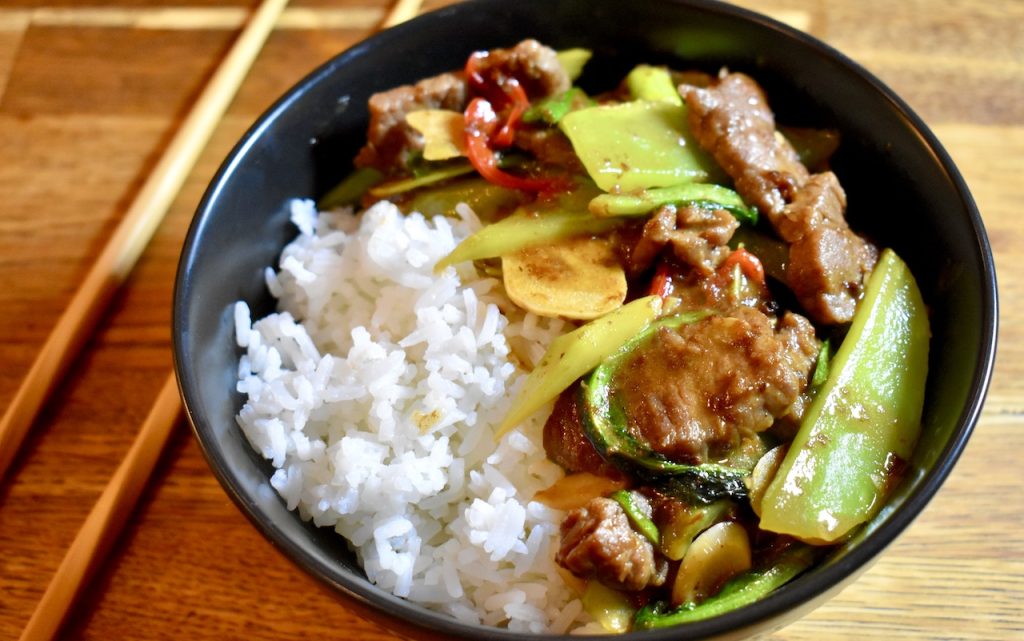 This venison and celtuce stir fry is made with celtuce (lettuce stem), a delicious Chinese vegetable, and venison. 
Celtuce can be found at most Asian grocery stores, but if you can't find it, feel free to replace it with celery, kohlrabi, chayote, or zucchini. 
You can also replace the venison with beef, pork, lamb, goose/duck breast, etc.
Prep Time

30 min

Cook Time

5 min

Total Time

35 min

Yield

4 servings
Ingredients
For the Stir Fry
1lb (454g) venison loin, sirloin, or round, sliced into flat strips
1 teaspoon (5g) baking soda
2 teaspoons (10ml) water
1 teaspoon (5ml) light soy sauce
1 teaspoon (5ml) Shaoxing wine OR cooking sherry (optional)
1 teaspoon (5g) cornstarch
2 tablespoons (30ml) oil or lard
1 large, OR 2 small celtuce (lettuce stem), peeled, halved, and sliced thinly
2 large cloves garlic, sliced thinly
1 red chili, sliced thinly
2 scallions, sliced thickly
Rice to serve
For the Sauce
1 teaspoon (5ml) light soy sauce
1/2 teaspoon (2.5ml) dark soy sauce
1 teaspoon (5ml) sesame oil
1 tablespoon (15ml) oyster sauce
1/4 cup (60ml) venison stock OR water
1 teaspoon (5g) cornstarch
Preparation
1
Mix the baking soda with the water in a bowl. Add the venison strips and toss to coat. Let marinate for 20 minutes. 
Now's a good time to start your rice and cut your vegetables.
2
Make the sauce by adding all of the sauce ingredients to a bowl and mixing well, set aside. 
3
Rinse off the venison in cold running water so there's no baking soda left on it. 
Add the soy, wine, and cornstarch to the bowl and toss in well, so that the venison is coated. Let marinate for 10 minutes. 
4
Add the lard or oil to a wok or large skillet over high heat. 
Have all of your ingredients nearby and ready to go. 
Add the sliced garlic to the oil and stir fry for 30-45 seconds. Transfer the garlic to the bowl of sauce, leaving behind the oil. 
Add the meat and stir fry for 2 minutes. 
Add the celtuce, chilies, and scallions, stir fry for 30 seconds. 
Give the sauce a quick stir, then add it to the wok, reducing the heat to medium high. 
Cook until sauce thickens, then remove from heat. 
5
Serve the stir fry over rice. Enjoy!