Sudanese Lamb's Quarters with Peanut Butter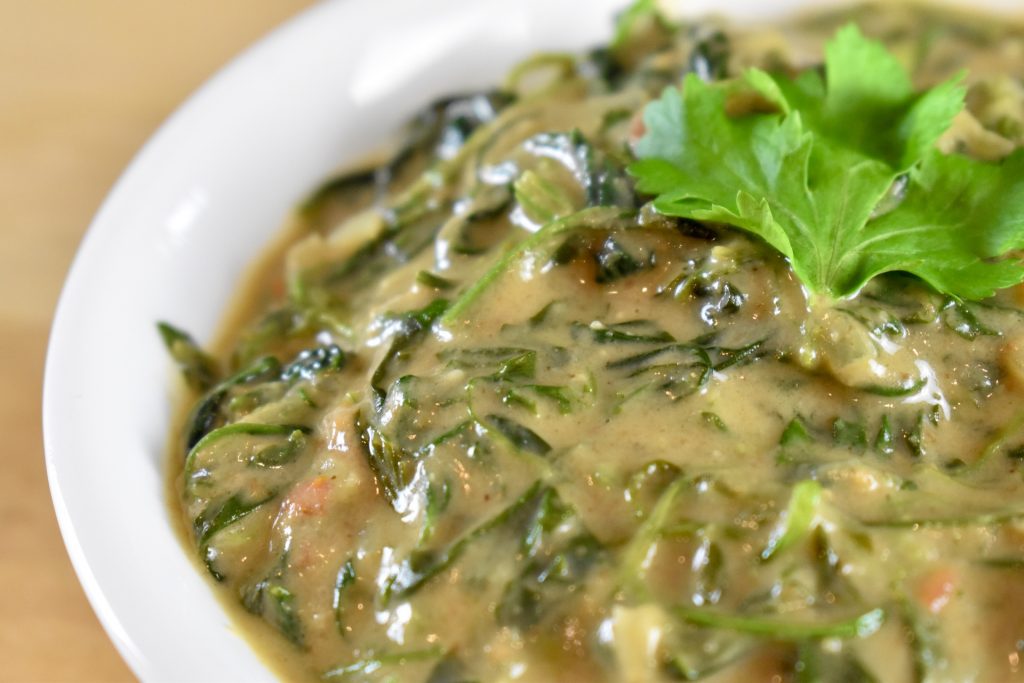 This is a fast and simple way to cook up a delicious mess of greens! 
I used lamb's quarters which I "weeded" out of garden beds at a local farm (this is an excellent way to get large amounts of lamb's quarters, galinsoga, purslane, nettle, or milkweed if you're looking to harvest any of those plants for free… you get to help out a farmer too!), but you could use any tender green, like spinach, spring dandelion, chard, etc. 
This way of doing it is the South Sudanese method, though many other countries in west, central, and east Africa have similar dishes. I use unsweetened natural peanut butter, since the regular stuff will result in an overly sweet end-product. 
Eat it on its own, or serve as a side with a protein and rice. The recipe can easily be doubled if need be. 
Prep Time

10 min

Cook Time

10 min

Total Time

20 min

Yield

4 servings as a side
Cuisine

Course

Cooking Method
Ingredients
2 shallots (or 1/2 an onion), sliced 
1 cup (250ml) water
5 oz (150g) lamb's quarters, leaves and tops (tough stems removed)
1 small tomato, chopped
3 tablespoons (45ml) natural, unsweetened peanut butter
Preparation
1
Add the shallots and water to a medium-sized pot. 
Bring to a simmer and cook the onions for about 5 minutes. 
2
Add the lamb's quarters to the pot, stir them in, and simmer for about 1 minute. 
3
Add the chopped tomatoes and the peanut butter and stir well to incorporate the peanut butter into the cooking liquid. 
Keep simmering for another couple of minutes, or until the liquid reduces into a thicker, clinging sauce, anywhere from 2-5 minutes, depending on your brand of peanut butter. Stir often so the sauce doesn't stick to the bottom of the pot.
Add salt to taste (it probably just needs a pinch), then serve. 
4
Garnish with crushed peanuts, sliced chilies, or cilantro and serve on its own or with rice, kisra (flatbread), or pap, and a protein. Enjoy!