Baked Mushroom Rice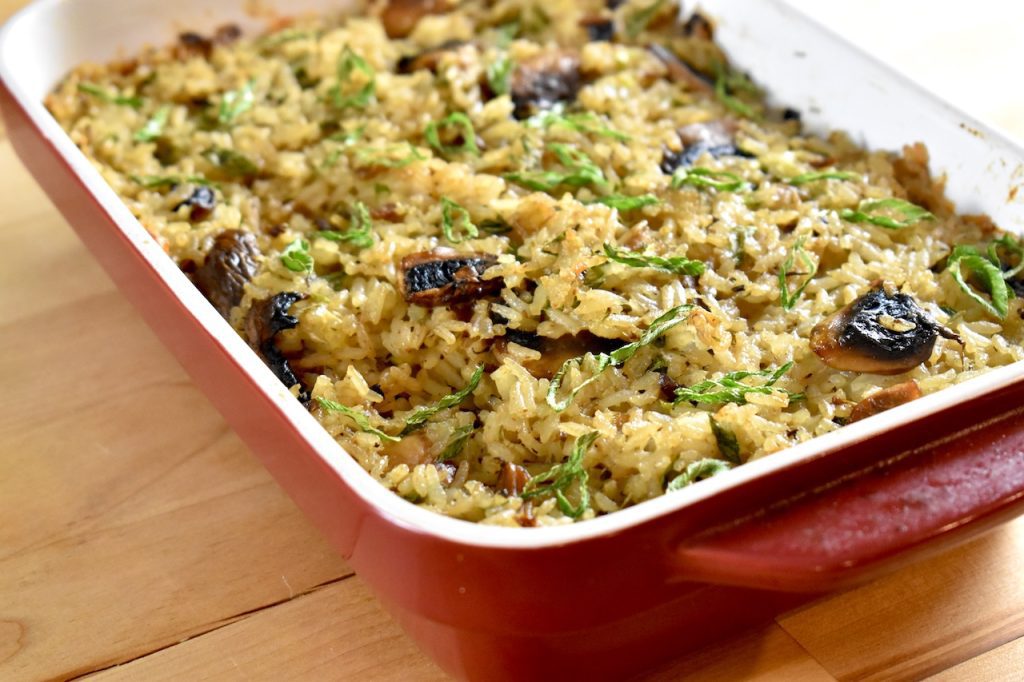 This baked mushroom rice is an easy and delicious side dish that can be made with pretty much any wild or store bought mushroom.
I made mine with store bought white button mushrooms, an ingredient I don't use too often, but had a hankering for. 
Prep Time

30 min

Cook Time

45 min

Total Time

1 hr 15 min

Yield

4 servings as a side, or 2 as a meal
Cuisine

Course

Cooking Method

Suitable for Diet
Ingredients
1 cup (200g) long grain white rice
2 cups (500ml) chicken or vegetable stock
1 teaspoon (1g) dried thyme leaves
Kosher salt
2 tablespoons (28g) butter
1 large onion, sliced
8oz (250g) mushrooms, sliced
2 cloves garlic, minced
1/2 teaspoon (1g) black pepper
1 teaspoon (3g) mushroom powder (optional)
1/2 cup (125ml) milk or cream
2 scallions, sliced
Preparation
1
Preheat oven to 350°F (170°C, gas mark 4).
2
Add the rice to a medium pot. Rinse and drain until the water runs mostly clear. 
Drain well. 
Add the chicken stock, thyme, and a pinch of salt and bring to a boil, stirring every minute or less. 
Cover the pot, reduce heat to low, and cook for 15 minutes. 
Take the pot off of the heat and let sit (no opening!), for 10 minutes. 
3
Meanwhile, melt butter in a skillet over medium high heat. Add the onions and mushrooms and fry until browned, about 10 minutes. 
Add the garlic, salt, and pepper and fry for 2 more minutes. 
Add the cooked rice, mushroom powder if using, scallions (reserve some for garnish), and cream. Mix well. 
4
Grease an oven proof casserole dish with butter. 
Transfer the rice from the skillet to the casserole dish and sprinkle with scallions.
Put in the oven and cook, uncovered, for 30 minutes. 
Serve on its own or as part of a large meal. Enjoy!