Lobster Mushroom Po'Boy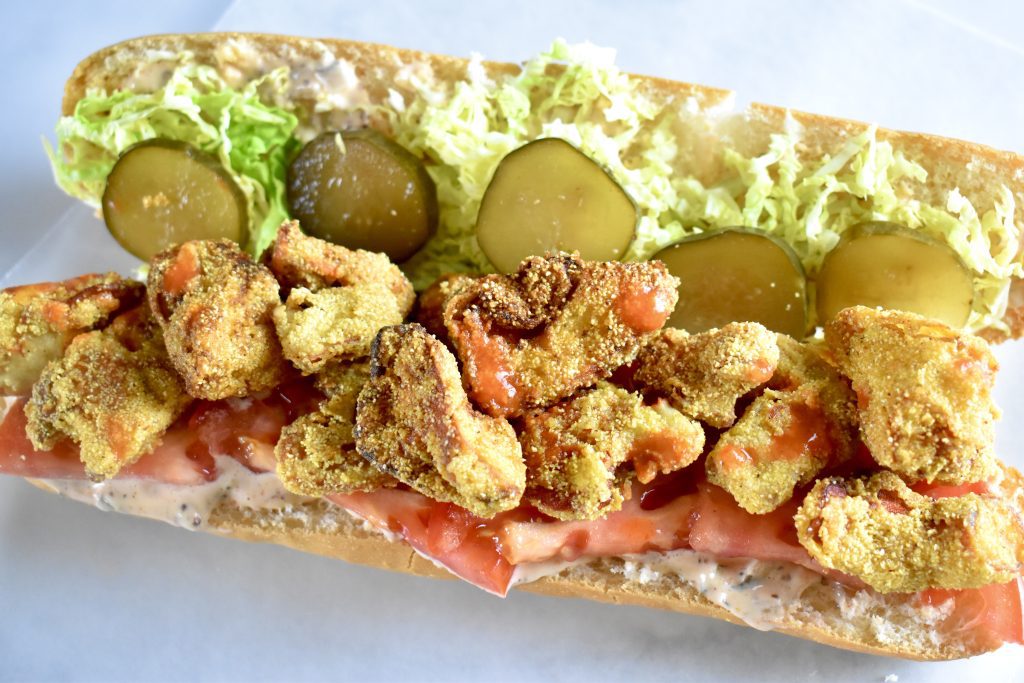 This lobster mushroom po'boy with remoulade, pickles, tomatoes, lettuce, and Creole-spiced fried lobster mushroom nuggets is sure to please!
Oyster mushrooms, chicken of the woods, or chanterelles would work great in this recipe if you can't find lobster mushrooms. 
Prep Time

50 min

Cook Time

10 min

Total Time

1 hr

Yield

4 sandwiches
Cuisine

Course

Cooking Method

Suitable for Diet
Ingredients
For the Mushrooms
1.5lbs (680g) lobster mushrooms, cut into large bite-sized pieces
1 cup buttermilk OR milk
1 cup flour
1 cup fine cornmeal
1.5 tablespoons Creole or Cajun spice blend
Oil or lard for frying
For the Sauce
1.5 cups mayonnaise
1 tablespoon grainy mustard
1 tablespoon Louisiana-style hot sauce
1 tablespoon ketchup
1 tablespoon relish OR chopped pickles
1/2 teaspoon garlic powder
For the Po'Boys
4 mini baguettes OR French rolls, toasted
Dill pickles, sliced
2 tomatoes, sliced
Lettuce or green cabbage, finely shredded
Preparation
1
Heat several inches of oil in a deep skillet or pot to 325°F. 
Pour the milk or buttermilk into a bowl. 
Combine the flour, cornmeal, and spice in another bowl. 
Take the chunks of lobster mushroom and dip them first in the milk, and then in the flour until completely coated. 
Fry several chunks at a time (being careful not to overload the skillet) for 5-7 minutes, or until they're nice and golden, being sure to flip them at least once. 
Transfer to a paper towel, and repeat with the rest. 
2
Mix all of the sauce ingredients together in a bowl. 
3
Toast the buns, then cut open. 
Slather the sauce onto both sides of the bread. Add a layer of sliced tomatoes, pickles, and shredded lettuce or cabbage. 
Add the fried lobster mushroom and top with some hot sauce if you like it spicy. 
4
Serve as-is, or wrap in wax paper and cut in half. Enjoy!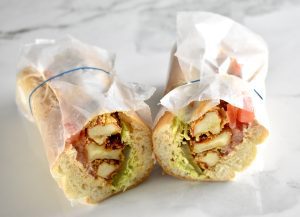 Notice how I didn't have you scroll through pages of mundane nonsense to get to the recipe? Notice that there were no annoying pop-ups or ads? That was on purpose!
I want finding and using my recipes to be easy for you, not frustrating. That does translate into a lot of lost income for me though. If you made this recipe and loved it, would you consider "buying me a coffee" and donating a buck or two through the Buy Me a Coffee app? It will help me keep pumping out recipes like this one!