Curried Steak and Kidney Pie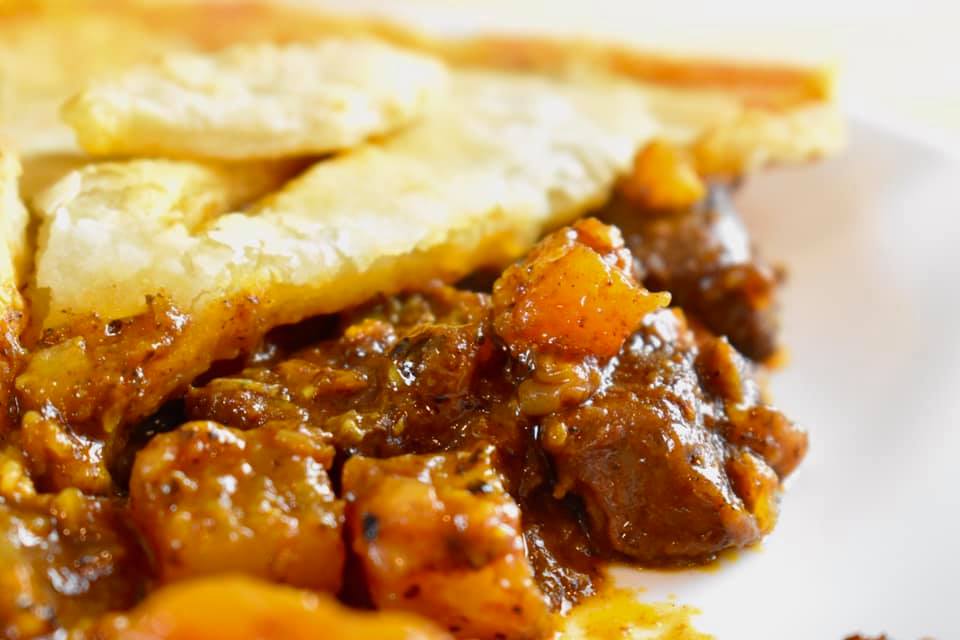 British pub-goers, please don't be mad, I gave your beloved steak and kidney pie a twist! 
This dish makes for wonderful comfort food, especially with warming Indian spices and aromatics filtering through the meat- and potato-studded gravy. 
Cook it in a cast iron pan, or in a casserole or pie dish, and feel free to swap out the beef for venison, , bear, pork, or lamb. If you'd like to reduce the strong flavours of the kidneys, soak in milk in the fridge overnight. 
Prep Time

30 min

Cook Time

1 hr 30 min

Total Time

2 hr

Yield

4 servings
Ingredients
1lb (454g) beef, venison, pork, or lamb kidneys
1lb (454g) beef, venison, pork, or lamb chuck, shoulder, or blade steak, cut into bite-sized cubes
2 tablespoons (18g) flour
Pinch of kosher salt
Pinch of black pepper
1 tablespoon (7g) curry powder
1 teaspoon (2g) garam masala
2 tablespoons (28g) butter
1 large carrot, peeled and diced
1 onion, diced
2 cloves garlic, minced
1 thumb-sized piece of ginger, peeled and minced
1-2 red or green chilies, de-seeded and minced
4 cups (1L) water or beef/game stock
Homemade or store-bought pie pastry for lid
Preparation
1
If you want to reduce the kidney's strong flavours, soak in milk in the fridge overnight.
2
Peel the outer membrane off of the kidneys, then trim off everything inside and outside that is not the dark pink kidney meat. Cut into smallish bitesized pieces.
3
Toss the kidney and steak pieces with the flour, salt, pepper, curry, and garam masala.
4
Melt the butter in a cast iron pan (or in a normal frying pan, then transfer everything to a deep pie plate later on) over medium heat.
Add the seasoned meat chunks and cook until everything begins to brown, about 5 minutes or so. Add the onion, carrot, garlic, ginger, and chili and cook for another 2-3 minutes.
5
Pour in the beef stock or water and scrape up everything that stuck to the bottom of the pan with a flat bladed spatula.
Bring to a simmer and cook uncovered for 1 hour. If the liquid looks to be running out before the hour is up, add a little more.
6
After an hour, continue cooking until the liquid has reduced down into a thick gravy. Keep a close eye on it at this point and stir regularly. Taste for seasoning and adjust as necessary.
7
Preheat the oven to 400°F (200°C, gas mark 6) and let the pie filling cool for 15-20 minutes.
8
Roll out a pastry dough and drape it over the cast iron pan with the filling (or pie plate). Trim around the rim of the dish. Crimp the edges, then cut some steam vents in the top of the pie.
You can make a pie design out of leftover dough and place it on top if you'd like.
For a more burnished look, you can beat an egg, then brush it over the dough.
9
Cook for 30 minutes, or until the pie lid has become golden brown.
If the crust of the pie is cooking too fast compared to the centre, take the pie out and pinch some strips of aluminum foil over the rim, then put it back in.
10
Serve the pie with mango chutney and some sort of brassica or green side, or
wild greens saag
. Enjoy!