Wild Greens Saag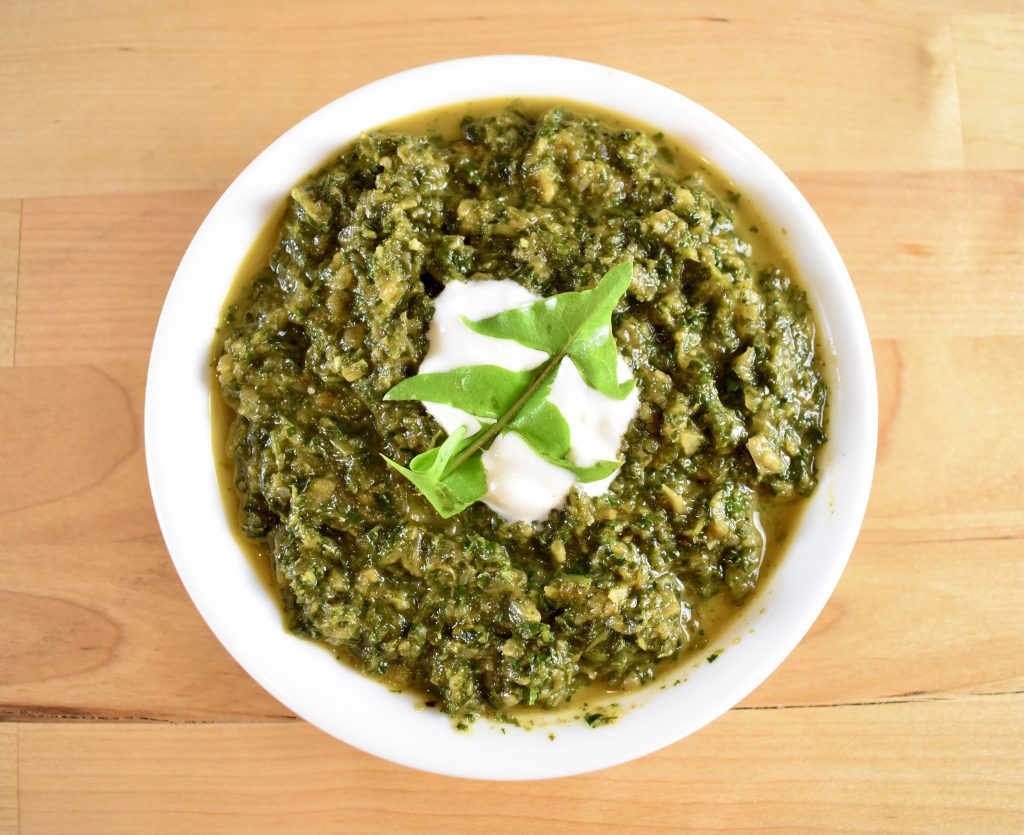 Saag is a vegetable dish found in northern India and Pakistan that is made by puréeing cooked greens with spices and aromatics. It is often served in restaurants studded with cheese (saag paneer), potatoes (saag aloo), chickpeas (saag chana), or meat (saag gosht). 
For this version, I used wild foraged spring greens for the leafy base and kept it simple with no other additions. I used dandelion leaves, stinging nettle tops, and garlic mustard for mine. You could easily add or substitute ramps, violet leaves, chickweed, dead nettle, lamb's quarters, galinsoga, claytonia, or any other spring green that's safe to eat in large amounts. 
Depending on what you use to make it, this dish could end up quite bitter. Use sugar and/or yogurt to temper the bitterness after you've cooked it. 
Prep Time

20 min

Cook Time

40 min

Total Time

1 hr

Yield

2 as a main, or 4 as a side
Cuisine

Course

Suitable for Diet

Special Equipment

Difficulty
Ingredients
8 cups (approx. 240g) lightly packed wild greens, dandelion, garlic mustard, nettles, etc.
2 tablespoons (28g) butter or ghee
1 large onion, roughly chopped + 1 small onion (see step 6)
2 cloves garlic, minced
1 thumb-size piece of ginger, peeled and minced
1 small green chili, seeded and minced
1 pinch kosher salt
1 tablespoon (7g) garam masala
1/4 teaspoon (0.5g) asafoetida/hing (optional)
1/4 teaspoon (0.5g) Kashmiri chili flakes (optional)
1 teaspoon (5ml) lime juice
white sugar (optional)
plain yogurt to garnish 
Preparation
1
Thoroughly wash the greens by soaking them in a couple batches of cold water, then running cold water over them to ensure there is no sand or grit. 
If using nettles, be sure to wear gloves. 
2
Melt 1 tablespoon of the butter or ghee in a large skillet, wok, or frying pan over medium heat and add the roughly chopped large onion. 
Cook for about 10 minutes, stirring often, until the onion begins to turn brown on the edges. 
3
Add the garlic, ginger, and chili and cook for another 2-3 minutes. 
4
Add the greens and a pinch of kosher salt (about 1/4 teaspoon) and then add 1 cup (250ml) water. 
Simmer for about 5 more minutes. 
5
Dump the contents of the pan into a blender, then let cool for about 10 minutes.
Running hot liquid in a blender can cause dangerous explosions and lead to burns! 
After it has cooled sufficiently, blend everything on a low setting until smooth. 
6
While the contents of the blender are cooling, use the large holes on a box grater to grate the small onion. You could also mince it very finely with a knife. 
Melt the other tablespoon of butter or ghee in the same pan (no need to clean it out), then add the onions.
7
Fry over medium heat until the onion is nice and brown, about 10 minutes. 
Add the spices and cook for another 2-3 minutes. 
Add the contents of the blender and the lime juice and cook, stirring often, until the mixture has thickened and oil begins to pool on top. 
8
Taste it at this point. Add more salt or lime if necessary. If you find it overwhelmingly bitter, start stirring in 1 teaspoon (4g) white sugar in at a time, then tasting, until you're happy with the level of bitterness. 
9
Serve topped with plain yogurt as a main course or as a side. Enjoy!