Maple-Whisky Venison Liver Pâté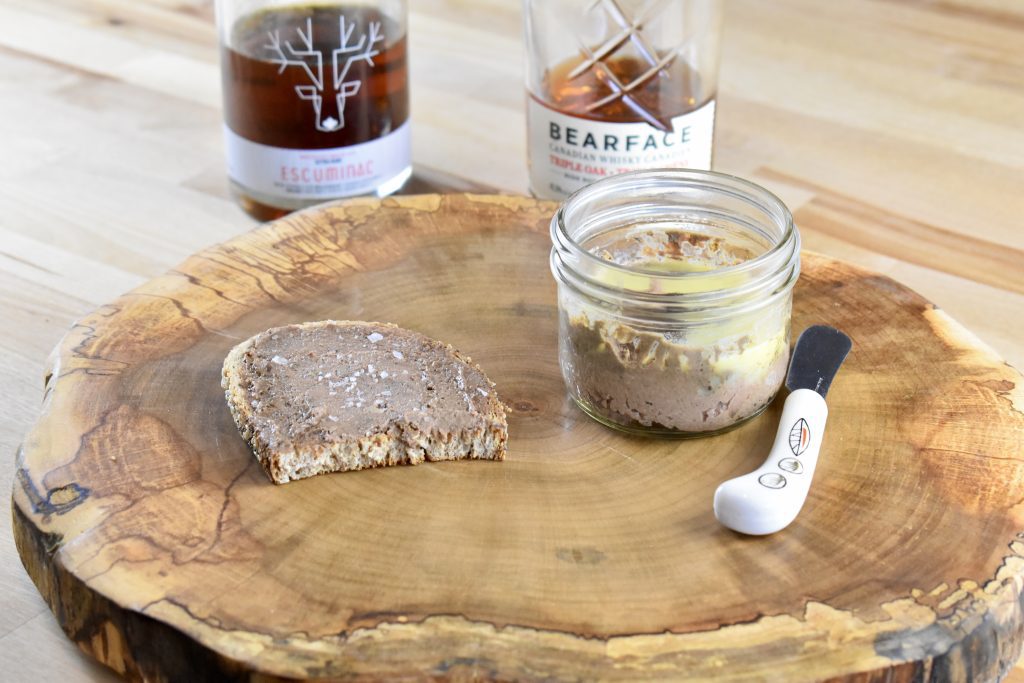 Venison liver may seem unapproachable, but this pâté is something that even those who swear they don't like liver will love!
Use this spread on crackers, toast, or baguette
You can serve it on its own, or as part of a charcuterie platter
Soaking the liver overnight in buttermilk will subdue any overbearing flavours
I used a meat grinder to make this, but you could use a food processor, or chop it very finely with a good knife for a coarse, rustic paste
Freezing your liver in 1/2lb (225g) pieces will allow you to make small batches of pâté, which is good since it won't keep for more than 4 days once the seal of fat is broken
Although this recipe was designed for venison liver, beef, pork, lamb, or other wild game livers could easily stand in
Prep Time

30 min

Cook Time

10 min

Total Time

40 min

Ready in

1 Hr

Yield

Approx. 1 cup
Cuisine

Course

Cooking Method

Special Equipment

Meat Grinder or Food Processor
Ingredients
1 cup (250mL) buttermilk*
1/2lb (225g) venison liver, cut into thumb-sized chunks
4 tablespoons (60mL) butter or duck fat SPLIT
kosher salt
freshly cracked black pepper
1 medium onion, chopped
2 cloves garlic, finely minced
1/8 cup (30mL) whisky
1/8 cup (30mL) maple syrup
1/8 cup (30mL) heavy cream
Preparation
Night Before
1
Place the chunks of liver into a bowl and cover with the buttermilk. Put in the fridge and leave overnight. 
Day Of
2
Drain the buttermilk out of the bowl and rinse off the liver under cold water. 
3
Melt 2 tablespoons (30mL) butter or duck fat in a frying pan over medium high heat. 
Add the liver and sprinkle on a generous pinch of kosher salt and black pepper. Fry until the outside has browned, but the inside remains just slightly pink. You can continually cut into the liver pieces to check on their progress as you will be grinding it all up later. 
4
Remove the liver from the pan to a bowl, reduce the heat to medium, then add the onions and garlic to the pan and cook until they're softened and translucent. 
Once the onions and garlic are cooked, add the liver back to the pan, then add the whisky, stirring it around and scraping up anything that stuck to the bottom of the pan. 
Transfer everything into a bowl.
If Using a Food Processor
5
Dump the bowl into the food processor and run until the ingredients become a coarse paste.
You can stop here and keep it as a coarse, rustic pâté, or continue running the food processor until it forms a smoother, finer paste, it is up to you. Try a small spoonful at each stage to see what type you prefer. 
If Using a Meat Grinder
6
Run everything in the bowl through a coarse dye on the meat grinder, collecting it all into a medium bowl. 
You can stop here and keep it as a coarse, rustic pâté, or switch to a finer dye and run everything through the grinder again. Try a small spoonful at each stage to see which you prefer. 
If Using a Knife
7
Dump the contents of the bowl onto a cutting board and begin chopping it all with a large chef's knife. 
Continue chopping until everything has become a fine mash, then begin using the side of the blade to scrape the ingredients across the cutting board in long sweeping motions. This will help turn the chopped liver into a paste. 
Keep chopping and scraping until you have a fine paste (then go and look for sales on meat grinders). 
Final Steps
8
Mix the maple syrup and cream into the paste, whipping it in well with a fork.
Taste for seasoning: add more salt, pepper, whisky, or maple syrup if desired. 
9
Optional: 
If you desire a very fine and creamy pâté, you can dump the bowl into a fine wire mesh strainer and begin pressing and scraping the paste through the strainer into a bowl with a metal spoon. 
Keep scraping and scraping, until all that you are left with is a couple clumps of stringy bits that won't pass through. 
Continue on to the next step. 
10
Press the pâté (whether it is coarse, fine, or superfine) into a mason jar or other suitable container. 
Melt the other 2 tablespoons (30mL) of butter or duck fat, then pour it over the pâté, creating a cap. If there is still some pâté poking through, melt more fat and add to it until everything is submerged. 
Put the jar in the fridge and let the fat cap set and harden. 
11
The pâté should keep for about 1 week with an unbroken fat cap. 
Once the fat cap is broken, use within 3 or 4 days. 
Enjoy!
*You can use 1 tablespoon of lemon juice stirred into 1 cup of milk as a substitute for buttermilk