Weihnachtsgans – German Christmas Goose Breast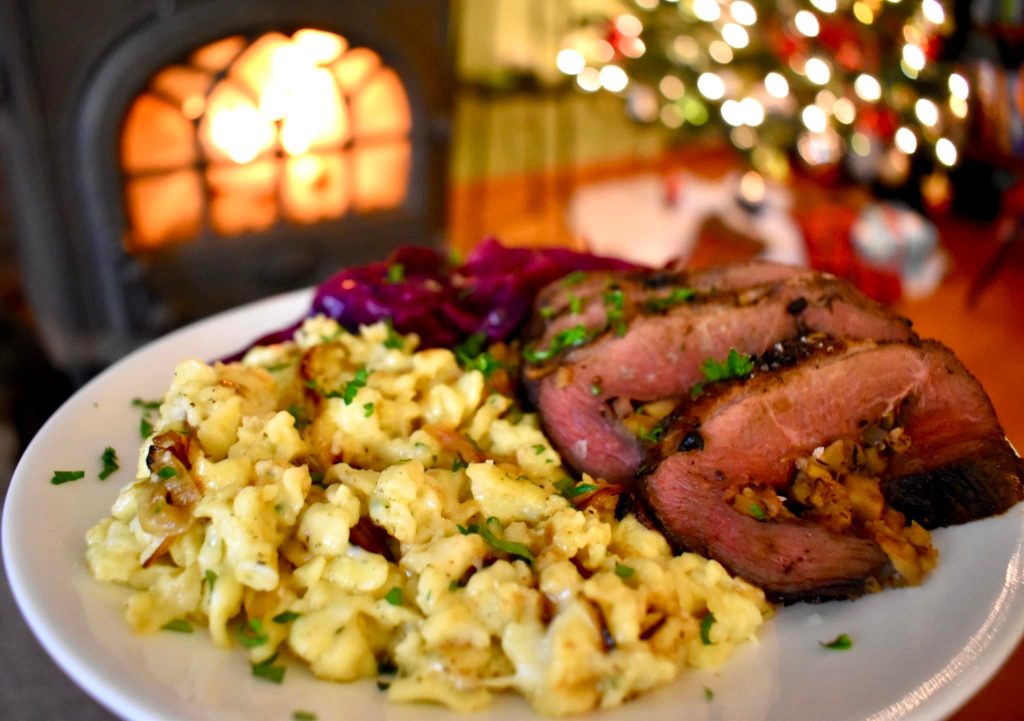 Weihnachten is the German version of Christmas and no Weihnachten would be complete without the Weihnachtsgans, or Christmas Goose. 
Usually stuffed with apples and chestnuts and seasoned with marjoram, the goose is traditionally roasted whole and served with blaukraut (tart braised red cabbage), and a starchy side like potatoes, dumplings, or spaetzle. Check out my recipe for cheesy spaetzle here. 
With only two of us around for Christmas dinner this year, I scaled back the whole goose to a single large wild Canada goose breast. Keeping with the traditional flavours, I stuffed the breast with chestnuts, apples, and onion and pan roasted it, creating a Weihnachtgans for two! 
I served it with blaukraut and cheesy spaetzle for a spectacular Christmas meal. 
Prep Time

15 min

Cook Time

20 min

Total Time

35 min

Yield

2 servings (double the recipe for 4)
Ingredients
1 teaspoon (4.5g) + 1 tablespoon (14g) butter
3.5oz (100g) peeled, roasted chestnuts, diced
1/4 tart apple, peeled and diced
1 shallot or small onion, diced
1 teaspoon (1g) dried marjoram leaves (or thyme)
1 large Canada goose breast, with skin
Kosher salt and black pepper
1 tablespoon (15ml) goose/duck fat or vegetable oil
1 teaspoon (1g) dried thyme leaves
5 juniper berries
Preparation
1
Preheat oven to 400°F (200°C, gas mark 6)
2
Melt 1 teaspoon (4.5g) of butter in a skillet over medium high heat. 
Add the diced chestnuts, apples, shallot, and marjoram. Add a small pinch of salt. 
Cook, stirring, for about 5 minutes, or until the apple and onion are soft. 
Transfer to a bowl and let cool. 
3
Pat the goose breast dry with paper towels. 
Turn the breast so it's skin-side down. Make an incision lengthwise down the middle of the breast, being sure not to cut all of the way through. 
Now gently pull open the two sides and make an incision down each side of the original incision so that both sides open up like flaps. 
Don't worry too much about getting this right, you basically just want to cut a pocket to pack with stuffing. 
4
Season the inside of the breast generously with salt and pepper, then pack the stuffing into the open space. 
Pull the sides in so they close. Use kitchen or butcher's twine to tie the breast back up into its original shape. You could also use toothpicks to put it back together, but they're not quite as reliable as twine. 
Season the outside of the breast generously with salt and pepper. 
5
Melt the goose fat or oil in a cast iron or steel skillet over medium high heat.
Lay in the goose breast, skin-side down and apply pressure down the length of it with a wooden spoon or spatula for 30 seconds. This helps it from losing shape. 
Cook for 5 minutes, turning with tongs so that all sides get seared, but focusing mainly on the skin side. Moderate heat if needed so that nothing burns. 
Transfer the skillet to the oven and cook for 10 minutes. 
6
Take the skillet out of the oven (with an oven mitt or towel!) and add 1 tablespoon (14g) butter, as well as the thyme and juniper berries to the pan. 
Once the butter melts, mix it with the aromatics and spoon it over the goose breast continually for a minute or two.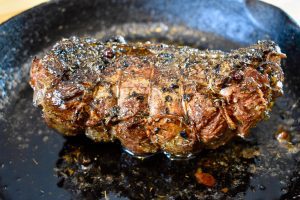 7
Let the breast rest for 10 minutes, then slice and serve. This recipe is for a goose breast at medium doneness. For rarer breasts, reduce oven time to 5 minutes. I don't recommend cooking wild goose breast all of the way through as it becomes chalky and livery tasting.