Couscous Salad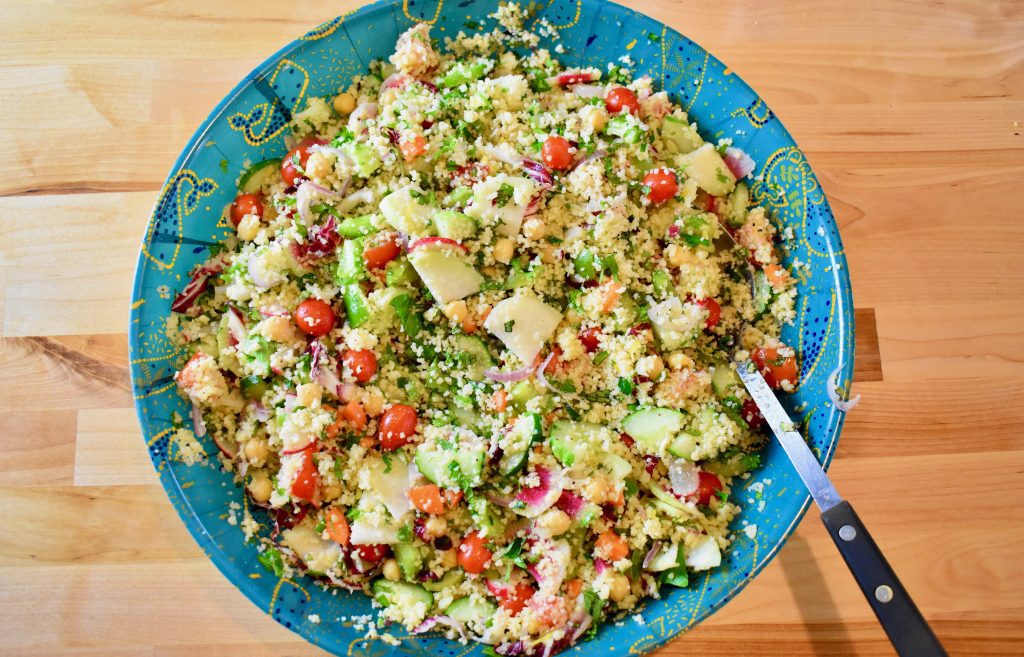 This salad is super easy to make, uses up any produce or pantry items you happen to have on hand, and can be made in a matter of minutes! Use anything you have kicking around to make it, there are no wrong combinations, experiment! Make a big batch and serve as a side next to roasted meat or vegetables for supper, then mix in some canned fish for lunch the next day! 
Prep Time

10 min

Cook Time

5 min

Total Time

15 min

Ready in

10-15 min
Cuisine

Course

Cooking Method

Suitable for Diet
For the Couscous
1 cup of couscous
1 cup of water or stock (chicken or vegetable)
1 pinch of salt
1 tablespoon extra virgin olive oil
For the Salad
An assortment of chopped up or sliced fresh vegetables. Some suggestions: Tomatoes, Onions, Peppers, Cucumber, Crushed Garlic, Radishes, Celery, Carrot, Golden Beets, Peas, Kohlrabi, Cabbage, Lemon Zest, Greens
An assortment of chopped fresh herbs. Some suggestions: Mint, Parsley, Basil, Cilantro, Chervil, Dill, Tarragon
An assortment of nuts, seeds, and/or legumes. Some suggestions: Almonds, Walnuts, Peanuts, Pistachios, Sunflower seeds, Pumpkin seeds, Flax seeds, Hemp seeds, Lentils, Chickpeas, Beans
Big pinch of flaky salt, freshly cracked black pepper. (Optional: 1 tablespoon of seasoning mix. Some suggestions: Za'atar, Greek blend, Italian blend, Ras El Hanout, Curry, Garam Masala)
3 tablespoons Extra Virgin Olive Oil
Juice from 1 large lemon
Preparation
For the Couscous
1
Bring 1 cup of water or broth to a boil in a medium pot. Add couscous, salt, and olive oil and stir. Remove from heat, cover with lid and let sit for at least 5 minutes. 
For the Salad
2
Chop or prepare everything you are planning on adding to the salad and put in a large serving bowl.
3
Once everything has been added to the bowl, uncover the couscous and fluff up with a fork, so that all of the clumps are broken up. 
4
Now add the couscous to the bowl as well as the seasoning, oil, and lemon juice if you haven't already. Using a large spoon, mix all of the ingredients very well, so each grain of couscous has been dressed with the oil/lemon. Taste and add salt if necessary and oil/lemon if it seems too dry. Enjoy!
Any extra notes can go here.