Mapo 'Mushroom' with Giant Puffball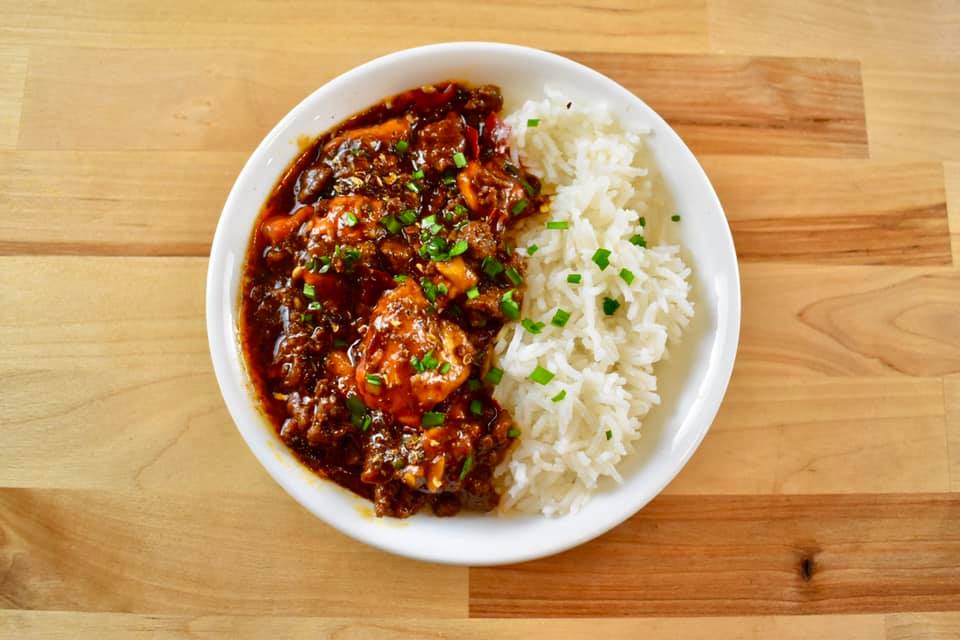 With it's likeness to soft tofu, giant puffball mushroom works wonderfully in its place in this classic spicy Sichuan dish. 
Make sure that the puffball has been harvested fresh, and that the interior flesh is still a nice bright white, and not yellow, green, or brown. 
I used ground beef for this recipe, but you could just as easily use any ground meat, like chicken, pork, or venison, or make it vegetarian by using TVP, salted chopped eggplant, or chopped shiitakes! 
Prep Time

10 min

Cook Time

15 min

Total Time

25 min

Ready in

25 min
Cuisine

Course

Cooking Method
White rice
1 tablespoon vegetable oil
1/2 lb (0.3kg) ground beef
3 cloves garlic, minced
2 tablespoons doubanjiang (chili-bean paste)
2 cups chicken stock or water
1 tablespoon soy sauce
1 lb (0.4kg) peeled and cubed giant puffball mushroom
1-4 tablespoons chili oil (depending on how spicy you like it)
1 tablespoon ground Sichuan peppercorn
1/4 cup water 
1 tablespoon cornstarch
Garlic chives, sliced (optional)
Preparation
1
Start cooking the rice so it will be ready when the rest of the dish is ready.
Cut and prepare all of your ingredients so they will be ready to throw in the wok easily. Things will be moving fast!
2
In a wok or deep frying pan, add 1 tablespoon of oil and set heat to high. 
Add ground beef, breaking it into small pieces as it cooks. 
3
Once beef begins to brown, add garlic and chili-bean paste, stirring so that nothing burns.
Cook for 1 minute, then add 2 cups water/broth and the soy sauce, stirring to scrape up any bits on the bottom of the pan. 
4
Add the mushroom cubes, half of the chili oil and half of the ground Sichuan peppercorn. 
Reduce heat to medium and cook for 5 minutes, stirring regularly, letting the mushrooms soak up some of the sauce. 
5
Mix the 1/4 cup of water and cornstarch into a slurry and add it to the wok, turning the heat back up to high. 
6
Stirring constantly, let the slurry thicken the sauce, until it becomes nice and silky and thick. Remove from the heat.
7
Spoon into bowls over or alongside rice. Drizzle more chili oil on top and sprinkle a pinch of Sichuan peppercorn on top as well. Garnish with sliced garlic chives. 
Enjoy!