Mapo Tofu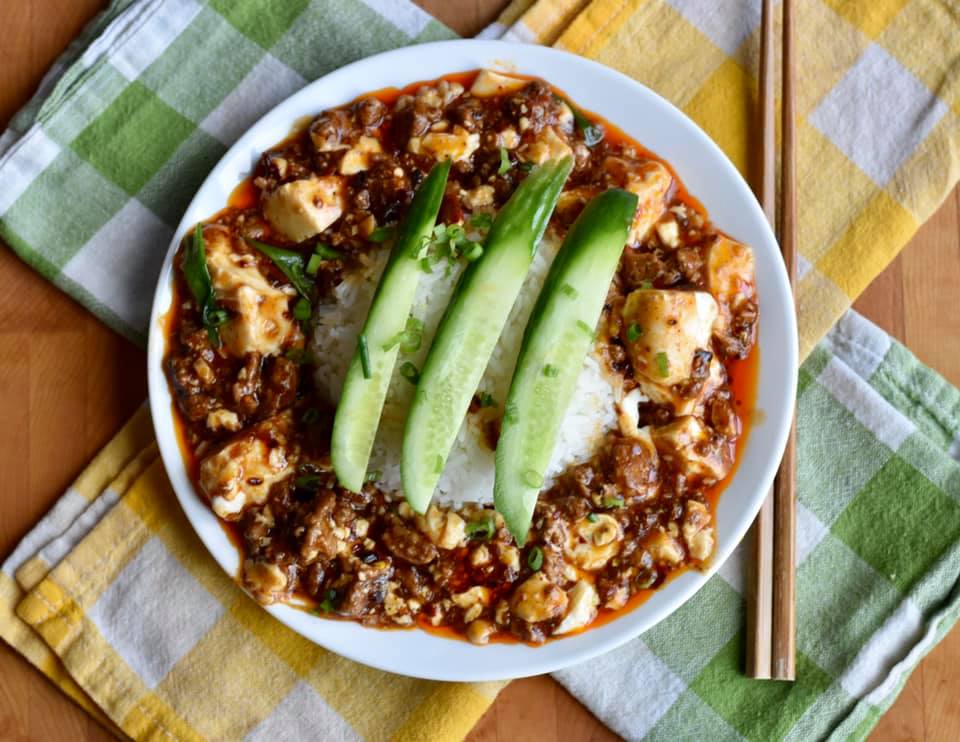 Mapo Tofu is a comforting spicy dish that originated in China's Sichuan province. Its name loosely translates to Pockmarked Old Woman's Tofu and points towards the dish's creator in the city of Chengdu. Doubanjiang is necessary for the proper execution of this dish and can be found in most Chinese grocery stores, or even large grocery chains under the name Chili Bean Paste. Coming together in under 30 minutes, Mapo Tofu makes for a wonderfully quick and easy weeknight meal served on rice.  
Prep Time

20 min

Cook Time

10 min

Total Time

30 min

Ready in

30 minutes
1 tablespoon vegetable oil
1/2 lb ground beef or ground pork
2 tablespoons doubanjiang (Sichuan chili bean paste), chopped if the paste is chunky
3 cloves garlic
1 cup water or chicken stock
1 tablespoon ground Sichuan peppercorn
2 tablespoons+ chili oil (depending on spice tolerance)
1 tablespoon corn starch mixed with 2 tablespoons water
2 packages silken or soft tofu
2 green onions, sliced
1 cup cooked white rice per person to serve
Sliced cucumbers to serve
Preparation
1
Cook a pot of rice to serve with the mapo tofu.
2
Prepare your mise en place* by mincing garlic, slicing green onions, and measuring all of your ingredients so you are ready to go. 
Also cut tofu into blocks by opening package and running knife through tofu while still in package. When the time comes to add tofu, simply overturn package into wok.
3
Heat oil in wok (or large frying pan) on medium-high heat and add ground meat once hot. Break up into small bits and cook until done all the way through.
Add minced garlic and the chili bean paste and cook for another minute or so, stirring the paste into the ground meat.
4
Add water or stock and bring back to a simmer for 1 minute.
Add 3/4 of the Sichuan peppercorn, 3/4 of the green onion and 3/4 of the chili oil.
Mix the water and cornstarch into a slurry and add to wok, stirring until everything begins to thicken. 
Turn heat down to low.
5
Dump in tofu cubes and very gently begin folding them into the sauce, trying not to break them up too much.
Once they are heated through, your mapo tofu is ready.
6
Serve on rice with the remainder of Sichuan peppercorn, green onions,  and chili oil sprinkled on top and sliced cucumbers on the side. Enjoy!
*Mise en place is a technique used by restaurant workers and chefs. Simply prepare all of your ingredients and keep on hand in small bowls so when it is time to cook, there is no time wasted.