Nigerian Goose Gizdodo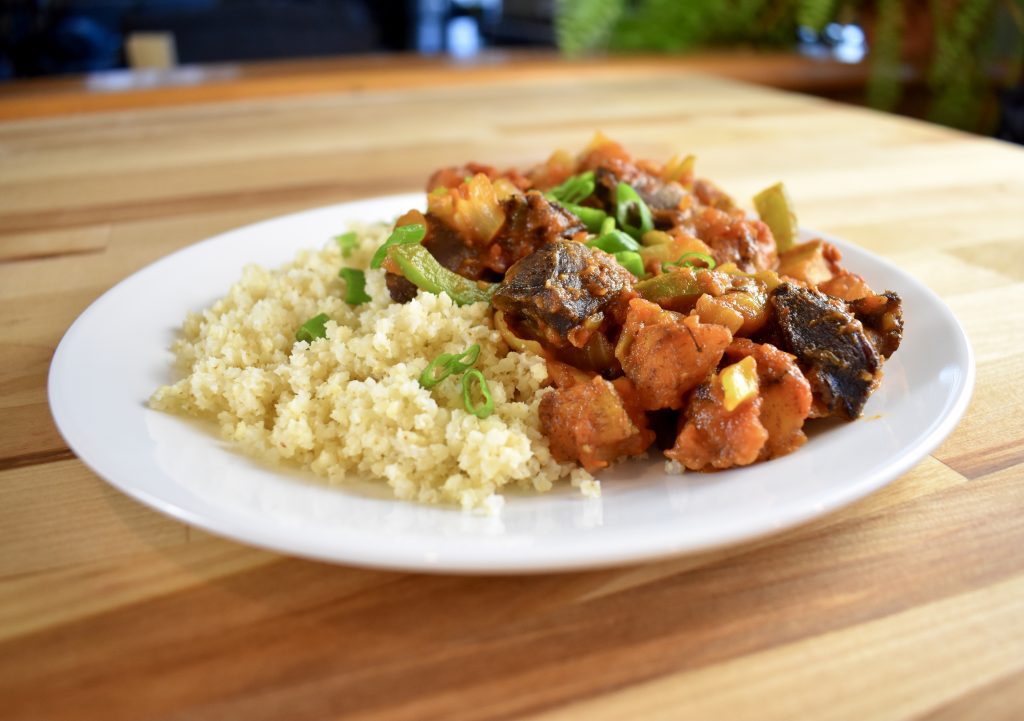 This wonderful dish of gizzards (giz) and plantains (dodo) hails from Nigeria and works exceedingly well with goose and duck gizzards. Africans often enjoy their meat a little chewier than Westerners are used to so I extended the braising time by several hours to make the gizzards nice and tender. Using beer to braise is totally optional, but provides a really nice flavour that permeates the end product. The riper the plantains you use, the sweeter the dish will be. I used very black plantains for a nice balance of hot and sweet. Lastly, the amount of Scotch bonnet chilis you include in this dish are up to you and your family's spice tolerance. If you don't do all that well with spicy, skip the chopped chilies altogether and add a whole Scotch bonnet to the sauce while it cooks, then remove it before serving. Doing this will impart the flavour of the chili without much heat. 
Prep Time

8 hr

Cook Time

30 min

Total Time

8 hr 30 min

Yield

4 servings
Cuisine

Course

Cooking Method
Ingredients
1.5lbs (650g) goose and/or duck gizzards, cleaned, with the grinding plate removed
Kosher salt
1 can of neutral beer, or 12oz (355mL) game stock
2 ripe plantains
4 tablespoons (60ml) vegetable oil
2 onions, chopped
1 green bell pepper, sliced
4 tomatoes, or 1 can of chopped tomatoes 
1-3 Scotch bonnet chilies, deseeded and minced (watch out, these guys can be hot!)
1/4 teaspoon (1.5ml) Maggi sauce or beef bouillon cube (optional)
1/2 teaspoon thyme (2.5ml)
2 teaspoons (10ml) curry powder 
1/4 teaspoon (1.5ml) freshly cracked black pepper
1 green onion/scallion, sliced, for garnish
Preparation
1
Prepare gizzards, then throw them into a crock pot or Dutch oven. 
Sprinkle generously with salt, then pour over the can of beer. 
If using a crockpot, set to Low. If using the Dutch oven, cover and put into a 200°F (95°C) oven. 
Cook for 8-12 hours. The longer you cook, the softer the gizzards will be. If you want gizzards that will fall apart at the sight of a fork, cook for 24 hours, making sure that there is always liquid in the pot. 
2
When gizzards are done to your liking, remove them from the liquid and set aside. Strain out the liquid, setting aside 1 cup (250ml) to use later. Discard the rest or save it for another use. 
Cut the gizzards into bitesized pieces. 
3
Cut the peeled plantains in half lengthwise, then cut each half lengthwise again. Now chop into bitesize chunks. 
4
Heat up oil in a large skillet and add the plantain chunks. Fry in the oil, stirring and flipping, until they turn a dark golden hue. Remove and drain on paper towel. 
5
Discard all but 1 tablespoon of the oil and add onions over medium high heat. 
Sauté for 5 minutes, then add the peppers. Cook for another 2 minutes, then add the tomatoes, chilies, Maggi, thyme, curry powder, and black pepper. Add the reserved cup of braising liquid and the gizzards. 
Cook for about 15 minutes, or until there is very little liquid left, then add the plantains and gently fold everything in together. 
6
Cook for another 2 minutes, then taste for seasoning. Add salt if necessary. 
Garnish with sliced green onion and serve with millet, white rice, or jollof rice. Enjoy!