Pheasant Back and Kasha Knishes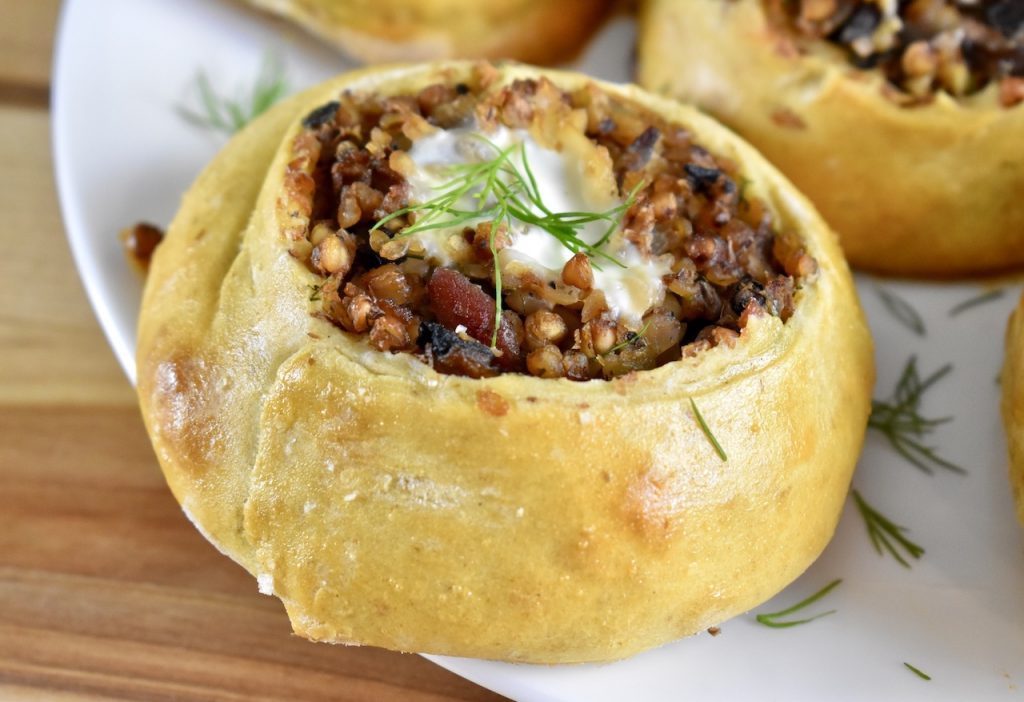 These knishes are a great way to enjoy pheasant back mushrooms (aka dryad's saddle, aka Cerioporus squamosus) in a fun hand-held snack. 
Knishes were originally brought over to America from Eastern Europe by Ashkenazi Jewish immigrants, who mostly settled in New York, where the knish is still king. 
These knishes contain bacon, so they are definitely not kosher, but the bacon can be omitted and the bacon fat replaced with vegetable oil for a kosher or vegetarian version. 
Any meaty mushroom can be used for this recipe (like portobello, cremini, white button, hen of the woods, oyster, shiitake, etc.), but I think it's the perfect vessel for spring pheasant backs.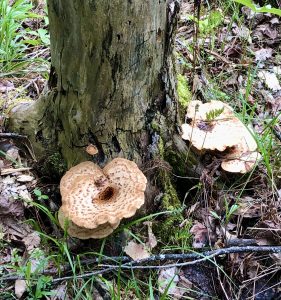 Be sure to only use tender pheasant backs that are easy to cut though and also be sure to scrape off the pores and discard them before cutting them into cubes. 
Prep Time

1 hr

Cook Time

1 hr

Total Time

2 hr

Ready in

2-3 Hrs

Yield

6 knishes
Cuisine

Course

Cooking Method

Suitable for Diet
Ingredients
For the dough
1.5 cups (180g) all purpose flour, sifted
1/2 teaspoon (2g) baking powder
1 egg + 1 egg yolk (+ 1 egg, beaten for eggwashing final product)
1/4 cup (60ml) water
Pinch of kosher salt
1/2 teaspoon (1g) ground cumin
6 teaspoons (30ml) full fat sour cream or yogurt
Flaky salt to garnish
Fresh dill to garnish
For the filling
4 slices thick-cut bacon (omit and use vegetable oil if making vegetarian)
2 cups (500g) cooked kasha (buckwheat groats)
12 oz (340g) pheasant back mushrooms, chopped into cubes
1 large onion, chopped
2 cloves garlic, minced
2 tablespoons (1g) chopped fresh dill
Salt and pepper
Preparation
1
Fry the bacon strips over medium heat in a skillet until crispy. 
Remove the bacon and set it aside. 
Set aside 1 tablespoon (15ml) of the bacon fat. Leave at least 2 tablespoons (30ml) in the skillet and discard the rest. 
2
Meanwhile, cook the kasha (buckwheat) per package directions to end up with 2 cups of cooked kasha. 
3
Add the mushrooms and onions to the bacon fat in the skillet over medium high heat and cook for about 10 minutes, or until both are browned. 
Turn the heat down to medium low and add the garlic. 
Chop the bacon into small pieces and add that to the skillet as well. 
Add the dill and cooked kasha and stir everything together well. 
Season with salt and pepper. It should taste slightly over-seasoned. 
Let cool.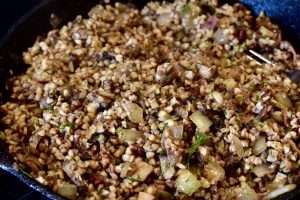 4
Meanwhile, add the sifted flour to a large bowl.
Stir in the salt, baking powder, and cumin. 
In a separate small bowl, beat the egg and egg yolk together with 1 tablespoon (15ml) water and the 1 tablespoon of reserved bacon fat. 
Add the bowl of wet ingredients to the bowl of dried and mix it together with a wooden spoon.
Continue to mix, eventually switching to your hands, forming a ball. If there is still a lot of dry flour, add a dribble of water. If the dough is very wet and sticky, add a pinch of flour. 
Knead the dough ball in the bowl for about 5 minutes, or until it begins to soften. 
Cover the bowl with a damp towel or plastic wrap and let rest for 30 minutes. 
5
Preheat oven to 375°F (190°C, gas mark 5).
6
Roll out the dough ball on a floured surface in one big rectangle, about 1/4″ (1/2 cm) thick.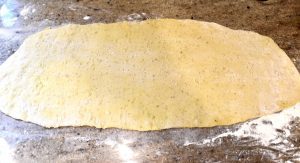 7
Lay down the toppings (you may end up with a little extra) in 1 strip on the bottom half of the rectangle.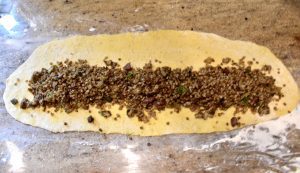 Fold the sides over, then roll the bottom edge over the toppings.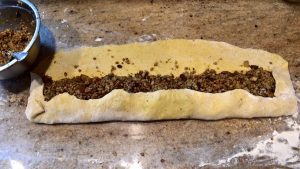 Now roll the top edge back over the bottom edge, towards you. Firm up the log with your hands.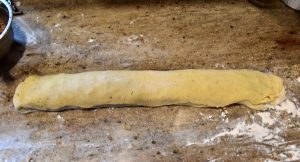 8
Cut the log into 6 pieces. 
Take a middle piece and pull it free from the log.
Pinch the dough closed on one side, then flip the piece seam-side down where you pinched the dough closed.
Use your palm to flatten the piece into a thick, flat disk shape, with the open end facing up and in the centre of the disk.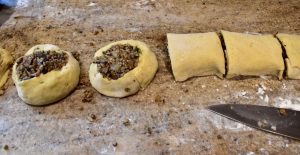 Repeat with the other pieces. The end pieces can just be flipped seam-side down right away. 
9
Arrange the knishes on a lined baking sheet, being sure that they don't touch.
Beat an egg in a small bowl, then brush the beaten egg over all of the exposed dough. 
Spoon 1 teaspoon (5ml) of sour cream or yogurt into the centre of each knish. Sprinkle with flaky salt.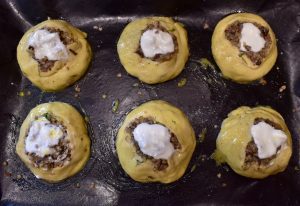 10
Bake the knishes for 30 minutes or until golden, turning the sheet pan 180° halfway through the cooking time to ensure even cooking. 
Sprinkle with fresh dill, and serve once they're cool enough to eat. Store these in a ziplock bag or Tupperware container for 2-3 days. They can be re-heated in the oven or microwave. Enjoy!