Thai Basil Oyster Mushrooms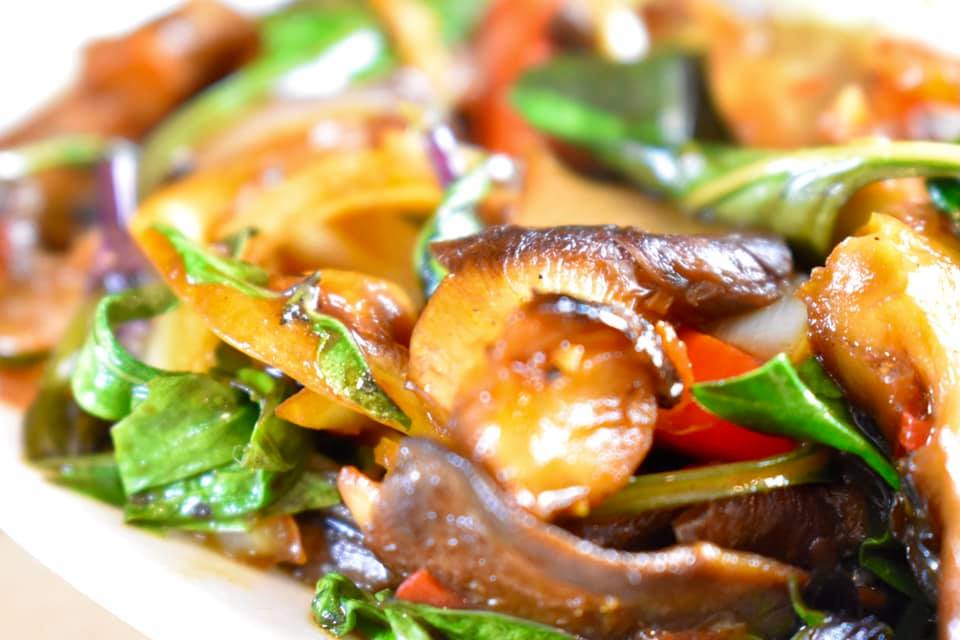 If you find yourself with an abundance of Thai basil, either from the store or from your garden, then this umami powerhouse of a dish is an excellent use for the pungent herb. Oyster mushrooms, hen of the woods, or portobellos work great with the searing technique in this recipe (which I learned by watching the guys at Wicked Healthy). To make the dish vegetarian, substitute the fish sauce and oyster sauce for a vegetarian friendly mushroom sauce, or vegan 'oyster' sauce. Serve with jasmine rice and a salad.
Prep Time

15 min

Cook Time

15 min

Total Time

30 min

Yield

4 servings
Cuisine

Course

Cooking Method

Suitable for Diet

Special Equipment

Difficulty
Ingredients
1 lb (454g) oyster mushrooms
2 tablespoons neutral oil
Kosher salt and black pepper
2 teaspoons light soy sauce
1 red finger chili or 1 bird's eye chili
5 cloves garlic
1/2 red bell pepper, sliced 
1 small onion or 1/2 medium onion, sliced
1 teaspoon white sugar
1 teaspoon dark soy sauce
1 teaspoon oyster sauce (see intro)
1 tablespoon fish sauce (see intro)
1 large bunch Thai basil, leaves only
Preparation
1
Start preparing rice if you're planning on serving this with it. 
If your oyster mushrooms are all in one big piece, break them up into hand size pieces. This is just to make searing easier, you'll be chopping them up later on, so if they break apart it's not a big deal. 
2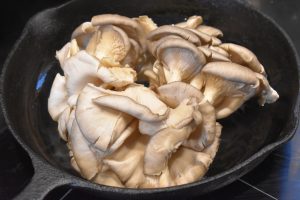 Heat one of the tablespoons of oil in a cast iron pan and put over high heat until it begins to slightly start smoking. 
Turn down to medium high heat and add the mushrooms to the pan. 
Now put another pan on top and place something heavy in it so it presses the mushrooms down into the bottom of the original pan.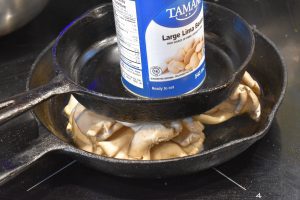 3
Let it cook for 2 minutes, then press down on the top pan, flattening out the mushrooms.
Let cook for another 3 minutes or so, then remove the top pan (be sure to wipe the bottom off). Flip the mushrooms over, season with some salt and pepper and put the pan back on, cooking for another 2 minutes or so.
Take the pan off again and continue cooking, flipping once in a while, until the mushrooms have developed a golden brown crust.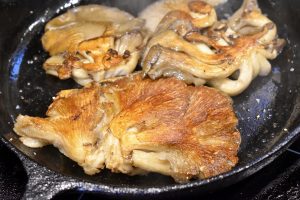 4
Drizzle 1 teaspoon (save the other teaspoon for later) of the light soy sauce over the mushrooms, let it cook off for 30 seconds, then remove the mushrooms from the pan to cool.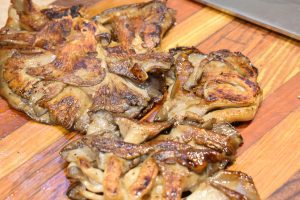 Chop into largish bite-sized pieces. 
5
If you want to keep the dish mild, remove the seeds and pith from the chili pepper. If you like it spicy, leave them in. You can add more chilies as well. 
Finely mince garlic and chilies, scraping them over the cutting board with the flat of your knife to create a paste.
Alternatively, roughly chop them, then pound into a paste with a mortar and pestle.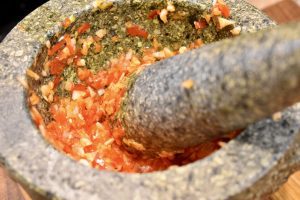 Put the sugar, light and dark soy, fish sauce, and oyster sauce in a bowl or cup, so you can easily add them to the wok later. Whisk thoroughly with a fork. 
6
Have all of the ingredients ready to go and at hand. 
Add 1 tbsp oil to a wok or large frying pan on high and heat it up. 
Add the garlic-chlii paste and cook for a few seconds, stirring constantly to avoid sticking and burning. 
Add the onions and red pepper and cook for 2 minutes. Add the sauce and mushrooms and stir fry for just under a minute, then take off the heat.
Mix in the Thai basil leaves, folding them into the other ingredients. 
7
Serve with jasmine rice and a sharp salad that will help cut through the umami richness of this dish. Enjoy!