Pakistani Khageena with Pike Skeins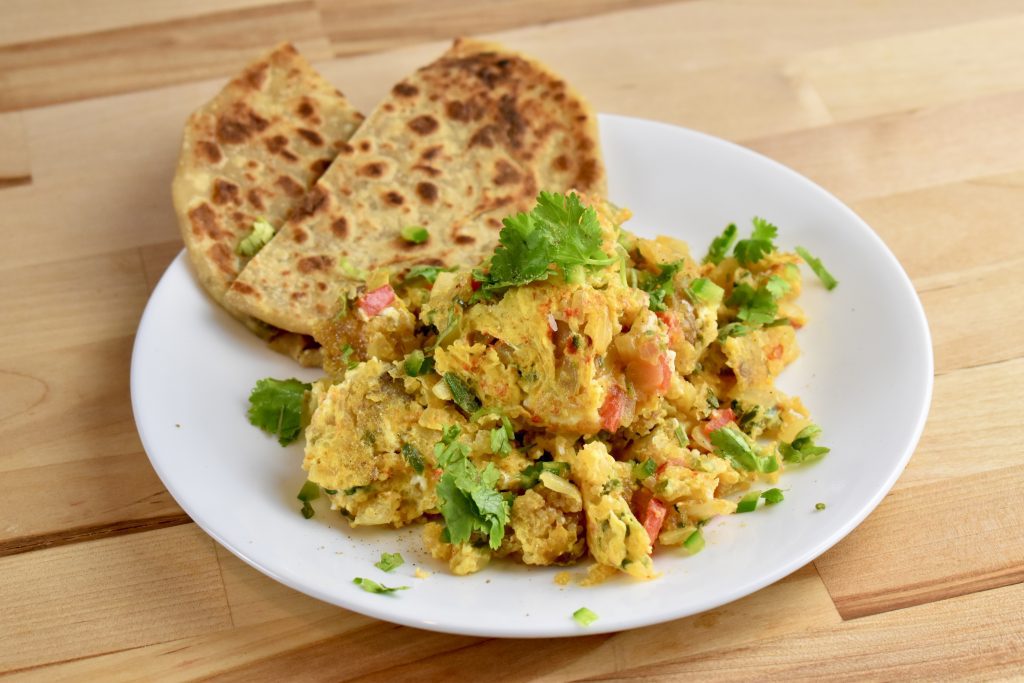 Khageena is a Pakistani breakfast dish made of scrambled eggs with onions, chilies, herbs, and spices. Chopped tomatoes are also sometimes added. It is usually served with South Asian breads like paratha or naan, and makes for a delicious breakfast. Adding pike skeins, the roe sacks found in winter northern pike, to the eggs seemed like a natural fit, adding a unique richness that really went well with the traditional dish. Eggs and eggs, a perfect fit! 
Prep Time

5 min

Cook Time

10 min

Total Time

15 min

Yield

2 Servings
Ingredients
3 large eggs
1/4 teaspoon kosher salt
1/4 teaspoon Kashmiri chili powder (or cayenne)
1 tablespoon vegetable oil
1 onion, chopped finely
1/4 red pepper, chopped finely
1/2 jalapeño pepper, or 2 Indian green chilies, chopped fine (de-seeded if you like it less spicy)
1 scallion/green onion, sliced
1 tablespoon cilantro stems, chopped finely
5 pieces of pike skein (full roe sack), cut into 1″x1″ (2.5×2.5cm) chunks
Cilantro leaves to garnish
Preparation
1
Crack the eggs into a bowl and beat with a fork until completely mixed. Add in the salt and chili powder and mix well. Set aside. 
2
Heat the oil in a non-stick frying pan over medium high heat. 
Add the onions, peppers, chiles, scallion, and cilantro stems and cook for about 3 minutes, stirring often.
Add the pike skeins and cook for another 5 minutes.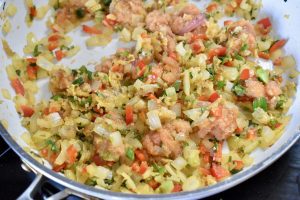 3
Turn down the heat to medium low and add the beaten eggs.
Fold all of the ingredients in and give the eggs a hard scramble. You want them cooked all the way through, but not crispy. 
You can break up the eggs into little chunks, or leave them in large chunks as I did in the picture, it is up to you!
4
Top with cilantro leaves and serve with hot paratha, naan, or toast. Enjoy!