Purple Dead Nettle Devilled Eggs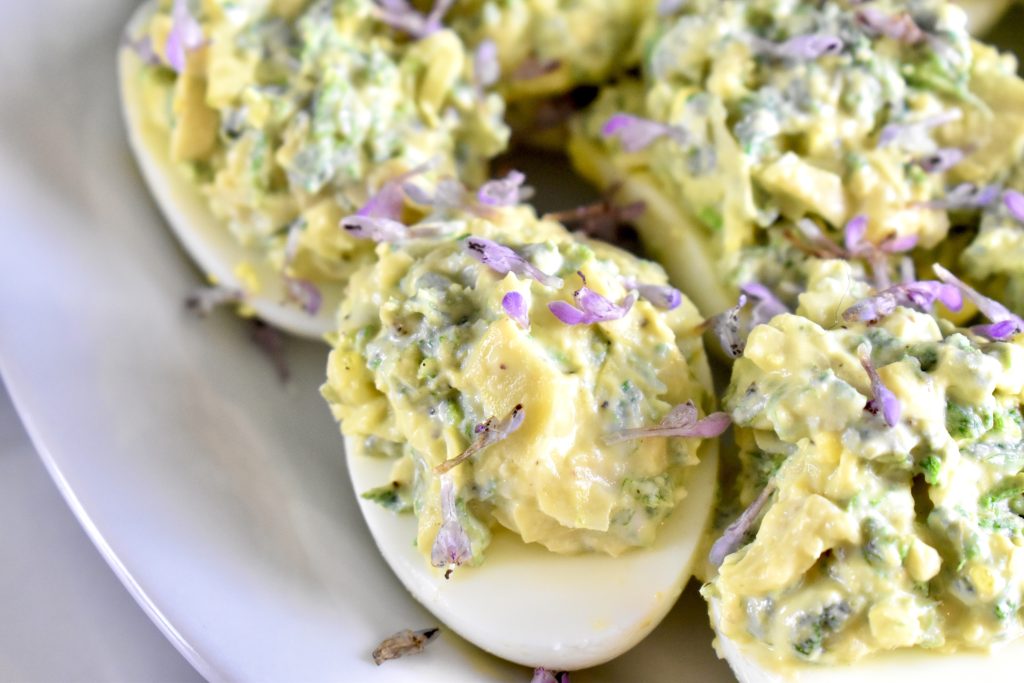 These purple dead nettle devilled eggs are stuffed with a play on spinach and artichoke dip, but with dead nettle instead of the spinach!
Feel free to replace the purple dead nettle with stinging nettle, wood nettle, spinach, or other wild greens. 
I used marinated artichokes for their extra flavour here. You could use freshly steamed or canned, but you may need to adjust the seasoning a bit to accommodate. 
Prep Time

45 min

Cook Time

15 min

Total Time

1 hr

Yield

20 devilled eggs (halves)
Cuisine

Course

Cooking Method

Suitable for Diet
Ingredients
6oz (175g) purple dead nettle, tender tops removed and stems discarded
10 large eggs, at room temperature
4 marinated artichoke hearts
1/4 cup (25g) grated Parmesan cheese
1/2 teaspoon (2g) black pepper
1/2 teaspoon (2g) kosher salt
1 clove garlic, minced finely
1 teaspoon (5ml) Dijon mustard
1 tablespoon (15ml) yogurt or sour cream
4 tablespoons (60ml) mayonnaise
Extra virgin olive oil
Preparation
1
Save any purple flower petals that fall from the dead nettle for garnishing. 
Bring a pot of water to the boil. Add the nettle tops and boil for 2 minutes. 
Rinse under cold water, squeeze dry, then chop finely. 
2
Re-fill the pot and bring it back to a boil. 
Add the eggs (at room temperature, or warmed up in warm water), and cook for exactly 11 minutes.
Drain and cover with cold water for 5-10 minutes. 
Crack and peel the eggs. 
3
Cut eggs in half lengthwise, then gently scoop out the yolks into a large bowl. 
Chop the artichokes finely. 
Add the nettles, artichokes, egg yolks, Parmesan, pepper, salt, garlic, mustard, yogurt, and mayo to the bowl. Mix very well, ensuring that the yolks get incorporated into the mayo.
4
Using a piping bag or spoon, mound the contents of the bowl back into the egg whites. 
This recipe makes extra-loaded devilled eggs. If you'd like them to be normal sized, simply use the excess stuffing somewhere else (like spread onto white bread for a delicious sandwich!). 
5
Transfer the stuffed eggs onto a serving plate, drizzle with olive oil, and garnish with the fallen flower petals. Enjoy!
To refrigerate or to bring the eggs somewhere, simply stab a few with toothpicks, then drape a piece of plastic wrap over the plate. The toothpicks will prevent the plastic from sticking to the stuffing and making a mess. 
Notice how I didn't have you scroll through pages of mundane nonsense to get to the recipe? Notice that there were no annoying pop-ups or ads? That was on purpose!
I want finding and using my recipes to be easy for you, not frustrating. That does translate into a lot of lost income for me though. If you made this recipe and loved it, would you consider "buying me a coffee" and donating a buck or two through the Buy Me a Coffee app? It will help me keep pumping out recipes like this one!