Seared Salmon over Maitake Wild Rice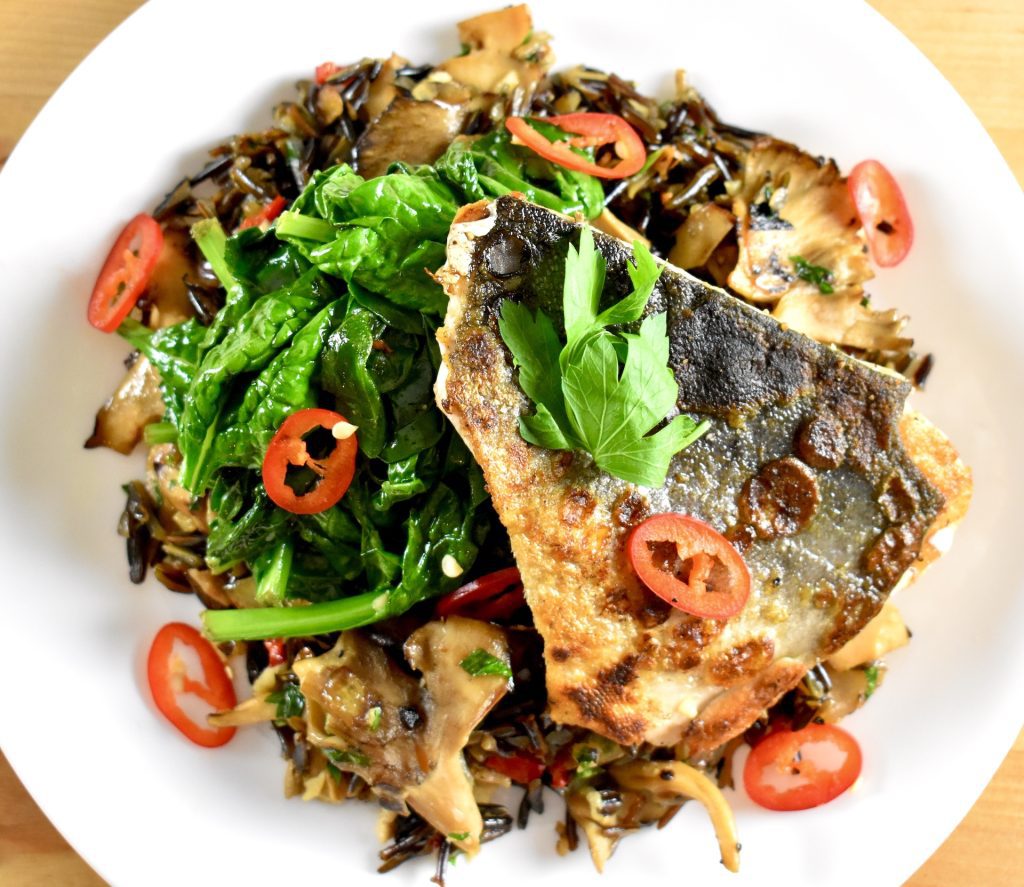 This seared salmon over maitake wild rice is a delicious and healthy meal, that uses maitake or hen of the woods mushrooms (Grifola frondosa).
You can use the more popular and less expensive wild rice blends for this if you like, though you'll have to alter the water and cooking time to match that on the package. 
Oyster mushrooms could be used in place of maitake/hen of the woods. 
Prep Time

15 min

Cook Time

45 min

Total Time

1 hr

Yield

2 servings (can be doubled)
Cuisine

Course

Cooking Method
Ingredients
0.2oz (6g) dried porcini mushrooms or other dried mushrooms
1 cup (200g) wild rice
Kosher salt
3 cups (750ml) water 
1 tablespoon (15ml) neutral oil or lard
1 medium onion, chopped
6oz (170g) fresh maitake/hen of the woods mushrooms, torn into bite-size pieces
3 cloves garlic, minced
2 tablespoons (8g) fresh parsley, chopped
1/2 red finger chili, chopped
1 tablespoon (14g) butter
Black pepper
4oz (115g) fresh spinach
2 small wild salmon fillets, skin on
1/2 red finger chili, sliced (for garnish)
Preparation
1
Break or chop the dried porcini into small pieces, about the size of a dime. 
Add the wild rice, dried mushrooms, a pinch of salt, and the 3 cups of water to a medium pot over high heat.
Bring to a boil, stirring, then reduce to low and cover. Cook for about 45 minutes, or until rice is tender, but still a touch al dente. 
Drain any leftover liquid in the pot, then place it back over low heat until any traces of liquid steams out, about 30-60 seconds. 
Set aside. 
2
Meanwhile, add oil to a cast iron skillet over medium heat. 
Add the chopped onion and cook, stirring, for 5 minutes. 
Add the maitake mushrooms and cook until browned, about 10 minutes. 
Add the garlic, parsley, chopped chili pepper, butter, and a pinch of salt and pepper. 
Cook for 2 more minutes, then dump the contents of the skillet into the wild rice and mix it well. 
3
Put the skillet back over heat and add the spinach (add a touch more butter if skillet is looking dry). Season with salt and pepper and cook for 3-5 minutes, or until just wilted. 
Remove the spinach and set aside. If skillet is looking dry, add a teaspoon (5ml) or so of oil or lard. Increase heat to medium high. 
Season the salmon with salt and pepper, then add the fillets skin-down to the skillet. 
Cook for 5 minutes or until blistered and lightly charred, then flip the salmon. Immediately turn off the heat. 
After 30 seconds, remove the salmon from the skillet. 
4
To serve, spoon some of the maitake wild rice onto plates. Top each with half the spinach, one of the salmon fillets, and a scattering of sliced chili peppers. Enjoy!