Butter "Chicken" Pizzas with Tandoori Squirrel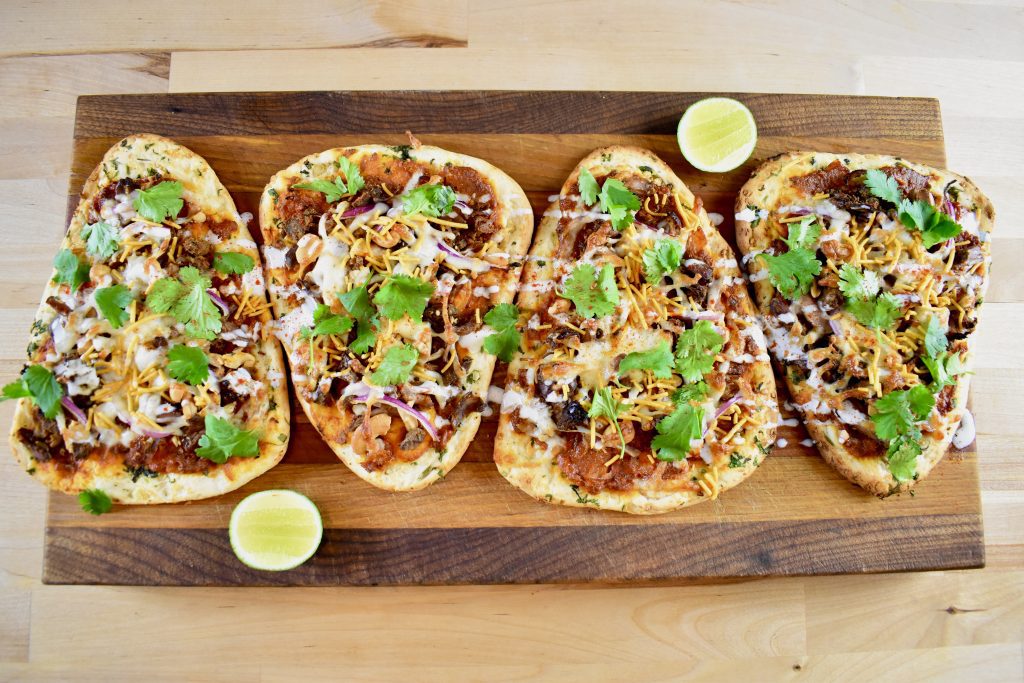 For those uninitiated to the world of eating squirrel, it can be a little intimidating to start out. These pizzas are the perfect entry point: delicious and irresistible, not overpoweringly squirrely, but definitely maintaining some of the essence of the meat. For those who already love squirrels? These pizzas are still a tasty way to enjoy them and should be on regular rotation! 
For a simplified version of this recipe, click here: Simplified Squirrel Pizza
Cook Time

2 hr 10 min

Ready in

2.5 Hrs + Marinating Time

Yield

4 Individual Pizzas
Ingredients
For the Marinade
2 squirrels (I used Eastern Greys) cut into 6 pieces each: legs, saddle, and ribs/neck
1 tablespoon vegetable oil
Juice of 1 lemon
1/2 teaspoon kosher salt
1/4 teaspoon Kashimiri chili powder or paprika
1 teaspoon garam masala
1/2 thumb-sized piece of ginger, peeled and finely minced
2 cloves garlic, peeled, finely minced
1/2 cup plain yogurt
1 teaspoon methi (dried fenugreek leaves) optional
For the Sauce
1 1/2 tablespoons butter
1/2 onion, peeled and finely chopped
1/8 teaspoon kosher salt
1/8 teaspoon cumin powder
1/8 teaspoon coriander powder
1/4 teaspoon Kashmiri chili powder or paprika
1/4 teaspoon garam masala
1/2 thumb-sized piece of ginger, peeled and finely minced
2 cloves garlic, peeled and finely minced
2 heaping tablespoons tomato paste
1/2 cup half and half (18%) cream
For the Pizzas
4 pieces of naan bread, preferably garlic naan
1/8 red onion, sliced thinly
1/8 cup cashews, chopped optional
1 cup mozzarella cheese, shredded (more if you like it cheesy)
1/8 cup aloo bhujia optional
Handful cilantro leaves, picked
1 tablespoon mayonnaise
1 tablespoon plain yogurt
Juice from 1/2 lime, other 1/2 for garnish
Preparation
Day Before
1
Combine all of the marinade ingredients (except for the vegetable oil) well and transfer to a bowl or ziplock bag. Drop in the squirrel pieces and make sure the marinade completely covers all surface areas. 
Refrigerate and let marinate for at least 8 hours. 
Day Of
2
Preheat oven to 350°F.
Spread out the vegetable oil in a cast iron pan or casserole dish. Place the squirrel pieces in the pan, then spoon all of the leftover marinade on top of the pieces.
Bake in the oven for about 2 hours, or until the squirrel begins to turn golden and the marinade dissipates. 
3
Take the squirrel out of the oven and let cool. 
Crank up the heat in the oven to 450°F.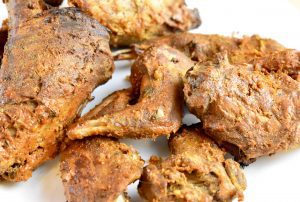 4
While the squirrel is cooling, prepare the sauce. 
In a pot or frying pan, melt 1/2 tablespoon of butter over medium heat. Add the onions and cook for about 6-8 minutes until they're soft and starting to pick up some colour. 
Add the spices, ginger, and garlic and cook for another 2-3 minutes. 
Add the tomato paste and stir everything well to combine. Cook for another 2 minutes, stirring regularly. 
Pour in the cream and reduce the heat to low. Stir it in and keep cooking until the sauce has thickened, another 1-3 minutes. 
Take the pan off the heat and add the remaining 1 tablespoon of butter. Stir it in until it completely dissolves. 
Set the sauce aside for the time being. 
5
Now that the squirrel has cooled, use your fingers to pull off all of the meat, leaving it in small shredded bite-sized chunks. Try to make sure there are no bones left in the meat. 
Set aside the bones to make stock if you desire, or dispose of them. 
6
Arrange the 4 pieces of naan bread in front of you. Split the sauce between them and spread it around each piece with the back of a spoon. 
Now add the squirrel meat, onions, and cashews evenly between the 4 pizzas.
Top with cheese, and put in the oven directly on the upper rack. I like to put a sheet pan underneath to catch any dripping cheese. 
Cook for 6-10 minutes (depending on the thickness of naan bread and personal oven temperature), keeping a close eye on the pizzas so they don't burn. 
7
While the pizzas are cooking, combine the mayo, yogurt, and lime juice in a bowl, or better yet, a squeeze bottle. 
Once the pizzas are crispy on the bottom and nice and melty on top, remove them from the oven. 
8
Top the pizzas with the aloo bhujia (optional), and cilantro leaves, then drizzle them with the mayo-yogurt sauce. Enjoy!