Shaved Venison Bagels with Horseradish Cream Cheese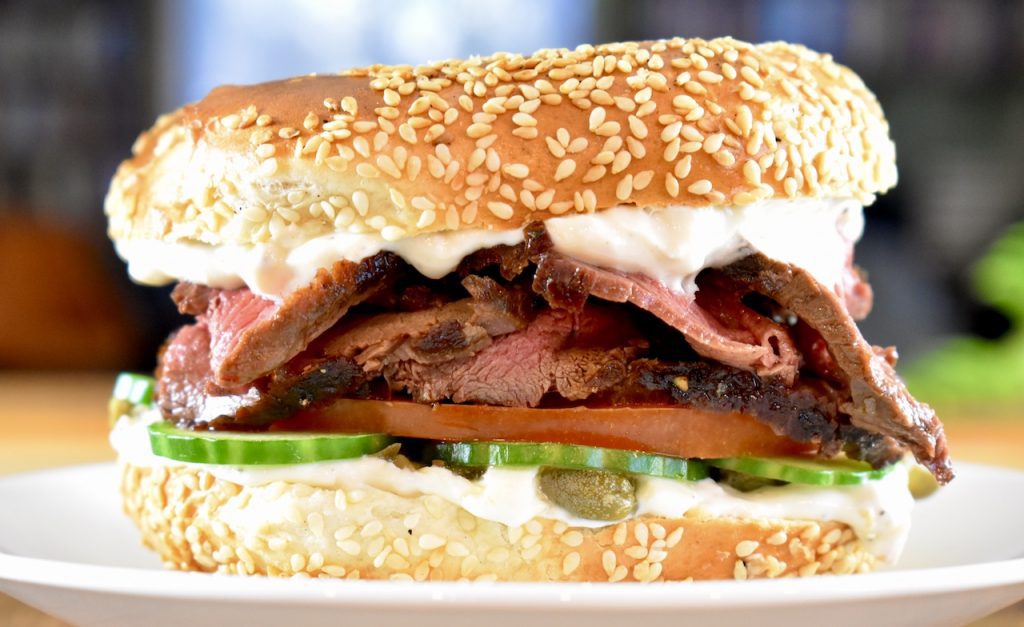 These bagels make for a hearty handheld meal and are truly delicious. If you're into a high stack of meat on your sandwich, allot ½ lb of venison per person. If you'd prefer a normal amount of meat, do ¼ lb instead.
If you're going to be making a bagel sandwich this special, it is well worth it to find a bakery that sells freshly made bagels. I find the smoky wood-fired Montreal-style bagels go particularly well with the venison, but it's up to you.
A meat slicer would be very helpful with this recipe, but if  you don't have one, just strive to slice the meat as thinly as possible. If you happen to have some flaky finishing salt around, knock some over the venison after you've shaved it to amplify those meaty flavours even more!
Prep Time

30 min

Cook Time

30 min

Total Time

1 hr

Yield

4 bagel sandwiches
Ingredients
1-2lb (454-900g) venison loin roast (or steaks)
Kosher salt
1 tablespoon (15ml) duck fat or vegetable oil
4 high quality bagels (Montreal or New York style)
8oz (230g) plain full fat cream cheese
1/4 cup (60ml) plain yogurt
2 tablespoons (30ml) prepared horseradish
1/2 teaspoon (2g) black pepper
2 tablespoons (15g) capers, chopped (optional)
1/2 English cucumber, sliced
1 large tomato, sliced
1/2 red onion, sliced
Preparation
1
Season the venison loin generously with salt.
Add oil to a stainless steel or cast iron pan over medium-high heat.
Add venison loin (or steaks if using) and cook, flipping occasionally, until rare to medium-rare, or until a meat thermometer reads 120-130°F when poked into the middle.
Let rest for 15-20 minutes.
2
Meanwhile, mix together the cream cheese, yogurt, horseradish, and pepper into a bowl.
3
Once venison has rested, sliced across the grain as thinly as possible.
4
Cut the bagels in half and toast lightly.
5
Take a bagel and spread both sides generously with the cream cheese mixture.
Sprinkle over ¼ of the capers (if using) onto the bottom piece.
Add the cucumbers, tomato, and red onion, then stack with the sliced venison.
Top with the other half of the bagel and repeat with the rest. Serve immediately. Enjoy!