Lemongrass Bluegill Bánh Mì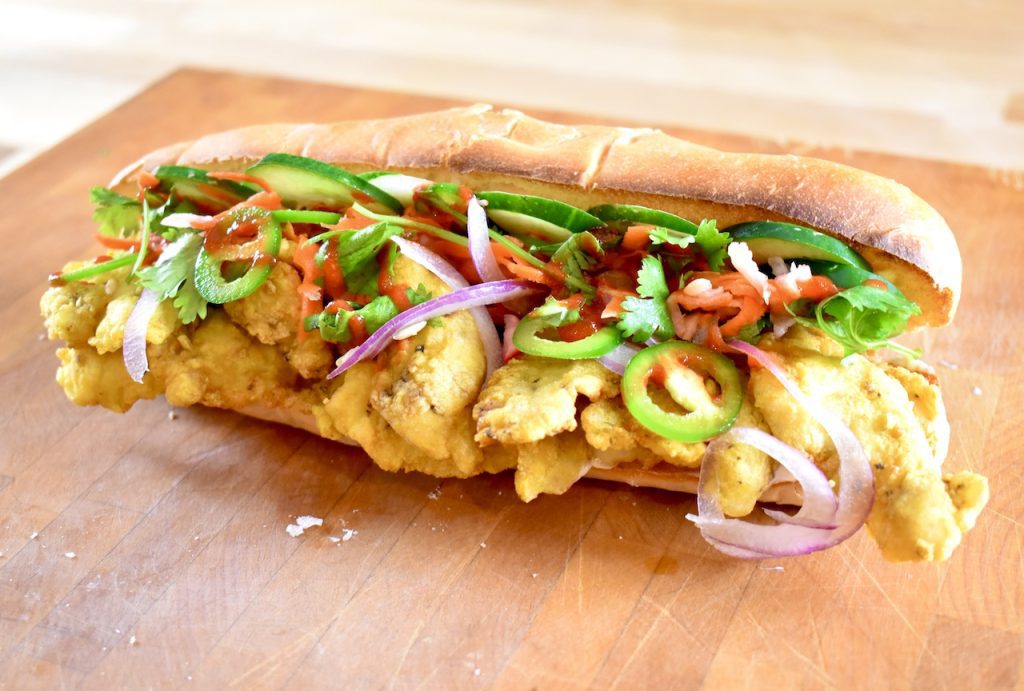 These sandwiches may be my favourite thing I've ever made with bluegill!
You could use any panfish (rock bass, sunfish, bluegill, crappie, etc.) fillets for this recipe, or even other white fish fillets like bass, pike, or catfish, cut to size.
Bánh mì are incredible Vietnamese sandwiches usually made with liver pâté and cold cuts, but can really have any filling. 
Fried fish actually works amazingly, and goes very well with the traditional do chua pickles made from daikon and carrot. 
For this sandwich, I made a quick version of do chua, using shredded radishes and carrot, but you could look up a traditional recipe online and do it properly if you'd like. 
Prep Time

1 hr

Cook Time

20 min

Total Time

1 hr 20 min

Yield

2 hefty sandwiches

Serving Size

1/2 a sandwich each
Cuisine

Course

Cooking Method
Ingredients
For the Pickles/Do Chua
1 carrot, peeled 
1 small daikon radish, peeled or 5 red radishes
2 tablespoons (24g) white sugar 
1 teaspoon (4g) kosher salt
1/4 cup (60ml) rice vinegar
1/4 cup (60ml) water
For the Fish
1lb (454g) bluegill fillets or any panfish
2 tablespoons finely chopped lemongrass or lemongrass paste
1/2 teaspoon (2g) kosher salt
1/2 teaspoon (1g) black pepper
1 teaspoon (2g) turmeric powder
1/2 teaspoon (1g) garlic powder
1 cup (155g) rice flour or all purpose flour
Oil or lard for frying
For the Sandwiches
2 banh mi or sub buns
1 small cucumber, sliced thinly
1/8 red onion, thinly sliced
1 jalapeño or chili pepper sliced thinly
1 big handful fresh cilantro/coriander, chopped
Kewpie mayo or real mayonnaise
Sriracha hot sauce
Maggi or soy sauce
Preparation
For the Pickles/Do Chua
1
Peel and great carrot and daikon radish on the large holes of a cheese grater.
If using regular red radishes, don't bother peeling, just trim them and grate them. 
Add the sugar, salt, rice vinegar, and water to a pot and bring to a boil. 
Add the veggies, stir well, and turn off the heat. 
Toss again and let marinate for as long as possible before you make the sandwiches. 
For the Fish
2
Heat oil in deep fryer or deep skillet to 350°F. 
Toss the fillets in the lemongrass, salt, pepper, turmeric, and garlic powder. 
Turmeric stains, so use gloves or spoons to toss the fish. 
Dump the flour out onto a plate. Dip each piece of fish in the flour so that it is completely coated, then add to the fryer for 3 minutes, or until crispy. 
Work in 2-4 batches. 
Drain fish on paper towels.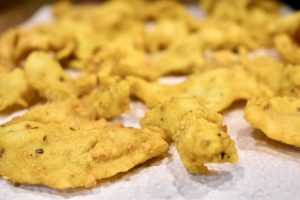 For the Sandwiches
3
Preheat oven or toaster oven to 300°F.
Toast buns until warm and crispy on the outside, but still soft in the middle, about 5 minutes or so. 
Split the buns in half lengthwise. 
Spread both cut sides generously with mayo. 
Pile 1/2 of the fish fillets onto the bottom half, then top with half of the cucumbers, onions, and jalapeños.
Take a big handful of pickles/do chua and squeeze them dry over the sink. Sprinkle them on the sandwich. You may end up with extra pickles. 
Sprinkle with cilantro and drizzle with as much sriracha as you'd like for spiciness. 
Close the sandwich, cut in half, and serve immediately. Enjoy!