Bison Gyudon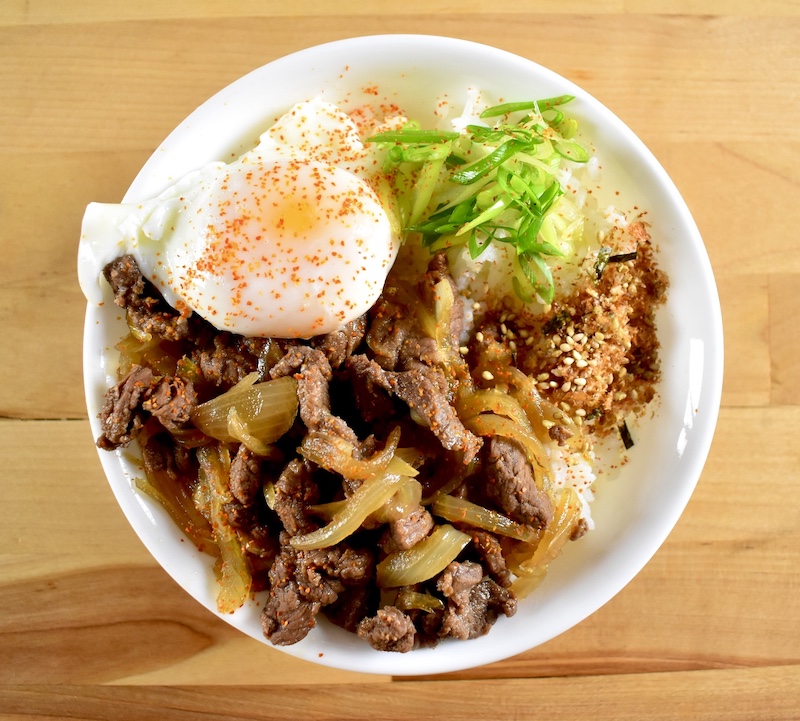 This bison gyudon is an excellent way to eat any big game, whether it be deer, elk, moose, caribou, nilgai, or even normal beef!
It's made in the "western" style of Japanese cooking and is a great bridge to gently bring picky western eaters over to eastern flavours. 
This cooks quickly and therefore makes an excellent weeknight meal. To make things even quicker, use instant dashi granules rather than making your own from scratch. Instant dashi can be bought online, or at any Japanese grocery store. 
To make slicing the bison easier, try partially freezing it first. 
Try serving your gyudon alongside this delicious Japanese potato salad dish!
Prep Time

20 min

Cook Time

20 min

Total Time

40 min

Yield

2 servings with sides, 4 servings without

Energy

0 cal
Ingredients
1 tablespoon (15ml) oil or lard
2 medium onions, sliced thinly
1 cup dashi (to make dashi, follow instructions 

here

)
1/4 cup (60ml) sake (optional)
2 tablespoons (30ml) Japanese soy sauce
2 tablespoons (30ml) mirin
1 tablespoon (12g) sugar
1 lb (454g) bison (loin or round) sliced VERY thinly
1 poached egg per diner (to poach eggs, follow instructions 

here

)
Cooked sticky rice (to serve)
3 scallions, sliced (for garnish)
Shichimi togarashi (for garnish, optional)
Furikake seasoning (for garnish, optional)
Preparation
1
Heat oil in medium pot or skillet over medium heat. 
Add onions and cook for 3 minutes. Do not let the onions brown; reduce heat if necessary.
2
Add the dashi, sake, soy, mirin, and sugar to the skillet. Cook for 5 minutes. 
Add the bison meat.
Cook until the liquid reduces into a thick sauce, about 10 minutes.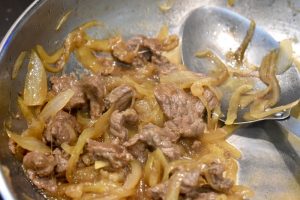 3
To serve, spoon rice into bowls. 
Top with the bison/onion mixture and a poached egg. 
Garnish with scallions, shichimi toragashi, and furikake seasoning (if using). Enjoy!