Moules Frites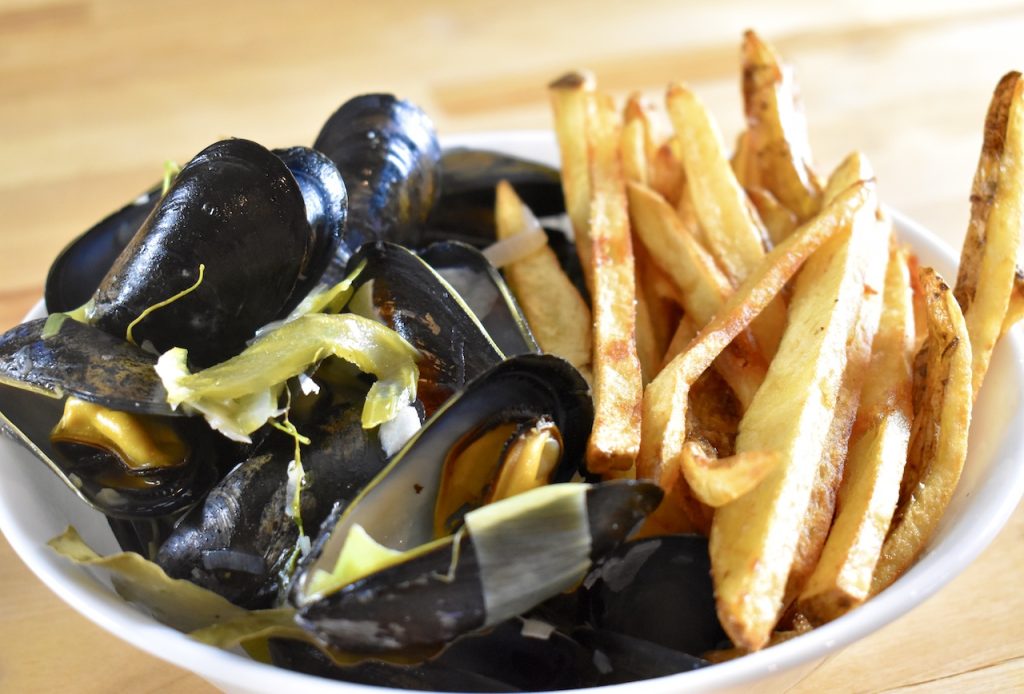 A classic Belgian dish, moules frites simply means mussels and fries. 
Traditionally the potatoes are fried in beef fat, adding more flavour and a better crisp (did you know McDonald's french fries also started out as beef fat fries?). If you can obtain beef fat from a butcher, then please do, if not, then just use whatever fry oil you prefer; vegetable oil is fine. 
If you want to take the beef fat route, find a butcher and ask if you could buy "beef fat and trimmings for rendering". Better yet, call ahead so they can have some ready for you. My local butcher was able to get me a little over a pound on short notice, so I made my fries with half beef fat and half vegetable oil. 
Mussels tend to be very affordable (Costco often sells them for under $5/kg) and also very easy to make, which makes me wonder why more people don't take advantage of this elegant treat. 
Maybe it's fear over bad mussels. To avoid them, be sure to discard any open mussels that don't slowly close after tapping them on the counter before you cook them. After cooking, discard any mussels that didn't open. Though you may be tossing out a few good ones by following these steps, it's better to be safe than sorry! 
Prep Time

20 min

Cook Time

10 min

Total Time

30 min

Ready in

3-5 hours if rendering fat, 30 minutes if not

Yield

4 servings

Serving Size

1lb (0.5kg) mussels each
Cuisine

Course

Cooking Method

Special Equipment

Very large pot
Temperature gauge
Ingredients
For the French Fries
4lbs raw beef fat, or 12 cups (3L) vegetable oil for frying
2 large russet potatoes, or about 1lb (454g)
Fine salt
For the Mussels
4lbs (2kg) fresh mussels
2 leeks
2 shallots or 1 onion, sliced
2 stalks celery, sliced on a bias
4 cloves garlic, sliced
2 bay leaves
3 sprigs fresh thyme
2 tablespoons (28g) butter
1 teaspoon (2g) black pepper
1 cup (250ml) white wine
Preparation
For the Fries
1
If using beef fat:
Chop the fat into small pieces, about the size of your fingertip. 
Add it to a deep skillet with 1/2 cup (125ml) water. Bring the water to a simmer over medium heat. 
Once the water evaporates, reduce heat to low. 
Let cook slowly for 3-5 hours, stirring every once in a while. The fat will render into liquid, leaving little crunchy bits behind. 
Strain the fat through a mesh strainer into whatever you plan on frying the potatoes in. Make sure there is lots of headspace for expansion. 
2
Cut the potatoes into french fries, put them in a bowl, and cover with cold water. 
Let sit for as long as possible, up to overnight. I like to do it while the beef fat is rendering. 
3
Heat the fat or oil up to 300°F. 
Drain the potatoes and let dry for a bit. 
Add them to the oil and cook for 5 minutes. 
Take the fries out of the oil and drain. 
Increase the heat of the oil to 375°F.
Carefully dump the fries back in and cook until golden and crispy. 
Remove the fries and drain. Season with fine salt. 
For the Mussels
4
Wash the mussels under cold water, pulling off any beards (tough seaweed-looking bits coming out of the shell that the mussels use to attach themselves to rocks), and discarding any open mussels that don't close after a couple gentle taps on the counter. 
5
Cut the dark green section off of the leeks and discard (or wash and save for making broth). Cut the white parts in half lengthwise and run them under cold water, leafing through the layers to find any potential dirt that may be trapped. 
Slice them into thick half moons. 
6
Melt the butter in a large pot over medium heat. 
Add the leeks, shallots, and celery and cook 5 minutes. 
Add the garlic, bay leaves, thyme, and pepper and cook for another 2 minutes. 
Add the white wine, bring to a simmer, then dump in the mussels, tossing them with the vegetables and wine. 
7
Put a lid on the pot and cook for 5-8 minutes, or until the mussel shells open up.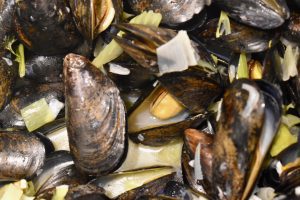 Take off of the heat once they open, or they will overcook and shrivel. 
8
Toss the mussels in the liquid at the bottom of the pot a few times, then scoop into bowls. 
Add a handful of fries to each bowl, as well as a dollop of mayo if desired. 
Use a mussel shell or fork to pry the mussels out of their shells and toss the spent shells into a large communal bowl. Discard any mussels that didn't open.
I like to let some of the fries soak up the liquid and some to stay crunchy. Enjoy!