South African Boerewors Burgers with Chakalaka and Slap Chips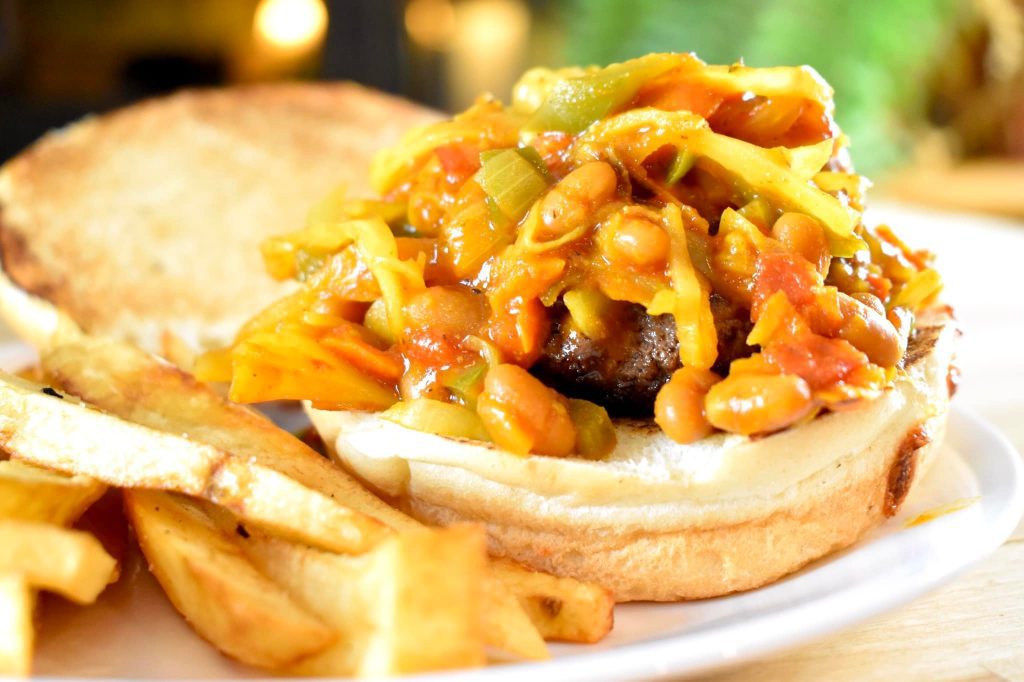 These burgers aren't traditionally South African, but they are made up of elements that are.

The first, boerewors, is an Afrikaner farmer's sausage made from beef or game meat and seasoned liberally with coriander seed, and sometimes cloves, allspice, and nutmeg. It's always found in coils instead of links and is usually cooked on the braai, which is the South African equivalent to a grill or bbq.
I took boerewors ingredients and turned them into a burger instead of the traditional sausage. 
The second, chakalaka, is a type of spicy relish or side that is also served at braais along with the meat. It usually consists of onions, peppers, cabbage, carrots, and canned beans, which are all mixed and cooked down with curry spice. Apparently gold miners in Johannesburg came up with the recipe, mixing whatever they had on hand with canned beans.
I use the chakalaka to top the boerewors burger instead of using it as a side. With all of those textures and flavours as well as the sauciness of the chakalaka, the burger doesn't need any other toppings.
Lastly, slap chips (or slap tjips, pronounced "slop" or "slup"), South African floppy fries. These fries are a ubiquitous side to any burger in South Africa and differ from the fries here in that they are soft and floppy.
The slap chips get cut thickly from floury potatoes, then deep fried at a lower temperature so they don't crisp up too much. They are then spritzed with vinegar and covered for a bit to let the steam soften them.
Combining all of these elements makes for a delicious burger meal that is a refreshing change from the norm! 
Prep Time

30 min

Cook Time

40 min

Total Time

1 hr 10 min

Yield

4 burgers
Cuisine

Course

Cooking Method

Special Equipment

Mortar and Pestle or Spice Grinder
Microwave
Ingredients
3 large Russet potatoes, peeled and cut into thick batons
Cooking oil for frying
1 tablespoon (5g) whole coriander seeds
1 teaspoon (3g) kosher salt
1.5lbs (700g) medium ground beef
1/4 teaspoon (0.5g) grated nutmeg
1/2 teaspoon (1g) ground black pepper
1 teaspoon (5ml) + 1 teaspoon (5ml) malt (or cider) vinegar
1 teaspoon (5ml) Worcestershire sauce
2 tablespoons (30ml) vegetable oil
1 small onion, chopped
2 cups (650g) green cabbage, sliced
1 green pepper, chopped
1 carrot, peeled and grated
1 jalapeño or chili pepper, seeded and minced
2 cloves garlic, minced
1/2 teaspoon (1g) fresh ginger, minced or grated
1 tablespoon (15ml) tomato paste
Pinch of salt and pepper
2 teaspoon (4g) curry powder
1/2 teaspoon (1g) dried thyme leaves
1/2 teaspoon (1g) paprika
1 tomato, chopped
1 can baked beans in tomato sauce
4 burger buns, toasted
Preparation
1
Peel and cut the potatoes into thick sticks or batons. Put into a bowl and cover with cold water to soak. 
2
Add the coriander seeds to a dry skillet over medium heat and toast until golden and fragrant, about 5 minutes or so. Be careful not to burn them!
Add them and the salt to a spice grinder or mortar and pestle and crush until finely ground. 
3
Put the beef into a mixing bowl. Add the coriander/salt mix, as well as the nutmeg, pepper, 1 teaspoon (5ml) of the vinegar, and the Worcestershire sauce to the beef and mix until combined.
Try not to overwork the meat by mixing too much or the burgers won't be as tender. 
Form the meat into 4 patties and put them on a plate. Set aside for the time being. 
4
To make the chakalaka, heat the 2 tablespoons (30ml) of oil in a skillet over medium heat. Add the onions, cabbage, peppers, and carrot and cook for 5 minutes, stirring regularly. 
Add the chili, garlic, ginger, tomato paste, and spices and cook for another 3 minutes. 
Add the tomato and the whole can of beans, reduce to medium low, and cook for 10 minutes, stirring often. 
Set aside on a warm burner. 
5
Heat 2 inches of oil in a deep skillet to 350°F (175°C).
Meanwhile, drain the potatoes and lay them out on a large plate in one even layer. Put them in the microwave for 5 minutes. 
Add the potatoes to the hot oil in two batches. Cook each batch for 5 minutes, then drain onto paper towels. 
While draining, sprinkle with salt and malt vinegar, then cover with more paper towels. This will create steam and cause the fries to go limp, which is what you want. Cover for about 2 minutes.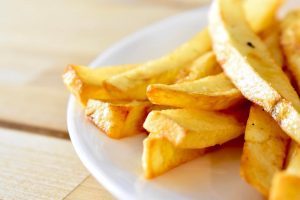 6
Heat 2 teaspoons of oil in a  cast iron or steel skillet over medium high heat. 
Add the burger patties and sear for 5 minutes, then flip and cook for about 8 minutes more, or until they are done in the middle. Keep adjusting the heat so that they do not burn. 
7
To serve, toast 4 buns, then put a patty onto each of them. 
Smother the patties in chakalaka, then top with the upper bun. 
Serve with fries/slap chips on the side with more salt and vinegar. Enjoy!