Venison Gamjatang (Korean Neck-Bone Soup)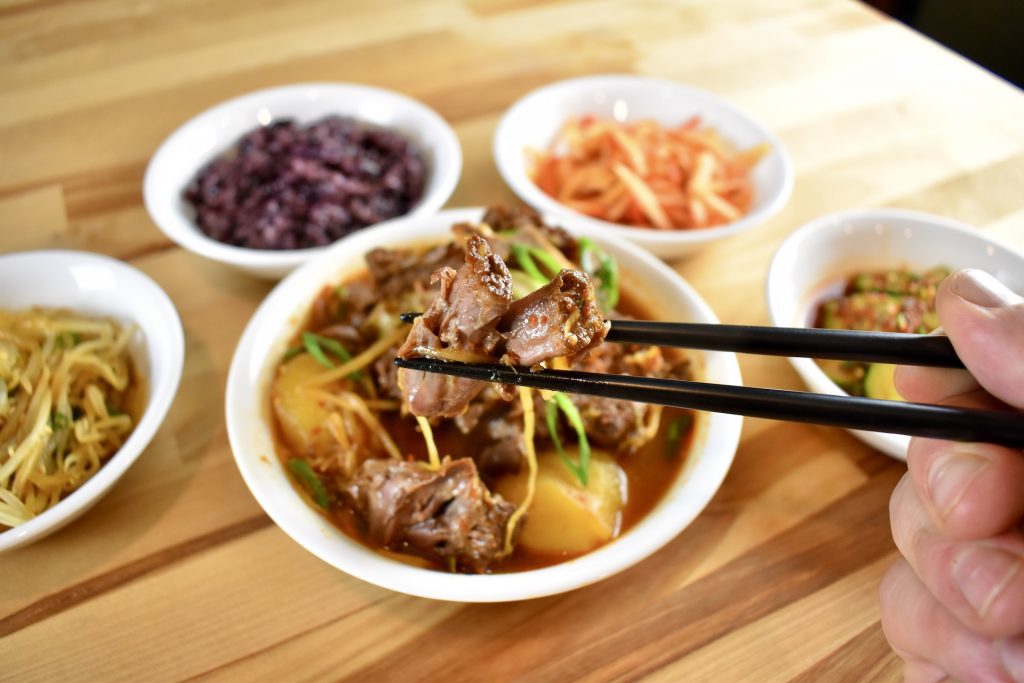 This classic Korean soup traditionally made from pork neck and potatoes gets re-invented with delicious venison neck. A word of warning though, if you live anywhere near a zone with chronic wasting disease (CWD), you'll want to avoid using deer for this recipe as the spinal cord can hold the disease. Either get your deer tested, or try the recipe out with something like pork, bear, elk, moose, or lamb. 
*You'll need a few harder-to-find Korean ingredients for this recipe, but most can be found in any Asian or Korean grocery store, or online. Gochujang is a spicy paste that comes in a red plastic container. Doenjang is a mild soy-based paste that comes in a brown plastic container (miso paste can be substituted if you just can't find it). Gochugaru is Korean red chili flakes, usually found in bags. If you have a choice, get the coarser version. 
Prep Time

15 min

Cook Time

2 hr 30 min

Total Time

2 hr 45 min

Yield

4 servings
Ingredients
For the Broth
About 2lbs (1kg) bone-in neck (deer, elk, moose, bear) separated into 4 pieces
1 onion, halved
1 head of garlic, halved
2 thumb-sized pieces of ginger, sliced into a couple of pieces
1 teaspoon whole black peppercorns
1 green onion, whole
2 tablespoons doenjang* (see note above)
For the Paste
6 cloves garlic, minced
3 tablespoons gochugaru chili flakes* (see note above)
1 tablespoon mirin
1 tablespoon fish sauce
1 tablespoon soy sauce
1 teaspoon sesame oil
1 tablespoon gochujang*
1 tablespoon doenjang*
For the Soup
3/4lb Napa cabbage (about 12 medium leaves)
1/4lb bean sprouts (about 1 cup)
3 medium potatoes cut into quarters
3 green onions sliced
Preparation
1
In a large pot, cover meat with water and bring to a boil. Let boil for 5 minutes, then dump the water out in the sink and rinse off the meat and the pot. This is to get rid of scum and impurities. 
2
Add the rinsed meat back into the pot and top with 8 cups of water and the rest of the broth ingredients. 
Bring to a strong simmer and cover, cooking it for 2 hours. Check every so often to make sure that there is still liquid in the pot. 
3
While the broth is cooking, blanch the cabbage by dropping the leaves into a pot of boiling water for 2 minutes, then rinsing them under cold water to stop them from cooking. 
Mix together all of the paste ingredients until it forms a thick paste. 
4
After 2 hours, pass the broth through a colander into a large enough vessel to catch all of the liquid. 
Set aside the meat and discard the rest of the aromatics.
5
Wash out the pot, add the meat, then the liquid back in and set over low heat. 
Add the paste. Tear the cabbage with your hands into large, bite-sized pieces and add them to the pot. Add the half of the sliced green onions. Add the potatoes and cook for another 20 minutes, or until the potatoes are tender (pierced easily with a fork). Taste and add salt if necessary. 
6
To serve, put one piece of neck into each bowl, as well as 1/4 of the potatoes. Ladle the broth over the meat and potatoes. Scatter on some of the reserved green onions.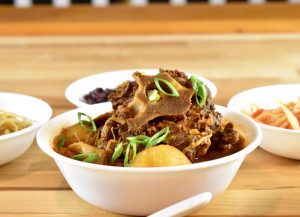 Use chopsticks to pry off pieces of tender meat from the bone and a spoon to get at the broth. Serve with assorted ban chan (Korean side plates) like kimchi, as well as white or purple rice. Enjoy!