Shredded Venison Shank Rendang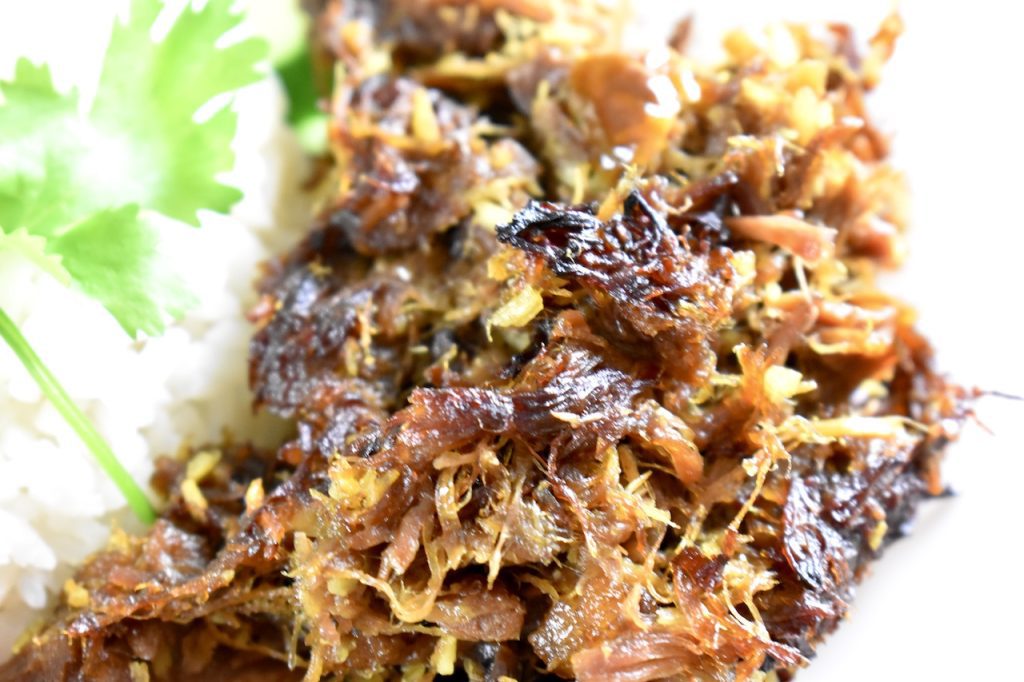 Beef rendang is a very popular dish originating in West Sumatra in Indonesia. 
A dry curry, it is traditionally made with cubes of beef or water buffalo slowly braised in coconut milk and spices. 
I riffed on the original recipe, swapping venison shanks for stewing beef, and braising it down until I could shred it, a delicious way to enjoy it. 
Some of these ingredients may be hard to find (any large Asian grocery store will carry them), but are quite important. If you can't source the individual components, you may be able to find a rendang paste online, which can be subbed in for them. 
Prep Time

30 min

Cook Time

5 hr

Total Time

5 hr 30 min

Yield

4-6 servings
Cuisine

Course

Cooking Method
Ingredients
For the spice paste
1 stalk lemongrass, chopped or 2 tablespoons chopped lemongrass
3 shallots, chopped
3 cloves garlic, chopped
4 makrut (kaffir) lime leaves
1 thumb ginger, chopped
1 thumb galangal, chopped
6 dried chilies
For the rendang
2-4 venison shanks, whole or cut osso buco style 
3 tablespoons (45ml) lard or vegetable oil
3 cups (750ml) coconut milk
1 cup (250ml) water
1 tablespoon (15ml) tamarind paste
1 stick cinnamon
2 cloves
2 star anise
2 cardamom pods
1 stick lemongrass, broken in half
2 tablespoons (12g) brown sugar
1 tablespoon (15ml) fish sauce or 1 teaspoon (5g) salt
1/4 cup (25g) unsweetened shredded coconut
Preparation
1
Add all of the spice paste ingredients to a mortar and pestle, food processor, or blender and blitz into a paste. 
2
Add the fat or oil to a Dutch oven or large pot with a lid over high heat. 
Add the shanks and sear on all sides until very browned, about 8 minutes. 
Remove the shanks and set aside, turning the heat down to medium. 
3
Add the spice paste and sauté for 2 minutes.
Add the shanks back in, then add the coconut milk, water, and tamarind paste. Mix well, then bring to a strong simmer. 
Lower to a low simmer and add the cinnamon, cloves, star anise, cardamom, and lemongrass stick. You could also tie all of the spices up into a piece of cheese cloth and add that to the pot for easier removal later. 
Cover and cook over low heat for 4 hours. 
4
Remove the shanks and set aside to let cool. 
Use a slotted spoon to remove the whole spices or spice bag and discard. 
Shred the venison shank meat and discard the bones. Add the meat back to the pot. 
5
Bring the pot back to a strong simmer. Add the sugar and fish sauce.
Let simmer uncovered until the liquid is pretty much gone and the meat looks dry; 45 minutes to 1 hour. Moderate the heat as the liquid evaporates, by the end, you'll probably want it on low heat. 
6
Meanwhile, add the shredded coconut to a dry pan over medium heat. 
Shake the coconut around the pan until it starts to turn golden and smell toasty. 
Toss the coconut into the simmering pot with the rest of the ingredients. 
7
Once the meat looks dry and sticky, it's ready to serve.
Serve with rice, tart and funky sides, and some cilantro or scallion to garnish. 
Enjoy!