Spruce Grouse Musakhan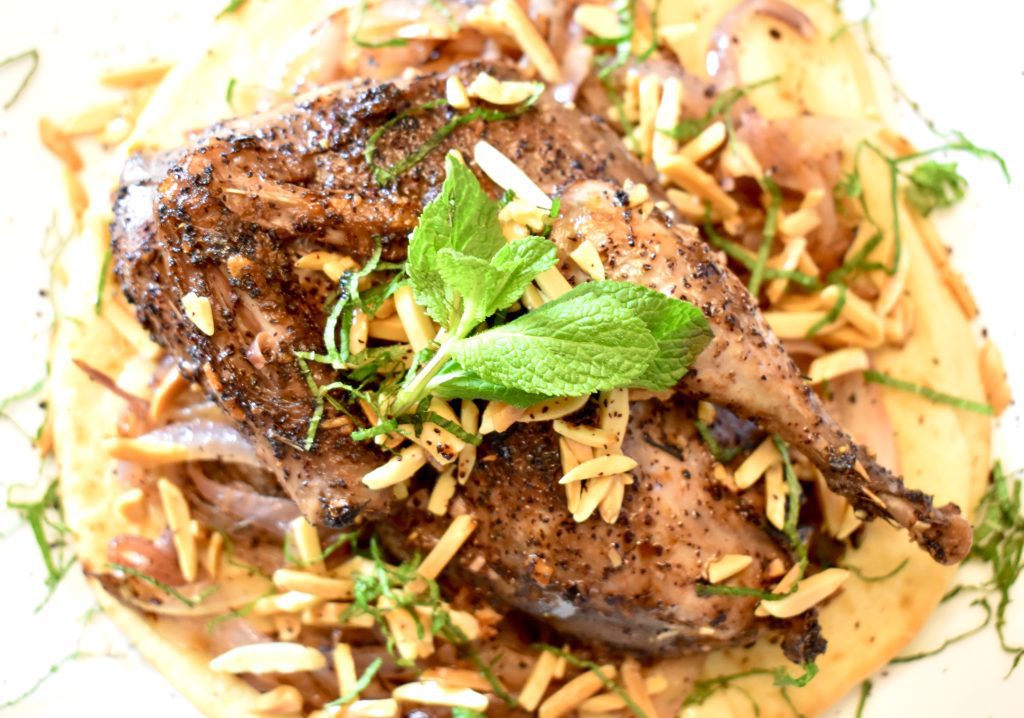 This spruce grouse musakhan is an incredibly tasty take on the traditional Palestinian dish which is usually made with chicken. The dish consists of a roasted bird, or a piece of one, seasoned heavily with sumac, and served on flatbread with onions and nuts. 
Feel free to use ruffed grouse, ptarmigan, whole doves, small pheasants, or any upland bird for this recipe, though it works best with whole, plucked birds. You could do it with breasts, but you'll need to adjust the roasting time so they don't dry out. 
Prep Time

20 min

Cook Time

40 min

Total Time

1 hr

Ready in

1 hour, plus 2 hours marinating time

Yield

4 servings

Serving Size

1/2 bird each
Cuisine

Course

Cooking Method
Ingredients
For the Marinade
2 whole grouse, cut in half down the spine
1 tablespoon (15ml) lemon juice
1 tablespoon (15ml) olive oil
2 cloves garlic, minced finely
1 tablespoon (6g) sumac
1/2 teaspoon (3g) kosher salt
1/2 teaspoon (1g) black pepper
1/2 teaspoon (1g) ground cumin
1/4 teaspoon (0.5g) cinnamon
1/4 teaspoon (0.5g) allspice
For the Rest
2 tablespoons (30ml) cooking oil or fat
1/2 tablespoon (7ml) + 2 tablespoons (30ml) olive oil
1/2 cup (70g) slivered almonds or pine nuts
3 red onions, sliced
1/2 teaspoon (3g) kosher salt
1/2 teaspoon (1g) sumac
1/4 teaspoon (0.5g) black pepper
1/4 teaspoon (0.5g) ground cumin
4 naan breads or flatbreads
Fresh parsley or mint to garnish
Preparation
1
Mix the marinade ingredients together, then rub onto the birds. Let marinate on the counter for 1-2 hours. 
2
Preheat oven to 400°F (2oo°C, gas mark 6).
3
Add the fat or cooking oil to a cast iron, or oven-safe skillet and put it into the oven to heat up. 
In another skillet, add the 1/2 tablespoon (7ml) olive oil over medium heat. 
Add the almonds or pine nuts and toast, stirring often, until golden. Don't walk away, as they can burn very easily. Remove from the skillet and set aside. 
4
Increase heat to medium high, add the other 2 tablespoons (30ml) of olive oil and add the onions. 
Season with the salt, sumac, pepper, and cumin. Cook until soft, about 15-20 minutes. 
5
Meanwhile, take the hot skillet out of the oven (ouch! with oven mitts!) and add the halved marinated grouse, breast side down. 
Cook for 20 minutes. 
Remove from oven and let rest 10 minutes. 
6
Once the birds are out of the oven, turn it off, then add the flat breads and let them toast for a couple minutes. 
7
To serve, top the flatbread with onions, then a 1/2 grouse, sprinkle with nuts, pour any pan juices over everything, then sprinkle with fresh herbs. Serve with a Middle Eastern style salad. Enjoy!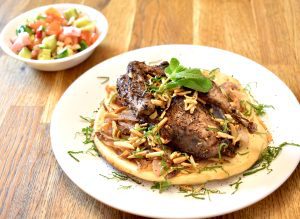 Notice how I didn't have you scroll through pages of mundane nonsense to get to the recipe? Notice that there were no annoying pop-ups or ads? That was on purpose!
I want finding and using my recipes to be easy for you, not frustrating. That does translate into a lot of lost income for me though. If you made this recipe and loved it, would you consider "buying me a coffee" and donating a buck or two through the Buy Me a Coffee app? It will help me keep pumping out recipes like this one!