Sticky Chili-Basil Venison Steak and Mushrooms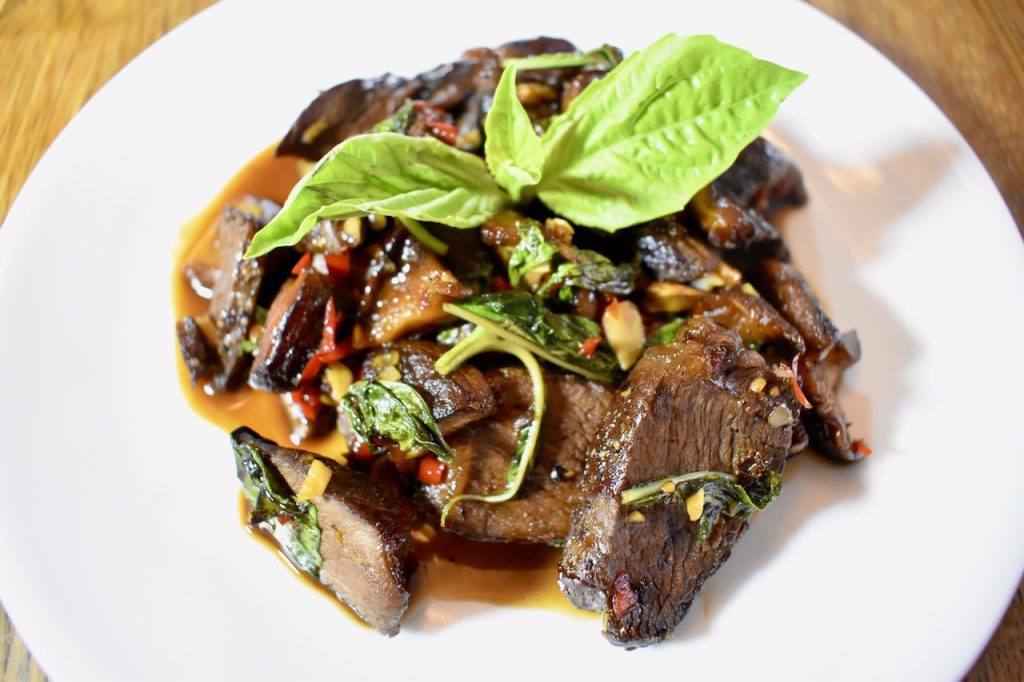 This sticky chili-basil venison steak and mushroom dish is not only super flavourful and delicious, it's also quick and easy enough for a weeknight dinner! 
Feel free to replace the venison chops with top sirloin, striploin, or ribeye beef steak. 
Serve with white rice. 
Prep Time

25 min

Cook Time

20 min

Total Time

45 min

Yield

2 hearty servings with rice, double recipe for 4 servings
Ingredients
2 thick venison loin (backstrap) chops
Kosher salt
Black pepper
2 tablespoons (30ml) oil or lard
1/4lb (115g) fresh shiitake, cremini, oyster, or white button mushrooms, quartered
2 red finger chilies, de-seeded and minced
3 cloves garlic, minced
2 tablespoons (30ml) balsamic or Chinkiang black vinegar
1 tablespoon (15ml) soy sauce
1 teaspoon (5ml) dark soy sauce (optional)
2 tablespoons (25g) brown sugar
2 tablespoons (15ml) water or stock
1 bunch basil leaves, stems removed
Preparation
1
Season the venison steaks generously with salt and pepper. 
Heat the lard or oil in a stainless steel or cast iron pan over high heat. 
Add the steaks and cook on both sides until rare (internal temperature 120°F).
Cooking times will depend on the thickness of your steaks. 
Remove steaks and set aside to briefly rest. 
2
Add the mushrooms to the pan, lowering the heat if necessary. 
Cook until browned, about 5-8 minutes. 
Meanwhile, slice the steaks into bite-sized pieces. 
3
Mix together the chilies, garlic, vinegar, sugar, soy sauces, and water in a bowl, then add it to the mushrooms in the pan. 
Cook until sauce begins to reduce and become sticky. 
Add the sliced venison, cook until the sauce is thick and clinging to everything, then remove from the heat. 
Stir in the basil leaves, tossing them in until they wilt. 
Serve immediately. Enjoy!