Trini Rabbit Roti Wraps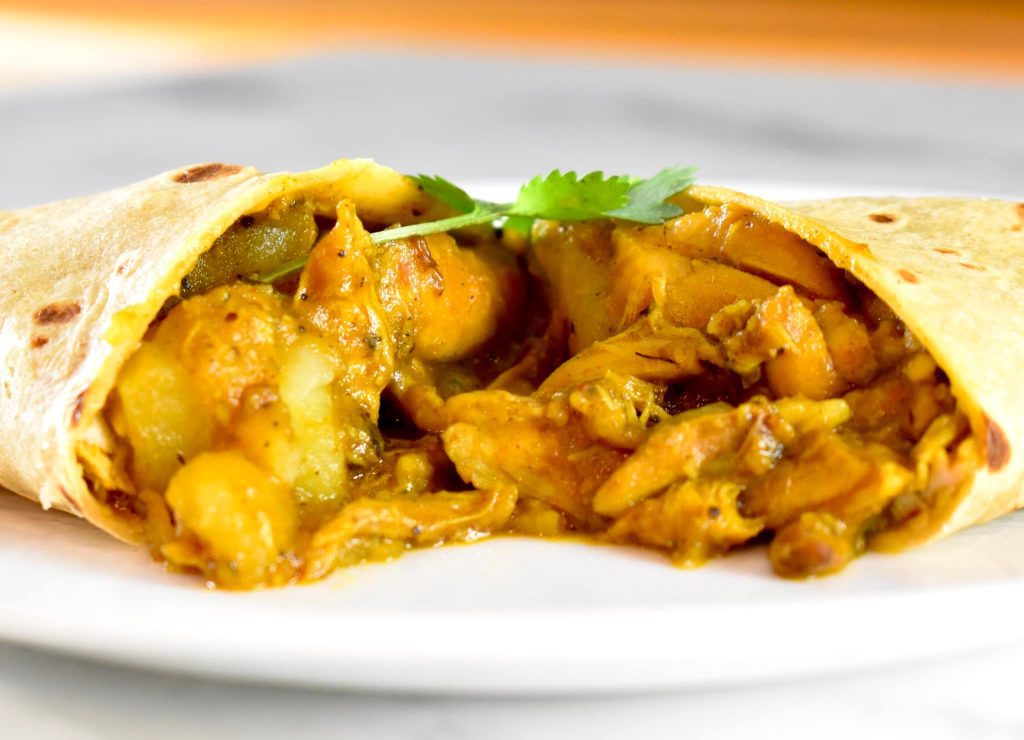 These Trinidadian roti wraps may just be my favourite way to enjoy rabbit. 
This recipe would work equally well with a store or farm-bought rabbit or a wild one. It would also work for tougher hares, though I'd recommend increasing the marinating and cooking times to soften them up. 
I've been finding roti wraps in regular grocery stores in the bread section next to the tortillas and pitas, but if you can't find them, use large flour tortillas, or you can Google how to make them from scratch. 
Customize the spice level by adding either cayenne, or minced Scotch bonnet chilies. Without them, the curry still as a touch of heat, but I like adding at least 2 de-seeded Scotch bonnets to mine for a bit of kick. 
Prep Time

15 min

Cook Time

1 hr 45 min

Total Time

2 hr

Ready in

2 hrs + 1 hr marinating time

Yield

8 small or 4 large wraps
Cuisine

Course

Cooking Method
Ingredients
For the Marinade
1 rabbit
1 clove garlic, minced
1 teaspoon (2g) curry powder
1 teaspoon (1g) dried thyme leaves
1/2 teaspoon (2g) kosher salt
1/2 teaspoon (1g) black pepper
2 tablespoons (30ml) vegetable oil
For the Curry Rabbit
3 tablespoons (45ml) vegetable oil
1 large onion, chopped
2 cloves garlic, chopped
2 tablespoons (12g) curry powder
1 teaspoon (1g) dried thyme leaves
1 teaspoon (2g) cumin powder
1 teaspoon (2g) smoked paprika
1/2 teaspoon (1g) ground allspice
1/2 teaspoon (1g) garlic powder
Kosher salt and black pepper
Cayenne or Scotch bonnet chilies for heat
6 cups+ (1500ml+) chicken stock or water
2 russet potatoes, peeled and cut into bite-sized cubes
1 chicken bouillon cube (optional)
4 large or 8 small roti wraps
Preparation
For the Marinade
1
Cut the rabbit into pieces: legs, saddle, ribs, and hips. Hank Shaw has an excellent instructional here: https://honest-food.net/how-to-cut-up-a-rabbit/
I like to save the saddle for other recipes, but you can include it in this recipe without changing any of the ingredient amounts. 
2
Combine the marinade ingredients in a large bowl. Toss the rabbit pieces in the marinade until they're all well-coated. 
Leave on the counter to marinate for an hour, or in the fridge for several hours to overnight. 
For the Curry Rabbit
3
Heat the oil in a large skillet or pot over medium heat. 
Add the onions and cook for 3 minutes. Add the garlic, spices, and a pinch of salt and pepper, and cook for 2 more minutes. 
If you'd like the curry spicy, you can add cayenne or seeded and minced Scotch bonnet chilies at this point. I like to add 2 chilies to mine.
Add the rabbit pieces, cook for 1 minute, then add the chicken stock/water. 
4
Simmer for 1 hour (longer for wild hares) or until the meat feels soft enough to be pulled off of the bone. 
Turn off the heat and remove the rabbit pieces to a bowl or plate to cool. 
Using your hands (wear gloves to avoid temporarily yellow fingers), tear the rabbit meat off of the bone and into bite-sized pieces, discarding the bones and adding the meat back to the sauce. 
5
Add the potatoes and bouillon cube (if using) to the sauce. Add enough water or stock to allow the sauce to cover the potatoes. 
Bring to a medium simmer and cook for 30-40 minutes, or until potatoes are nice and soft, stirring regularly so the curry doesn't burn to the bottom of the pan.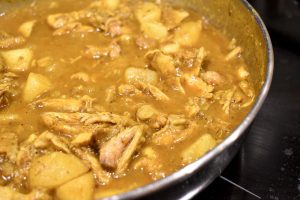 If the sauce is thickening too much before the potatoes are done cooking, just keep adding water by the 1/2 cupful (125ml) until they're soft. 
6
Once the potatoes are soft, cook the curry down until it is nice and thick, with very little liquid left, stirring constantly. 
Potatoes tend to absorb salt and seasoning, so taste the curry and add more salt if necessary. 
7
Warm the roti bread by microwaving them for 30 seconds, or putting them in a warm oven for 10 minutes. 
Lay a roti onto a plate. Spoon some of the curry onto it in the middle (start by adding a small amount of curry until you get used to wrapping the roti). Fold the sides over so they overlap, then fold the top and bottom over. This can be frustrating, but it gets easier after 1 or 2. 
Flip the roti over carefully so the folded sides are facing down on the plate. The juices will seep into the folds, creating a bit of a seal.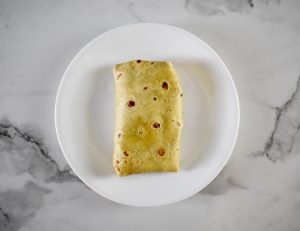 From here you can serve as-is, wrap it in tinfoil or wax paper, or you can cut it in half like so:
8
Serve with some Caribbean hot sauce. Enjoy!