Turkish Borage in Yogurt (Jajik)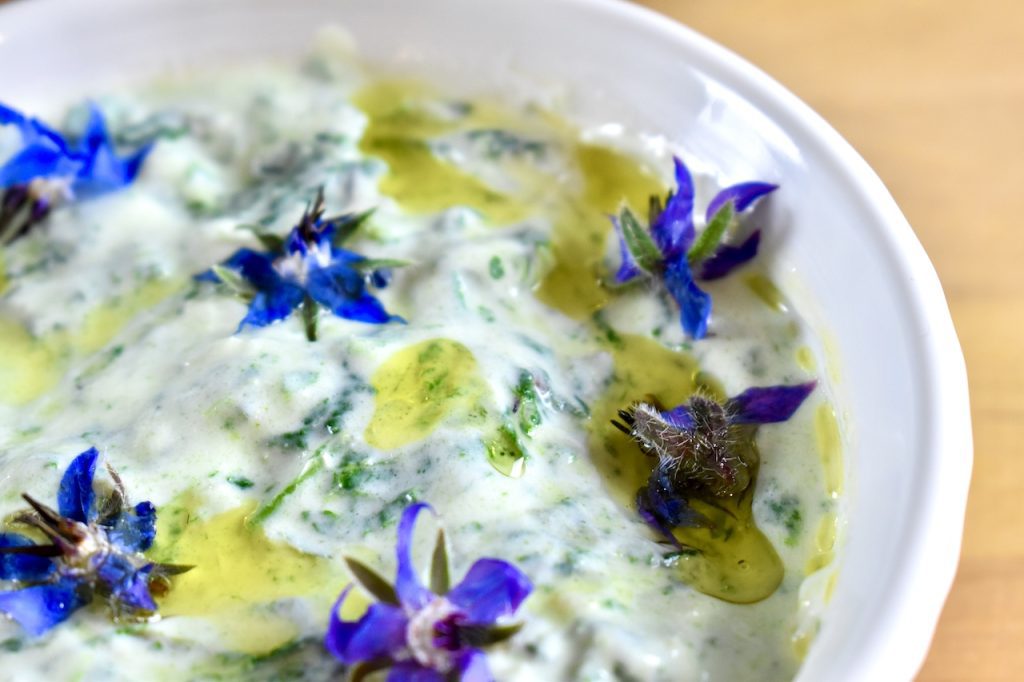 Borage will be pretty much impossible to find unless you grow it yourself, but good news – it's super easy to grow!
Another piece of good news, bees absolutely love borage flowers and said flowers will draw more bees to your garden. 
The good news just keeps coming: the leaves, stems, and flowers of borage are edible and delicious, tasting something like cucumber, the leaves can be eaten raw or cooked, the flowers make a great addition to cocktails like gin and tonics, borage is super healthy and known as a pick-me-up, the plants self seed and come back every year, and borage is relatively cold-hardy. 
I harvested the borage for this recipe in mid-November! It was a mild November, but still, not many things were alive in my garden at that point, that's for sure. 
This dip is the Turkish equivalent to Greek tzatziki, and is often made with blanched wild or garden greens… why not borage?
Serve it with toasted pita bread, kebabs, or with my Turkish Venison Meatball and Potato Stew. 
Prep Time

10 min

Cook Time

5 min

Total Time

15 min

Yield

2 cups
Cuisine

Course

Cooking Method

Suitable for Diet

Difficulty
Ingredients
4oz (115g) borage, leaves and tender tips
Kosher salt
1-2 cloves garlic, crushed into a paste or minced very finely
2 teaspoons (10ml) extra virgin olive oil
1.5 cups (375ml) balkan yogurt
1 teaspoon (5ml) lemon juice
Borage flowers to garnish
Preparation
1
Bring a medium pot of salted water to the boil. 
Add the borage and boil for 2 minutes. 
Meanwhile prepare a large bowl of cold water. 
Transfer the borage from the boiling water to the cold water to shock it and stop it from cooking. 
2
Once cool, squeeze any excess water out of the borage, then chop it roughly. 
Add it to a bowl along with the garlic, a pinch of salt (to taste), the olive oil, yogurt, and lemon juice. 
Mix well. 
3
Keep in the fridge for up to a day or serve immediately. 
Garnish with borage flowers and a little glug of olive oil. Enjoy!