Turkish Venison Meatball Stew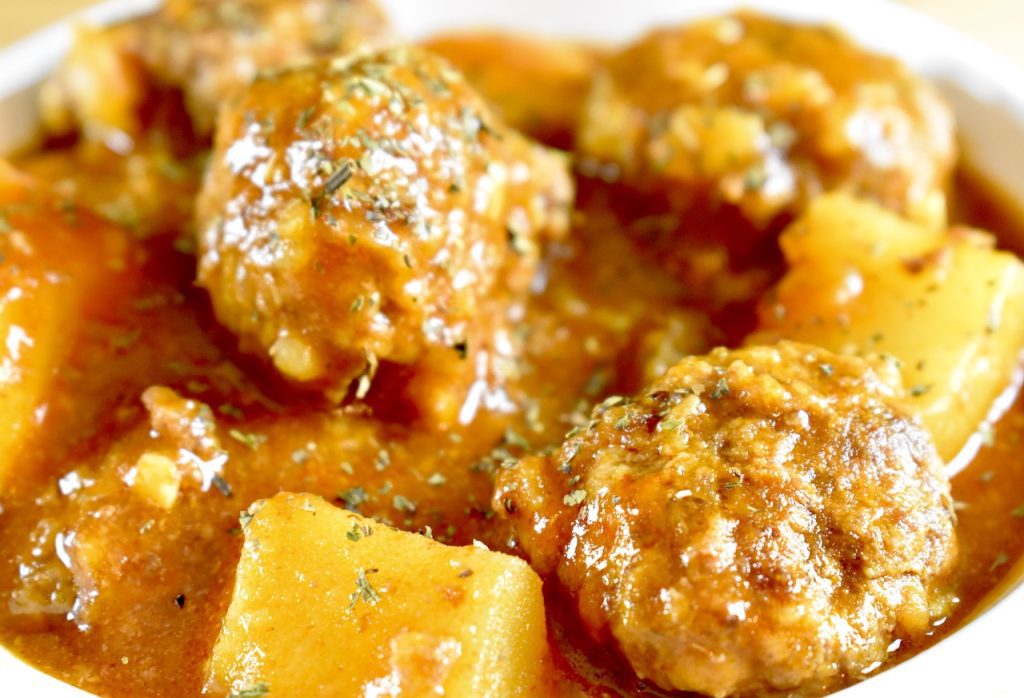 This Turkish stew consisting of juicy meatballs and soft potatoes in a thick tomato broth is known as sulu köfte and is as easy to make as it is delicious! 
I used ground venison cut with a small amount of ground pork for my version of the dish, which added lots of delicious wild flavour. 
Feel free to make this dish with any ground meat.
Try serving it with my recipe for Turkish Yogurt with Greens to make it a meal. 
Prep Time

20 min

Cook Time

25 min

Total Time

45 min

Yield

4 servings
Ingredients
For the Meatballs
1/2lb (225g) ground venison
2 tablespoons (15g) breadcrumbs
1 small onion, grated
1/2 teaspoon (2.5g) kosher salt 
1/2 teaspoon (1g) black pepper
1/2 teaspoon (1g) Turkish urfa biber chili flakes (or use Aleppo pepper, Gochugaru, or Italian chili flakes)
1 teaspoon (2g) cumin
1 egg
For the Stew
2 tablespoons (30ml) olive oil
1 tablespoon (8g) flour
2 tablespoons (30ml) tomato paste
2 cloves garlic, minced
3 cups (750ml) venison or beef stock
1 large Russet potato, peeled and cut into small cubes
Kosher salt to taste
Dried mint to garnish
Preparation
1
Mix all of the meatball ingredients together well in a bowl.
Have a tray ready for the meatballs. 
Wetting your hands, pluck some of the meat mixture up and roll it in your hands to form a small meatball, about the size of a ping pong ball, or less. 
Keep forming meatballs and setting them onto the tray until you use up all of the meat. 
2
Add the olive oil to a large deep skillet over medium high heat. 
Add the meatballs (do 2 batches if they won't fit comfortably) and sprinkle them with the flour. 
Cook until browned on all sides, flipping them very gently. 
3
Once browned, add the tomato paste and garlic and cook for 2 minutes. 
Add the stock and the potatoes. 
Bring to a strong simmer. 
4
Cook until potatoes are soft and liquid has thickened, about 10 minutes or so. 
Taste for seasoning and add salt if necessary. 
5
To serve, ladle into bowls and sprinkle with dried mint. Enjoy!