Turkish Venison Livers With Onions (Arnavut Cigeri)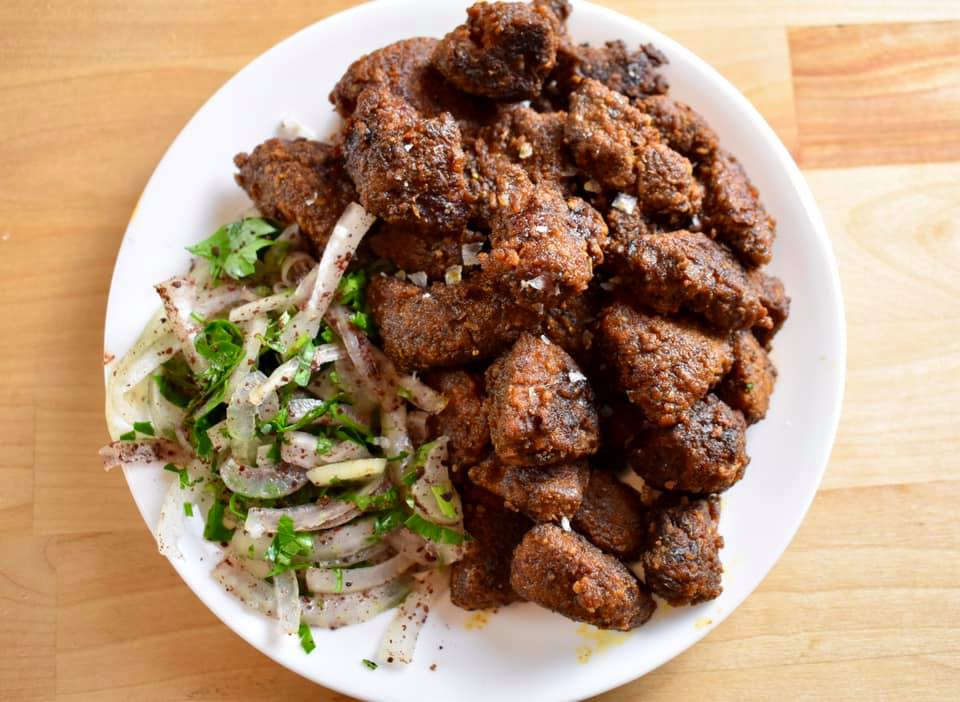 Liver can be a tough one for a lot of people, even for intrepid eaters like me! Still, I abhor wasting food, especially meat, so I eat every liver I end up with. This Turkish/Albanian method for cooking livers makes them very easy to eat, even for the liver averse. Serve it as part of a meze platter, or as the main course. This dish works well with deer, pig, cow, veal, or lamb liver, but poultry livers aren't quite as good to use in this preparation.
Prep Time

15 min

Cook Time

10 min

Total Time

25 min

Yield

1 lb liver
Ingredients
For the Liver
1 lb (454 grams) venison (or other) liver
1/3 cup (45 grams) all purpose flour
1 teaspoon kosher salt
1 teaspoon cracked black pepper
1/2 teaspoon ground cumin
1/2 teaspoon smoked paprika
1 teaspoon regular paprika
1/2 teaspoon urfa biber*
1/2 cup neutral vegetable oil
2 tablespoons butter
For the Onion Salad
1 sweet onion, sliced into half moons
1/2 cup flat parsley, chopped
2 teaspoon sumac
1 small pinch of kosher salt
Preparation
1
Cut the liver into cubes, all of the same size. The larger the cubes, the more 'livery' the end product will be, so if you're not sure, start small.
Wash the cubes in cold water, to remove any excess blood, then let drain in a colander for a few minutes.
2
Meanwhile, mix together the flour, salt, pepper, cumin, paprika, and chili flakes in a bowl. 
3
In another bowl, add the sliced onions, parsley and sumac. Set aside. 
4
Heat a frying pan over medium high heat with the oil and butter. 
Take a few cubes of liver and toss them in the flour/spice mixture, then add them to the hot oil. 
Fry, gently flipping the pieces so that all sides get fried, until they outsides are golden and crispy, but the insides are still a touch pink (break one or two open to check on this).
5
Keep working in batches until you've cooked all of the liver cubes. Adjust the heat as necessary, they should be sizzling, but not scorching. 
6
Sprinkle the onion salad with salt, then toss. 
Serve the liver cubes alongside the onion salad, sprinkled with flaky salt and/or more chili flakes if you like it spicy. Enjoy!
*A dark a fruity Turkish chili flake. Feel free to use Aleppo pepper, gochugaru, Kashmiri chili flakes, or regular Italian style chili flakes.