Venison and Kimchi Stew – Soondubu Jjiggae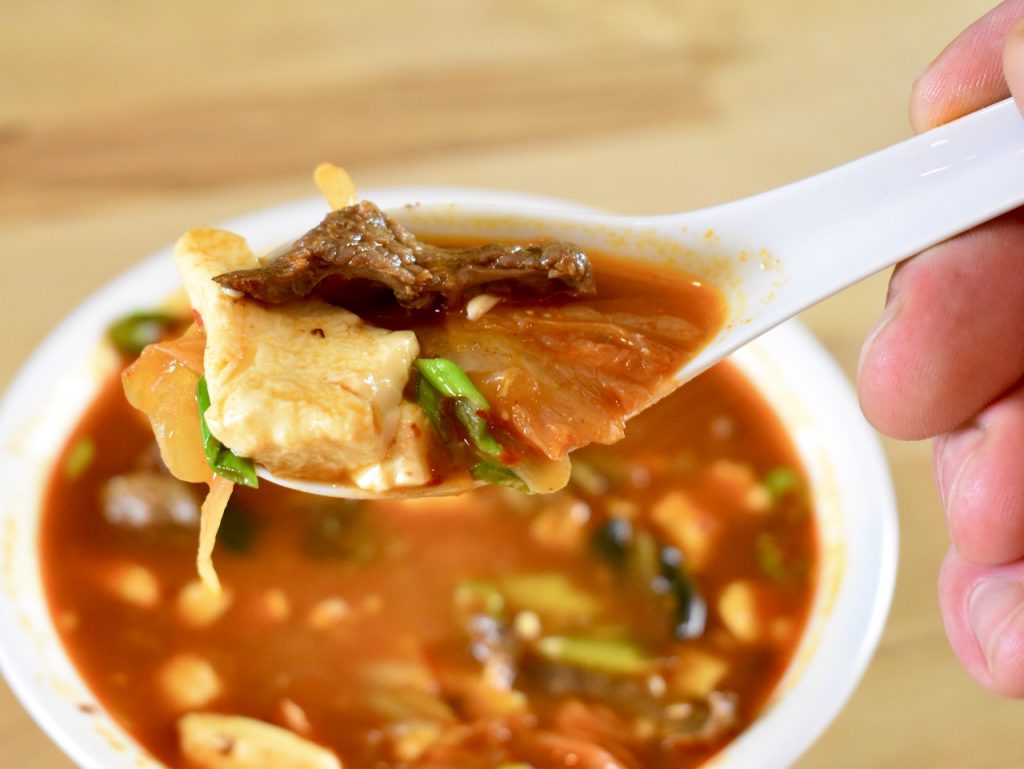 This spicy venison and kimchi stew is based on the incredible Korean dish soondubu jjiggae, a hearty tofu stew usually made with beef or seafood.
I had my first bowl of soondubu jjigae at the delightfully named Buk Chang Dong Soon Tofu in Toronto and was immediately hooked. Rich, spicy, and delicious, it really hit the spot.  
I made this version with venison (you could easily replace it with beef) and kimchi, which go together very nicely. I call for a relatively small amount of meat since the soup should be a well balanced representation of kimchi, tofu, and meat, not so much a big meaty Western-style stew. 
You'll need to visit an Asian or Korean grocery store for the ingredients, but once you have them, this dish comes together in under half and hour; impressive for such a tasty meal! 
The egg yolks are totally optional, but they do add a nice silky richness. 
Prep Time

15 min

Cook Time

15 min

Total Time

30 min

Yield

4 servings
Ingredients
1 tablespoon (15ml) vegetable oil
1 teaspoon (5ml) sesame oil
8 oz (225g) venison skirt, flank, or sirloin steak, sliced thinly against the grain
Kosher salt and black pepper
1 small onions, thinly sliced
3 cloves garlic, chopped
2 scallions (greens and whites separated) sliced on a bias
2 cups (500ml) venison stock (or beef stock)
1 tablespoon (15ml) soy sauce
1 tablespoon (15ml) fish sauce
2 tablespoons (30ml) gochujang paste
2 tablespoons gochugaru (Korean red pepper flakes), more if you like it spicier
1 cup (250ml) kimchi with juices
21 oz (600g) soft or silken tofu
4 egg yolks (optional)
Preparation
1
Heat the vegetable and sesame oils in a wok, pot, or deep skillet over medium high heat. 
Add the venison and season with a pinch of salt and pepper. Cook for 1 minute. 
2
Add the sliced onions and cook for another 2 minutes. 
Add garlic and scallion whites and cook for another 2 minutes. 
3
Add venison stock, soy sauce, fish sauce, gochujang, gochugaru, and kimchi and stir everything together. Bring to a strong simmer. 
Add tofu and gently break it apart into chunks by stirring. 
4
Bring it back to a strong simmer. 
Ladle into bowls while still very hot and drop an egg yolk into each bowl if using. Swirl the egg yolk into the stew and serve immediately on its own, or with sticky rice. Sprinkle with scallion greens to garnish. Enjoy!