Venison and Sweet Potato Chili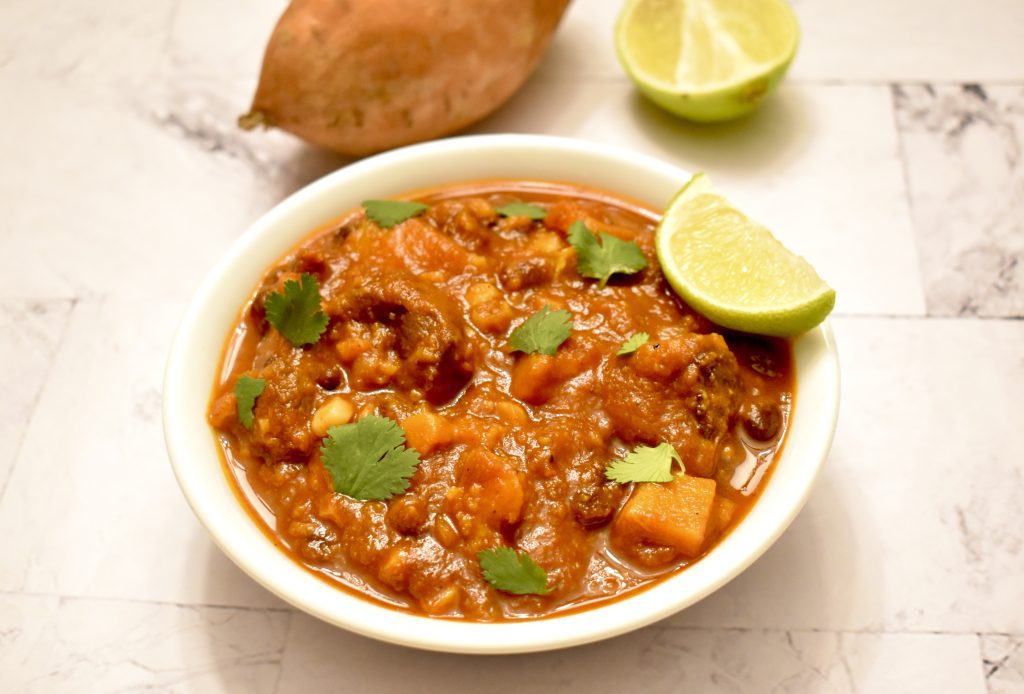 This venison and sweet potato chili strays from any traditional version of the dish, but delivers big time in flavour!
Prep Time

15 min

Cook Time

2 hr 15 min

Total Time

2 hr 30 min

Yield

4 servings
Ingredients
1lb (454g) venison shoulder, neck, or stew meat
Kosher salt
Black pepper
2 tablespoons (30ml) cooking oil or lard
3 onions, chopped
4 cloves garlic, chopped
1 tablespoon (7g) smoked paprika
2 tablespoons (14g) chili powder
1 teaspoon (2g) ground cumin
1 teaspoon (2g) garlic powder
1/2 teaspoon (1g) dried oregano leaves
1 large sweet potato
1-3 chipotle peppers in adobo (or whole can if you like it spicy!), chopped
14oz (400ml) canned crushed tomatoes
2 cups (500ml) venison stock OR beef stock OR water
1 can black beans, rinsed
1/2 cup canned or frozen sweet corn
1 teaspoon (5ml) fish sauce or worcestershire sauce
Cilantro to garnish
Lime wedges to garnish
Preparation
1
Cut venison into large bite-sized cubes and season generously with salt and pepper.
Add fat/oil to a Dutch oven over high heat, then add the venison (working in batches if using a smaller pot). Cook on all sides until well-browned, then remove to a plate and set aside. 
2
Reduce heat to medium and add the onions. 
Cook for 5 minutes, then add the garlic and spices. 
Cook for 2 minutes. 
If you like soft, melting sweet potatoes, then add them now. If you prefer firmer sweet potatoes, add them later when prompted. 
Add the chipotles, tomatoes, and venison stock. 
Bring to a simmer, reduce to low, cover, and cook for 1 hour. 
3
Add the beans, corn, fish sauce, and sweet potatoes if you haven't already. 
Cover and cook for 1-2 more hours, or until venison is nice and tender.
Taste and add more salt if necessary. 
4
To serve, ladle into bowls, and garnish with cilantro leaves and lime wedges. Enjoy!