Puffball French "Toast"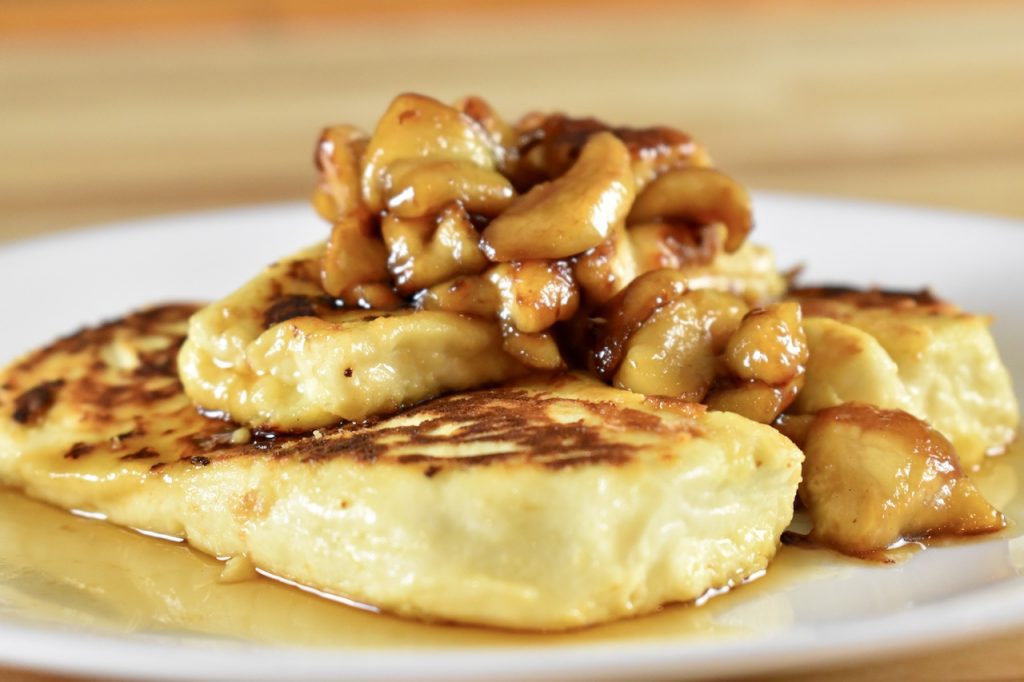 This puffball French "toast" is a fantastic way to incorporate wild mushrooms into your breakfast or brunch.
With only a subtle mushroom flavour, this dish allows you to bring mushrooms to the sweeter side of the palette. 
Instead of maple syrup, you could serve them with powdered sugar, jams or fruit sauces, or even make them savoury with a fried egg, bacon, and hot sauce! 
Prep Time

30 min

Cook Time

30 min

Total Time

1 hr

Yield

2 large breakfasts, or 4 small with other options
Cuisine

Course

Cooking Method

Suitable for Diet
Ingredients
2 eggs
3/4 cup (175ml) buttermilk
1/4 cup (60ml) heavy cream
OR 1 cup milk or cream total
1 teaspoon (4g) white sugar
1 tablespoon (12g) brown sugar
6 slabs of peeled puffball mushroom, 2″x4″x1″ (4cmx8cmx2cm)
3 tablespoons (42g) butter
2 cups (150g) peeled puffball mushroom, torn into small bite-sized chunks
Pinch of salt
2 tablespoons (30ml) maple syrup, + more for serving
Preparation
1
Beat together the eggs, dairy, and sugars in a bowl. 
Pour half into the bottom of a casserole dish, deep plate, or pie plate and lay down the puffball slabs into the liquid. Pour the rest of the liquid over them. 
Flip them around a few times to make sure they're entirely coated. 
Let sit for 15-30 minutes.
2
Meanwhile, melt 1 tablespoon (14g) of the butter in a skillet over medium high heat. Add the torn puffball pieces and add a light pinch of salt. 
3
Cook for 6-8 minutes, or until the pan is very dry and the mushrooms are brown. Add the 2 tablespoons (30ml) of maple syrup and cook for another 30 seconds to 1 minute, stirring constantly, until all of the syrup has reduced and formed a glaze on the mushrooms.
Transfer to a bowl and set aside. 
4
Melt the other 2 tablespoons (28g) of butter in the pan over medium heat and add the marinated slabs of puffballs. 
Cook for 5 minutes, then flip. Brush some of the leftover egg liquid over the cooked sides of the puffballs. 
Cook for 5 more minutes, then flip again, brushing this side with the liquid. 
Continue doing this until the mushrooms are very browned and crispy, about 15-20 minutes total. 
5
Serve the French "toast" with the candied mushroom pieces you set aside and lots of warmed maple syrup. Enjoy!