Venison Heart Gravy on Fries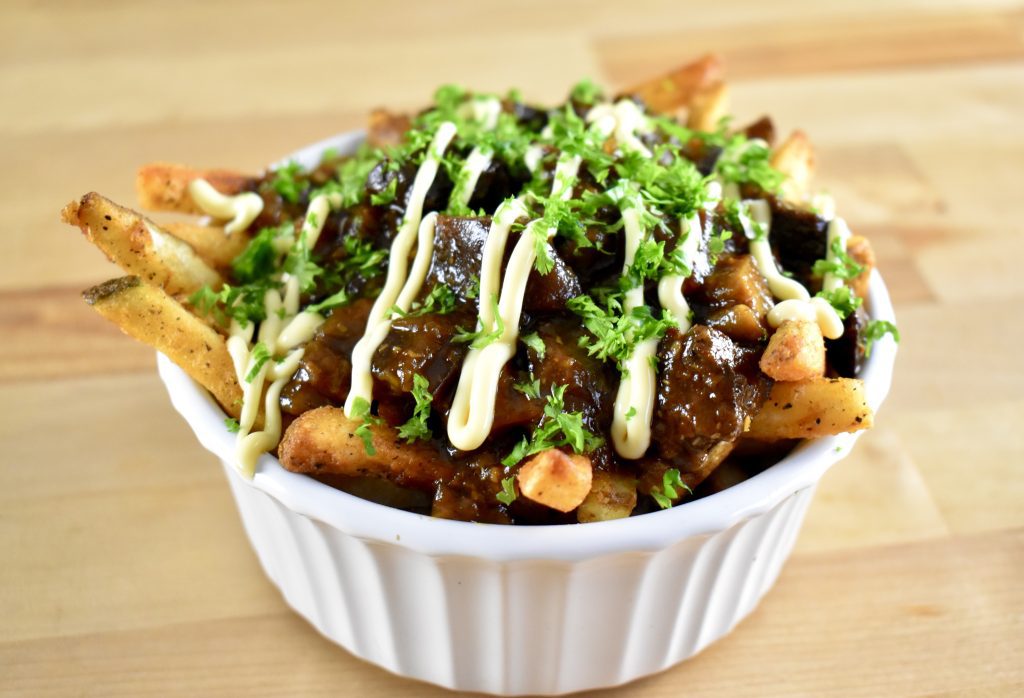 You've never had heart like this!
This is a super fun and delicious way to eat venison heart, or any heart really. Pork and lamb hearts tend to be the same size as venison hearts and can be used in this recipe as-is. If using an elk, moose, or beef heart, you'll likely only need half of it for this recipe (unless you double the rest of the ingredients and make more… not a bad idea!).
I used frozen french fries for this dish (big whoop, wanna fight about it?!) but you could obviously make your own from scratch, or serve it on roasted or even mashed potatoes. 
Prep Time

30 min

Cook Time

3 hr

Total Time

3 hr 30 min

Yield

4 servings
Ingredients
1 venison heart, trimmed of any fat and veins, and cut into bite-sized cubes
1/2 cup (70g) all purpose flour
1/2 teaspoon (2.5g) kosher salt
1/2 teaspoon (1g) black pepper
1 teaspoon (2g) chopped fresh rosemary
2 tablespoons (30ml) cooking oil or lard
2 onions, chopped
4 shiitake or cremini mushrooms, cubed (optional)
2 cloves garlic, minced
1 tablespoon (30ml) tomato paste
12oz (330ml) beer (preferably a brown ale)
2 bay leaves
1 tablespoon (13g) brown sugar
1 teaspoon (5ml) stone ground mustard
1 tablespoon (15ml) cider OR maple vinegar
1 cup (250ml) water
Kewpie OR regular mayonnaise to garnish
Fresh parsley, chopped, to garnish
French fries or roasted potatoes to serve
Preparation
1
Clean, trim, and cube up heart. 
Mix the flour, salt, pepper, and rosemary in a medium bowl. 
Toss the heart cubes in the flour mixture so that every one is coated. 
2
Melt the oil or fat in a medium pot over medium high heat. 
Add half of the heart cubes and sear on all sides until very browned. Remove and add more oil or fat if necessary. Add the other half and repeat. 
Remove the heart and set aside. Reduce heat to medium. 
Add the onions and mushrooms and cook until lightly browned, about 5-10 minutes. 
Add the garlic and tomato paste and cook for 2 more minutes. 
Add the beer and scrape the bottom of the pot with a wooden spoon to deglaze. 
3
Add the heart back to the pot along with the bay leaves, brown sugar, mustard, vinegar, and water. Stir. 
Bring to a gentle simmer, cover, and cook for 2-3 hours, or until the heart is very tender (cooking time will depend on the age of the animal). 
4
Uncover the pot and bring to a strong simmer while you cook your fries or potatoes. 
Cook until the liquid has reduced into a thick gravy, stirring often.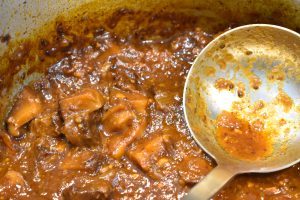 Taste and add salt and pepper as needed. 
5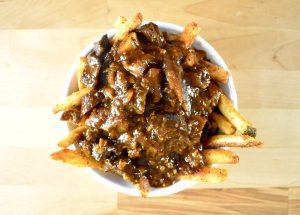 To serve, pack french fries into bowls, then ladle the heart gravy over them. Drizzle with mayo and sprinkle with chopped parsley. Enjoy!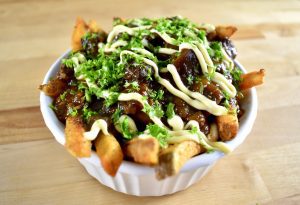 Notice how I didn't have you scroll through pages of mundane nonsense to get to the recipe? Notice that there were no annoying pop-ups or ads? That was on purpose!
I want finding and using my recipes to be easy for you, not frustrating. That does translate into a lot of lost income for me though. If you made this recipe and loved it, would you consider "buying me a coffee" and donating a buck or two through the Buy Me a Coffee app? It will help me keep pumping out recipes like this one!