Elk Steak Gochujang Noodles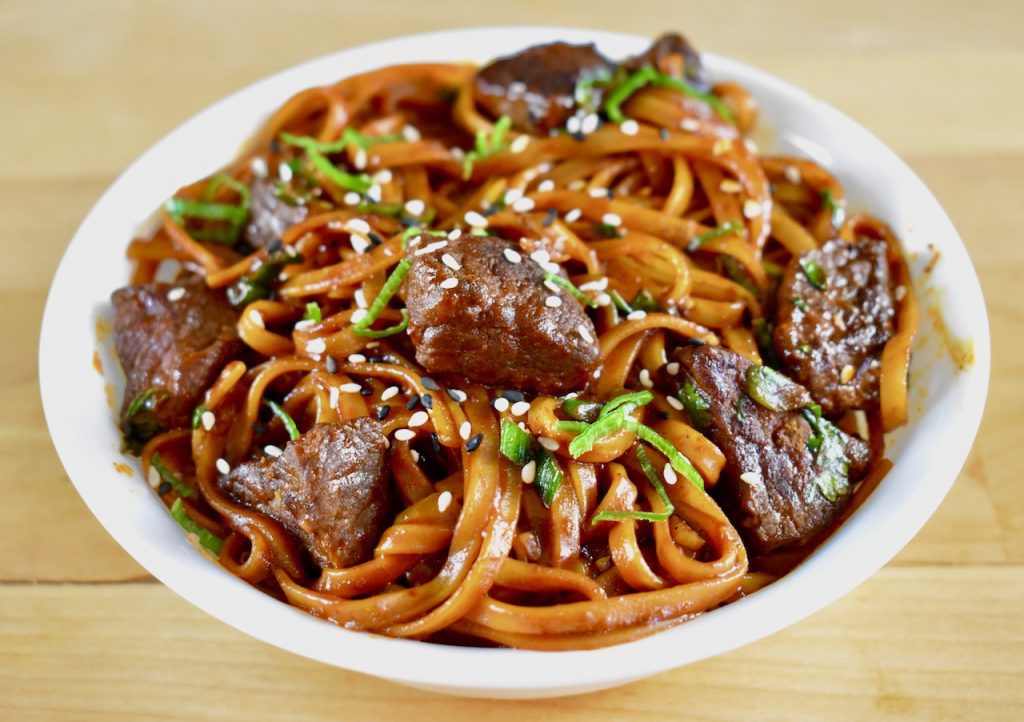 These noodles are quick and easy and make the perfect lunch or late night snack… especially if you've indulged in a couple wobblypops and are feeling ambitious. 

I love the way the gochujang tastes with the elk meat, but feel free to use venison, or even beef or pork. 

I developed this recipe with two people (or a single hungry and inebriated person) in mind, but you could double the ingredients to make a large pot. 
Prep Time

10 min

Cook Time

15 min

Total Time

25 min

Yield

2 servings
Ingredients
8oz (225g) elk steak (loin, rump, sirloin, round)
Kosher salt
5oz (125g) noodles (fettuccini, linguine, spaghetti, etc.)
1 teaspoon (5g) butter
1 teaspoon (5ml) oil or lard
2 cloves garlic, minced
2 tablespoons (30ml) gochujang
2 teaspoons (5g) gochugaru chili flakes (or 1 teaspoon regular chili flakes)
2 teaspoons (10ml) soy sauce
1 tablespoon (15ml) honey
1 teaspoon (5ml) sesame oil
2 green onions, sliced
1 tablespoon (5g) cilantro, chopped
Sesame seeds to garnish (optional)
Preparation
1
Cut the elk steak into 1″x1″ (2cmx2cm) cubes. Season with kosher salt. 
2
Bring a pot of water to the boil with a big pinch of salt. 
Add the noodles and cook until quite al dente. 
3
Meanwhile, add the butter and oil to a large skillet over high heat. 
Add the elk steak cubes and sear until browned on all sides, about 5 minutes. Reduce heat if butter starts to burn. 
4
Turn down the heat to medium low and add the garlic, gochujang, gochugaru, soy sauce, honey, sesame oil, green onions (set aside a pinch of the sliced greens for garnish), and cilantro. Stir it all together. 
5
Once the noodles are ready, use tongs to move them from the pot to the skillet with the elk. 
Add 1 cup (250ml) of the noodle cooking water. 
Cook on medium high, tossing the noodles in the sauce, until the noodles are cooked through and the sauce has thickened and is clinging to the noodles, about 3-4 minutes. 
6
Transfer to bowls and sprinkle with the reserved green onions and sesame seeds if using. Serve immediately. Enjoy!