Venison Heart Sandwiches with Roasted Garlic Mayonnaise and Chimichurri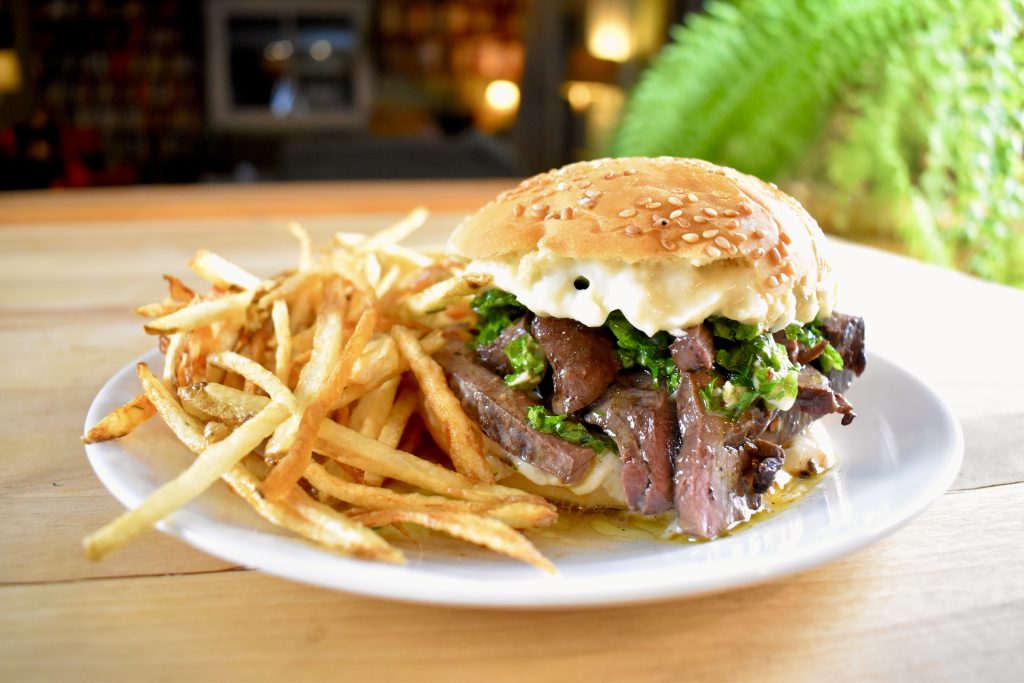 These venison heart sandwiches are an incredibly tasty way to use up hearts after the hunt. Pork, lamb, or smaller pieces of beef/moose/elk heart would work great for this too. 
To make more servings, double the recipe (probably no need to double the chimichurri sauce). 
Serve them sloppy with french fries and lots of napkins!
Prep Time

15 min

Cook Time

45 min

Total Time

1 hr

Yield

2 hefty sandwiches with leftover chimichurri sauce
Ingredients
1 whole head of garlic
Approx. 1 cup (250ml) extra virgin olive oil
1 venison heart (or pork or lamb heart)
1 cup fresh parsley leaves, chopped
3 garlic cloves, minced
1 jalapeño, minced
1 teaspoon (5ml) lemon juice
3 tablespoons (45ml) red wine vinegar
1 pinch chili flakes
Kosher salt
Black pepper
2 sturdy buns
1/4 cup (60ml) mayonnaise
Preparation
1
Preheat oven to 375°F (190°C, gas mark 5).
2
Cut the very top off of the head of garlic, exposing the tops of all of the cloves. 
Set the head of garlic onto a square of aluminum foil. Drizzle with olive oil and season with a pinch of salt and pepper. 
Wrap it up in the tinfoil and throw into the oven for 45 minutes. 
3
Trim off any fat, veins, or arteries from the top of the heart. 
Make an incision down one side and open the heart up like a book. 
Separate it into 2 or 3 flat pieces, trimming off and stringy bits in the middle. 
Set aside for the time being.
4
Meanwhile, mix together 3/4 cup (180ml) of the olive oil, the parsley, minced garlic, jalapeño, lemon juice, vinegar, chili flakes, and a pinch of salt and pepper into a bowl. Whisk well and set aside.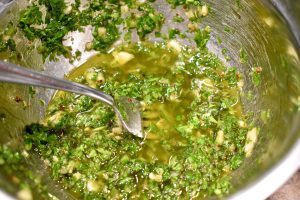 5
When the garlic is done roasting, take it out, turn off the oven, and put in the buns to warm up.
6
Pour a little bit of fat or oil into a cast iron or stainless steel pan over high heat. 
Season the pieces of heart with salt and pepper, then sear for about 2-3 minutes per side, or until browned on the outside and medium rare to medium on the inside. 
Let rest for a moment. 
7
While the heart is resting, squish the roast garlic cloves out of the paper shell and into a small bowl with the mayo. Whip together well. 
Take the buns out of the oven and spilt them. 
Spread the mayo generously on the tops and bottoms. 
8
Slice the heart into thin slices and stack them onto the buns. Top with an ample amount of the chimichurri herb sauce.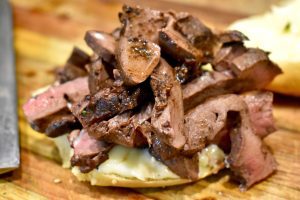 Serve with french fries. Enjoy!