Sailfish Schnitzel with Sorrel and Radish Salad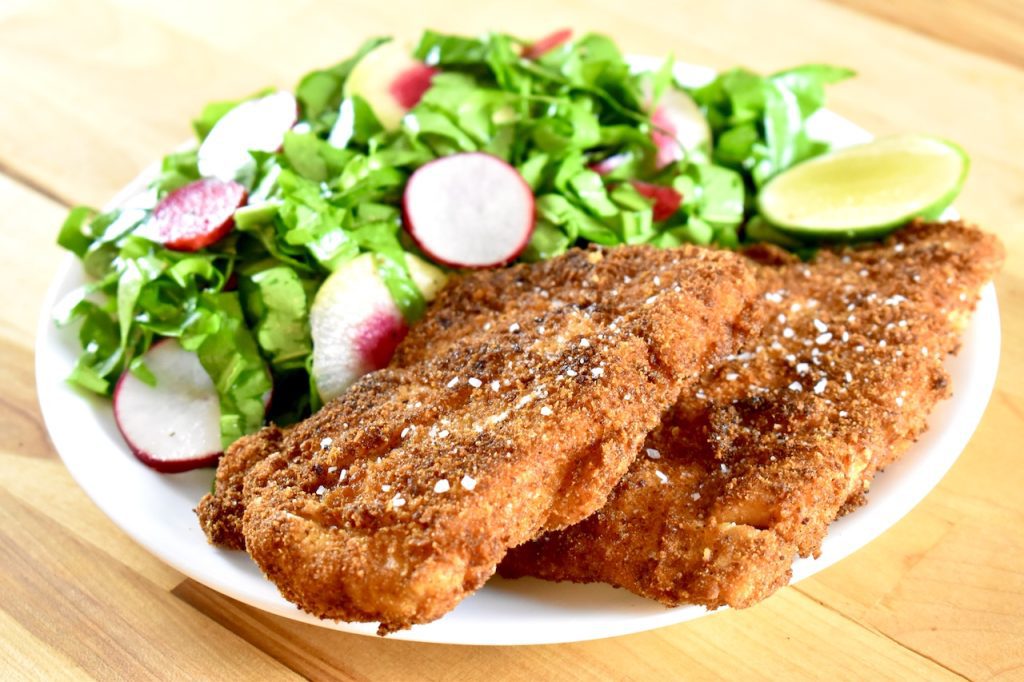 A friend of mine went on a sailfish fishing trip in Mexico and was lucky enough to hook one. 
After eventually reeling it into the boat, they realized that the fish wasn't going to make it if they put it back in the water, especially with sharks around. 
Instead, he split the large fish between his friends and the crew and brought some home. 
He generously shared some of that fish with me, so I've been able to try out recipes with a fish I'd probably never get to cook. 
I realize most of you probably don't have sailfish on hand, but you could make this dish with fresh tuna or swordfish, which can often be bought in stores. 
The sorrel salad is a beautifully tart and refreshing accompaniment to the salty fried fish, but sorrel can be hard to come by. Try replacing it with spinach or arugula if you can't find it or grow it yourself. 
Prep Time

30 min

Cook Time

10 min

Total Time

40 min

Yield

2-4 servings

Serving Size

1-2 pieces
Ingredients
For the Schnitzel
1-1.5lbs (454-680g) sailfish, marlin, shark, tuna, swordfish fillet(s)
Kosher salt
Black pepper
1 cup (120g) flour
2 eggs
2 cups (300g) fine breadcrumbs
1 cup (250ml) oil for frying
For the Salad
1 big bunch green sorrel
1 handful multi-coloured radishes, sliced thinly
2 tablespoons (30ml) rice vinegar
1 teaspoon (5ml) neutral oil
1 teaspoon (4g) white sugar or honey
1 small pinch kosher salt
Preparation
1
Slice the fish fillet into slices, about 1″ (2cm) thick. 
Put between 2 pieces of plastic and gently pound with a meat hammer or rolling pin until quite flat.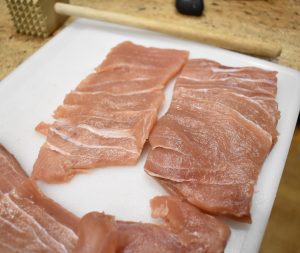 Season with salt and pepper. 
2
Get three plates ready.
Add the cup of flour to the first plate. 
Beat the 2 eggs and add them to the next plate. 
Pour the breadcrumbs onto the third plate.
Pour the oil into a deep skillet. 
3
Prepare the salad before cooking the fish. 
Shred the sorrel and toss it with the thinly sliced radishes. 
Mix the vinegar, oil, and sugar in a small bowl. 
4
Heat the oil in the skillet to 375°F. 
Take a slice of the fish and dip both sides in the flour, shaking off any excess. 
Next, dip it in the beaten egg so that it gets completely covered. 
Lastly, dip it in the breadcrumbs on both sides. 
Add it to the oil and quickly repeat with another 1 or 2 pieces. 
Fry the fish for 1 minute, flip, then cook for 45 seconds. This happens fast! 
Transfer to a paper towel to drain and repeat until all of the fish is cooked. 
5
Add the vinaigrette to the salad and toss well. 
Sprinkle the fish schnitzel with flaky salt. 
Serve immediately and enjoy!