Venison Jamaican Patties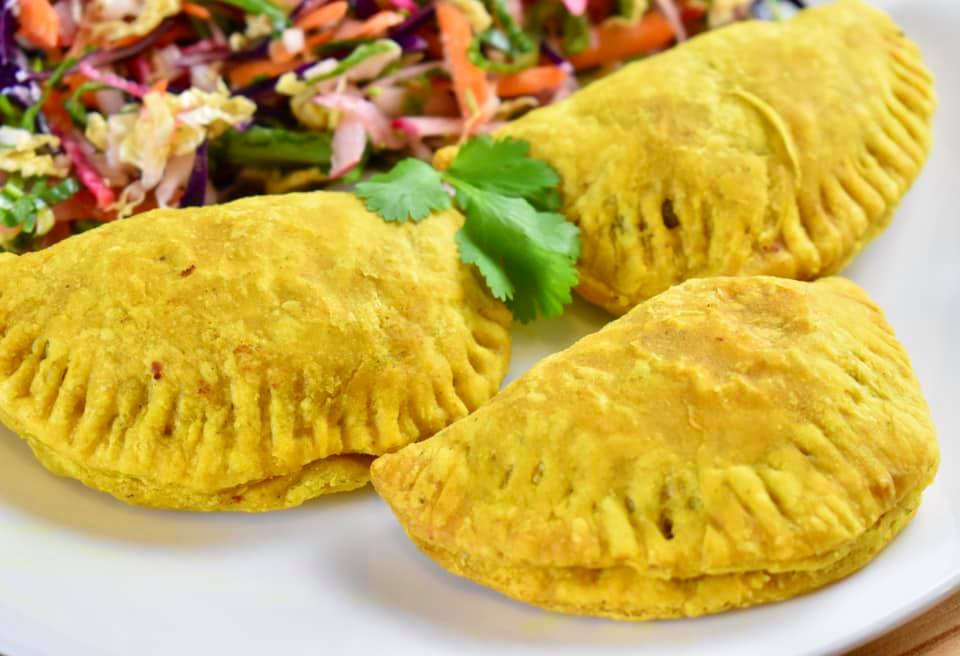 Jamaican patties are delicious handheld meat pies with a spicy filling, venison in this case, and a flaky pastry dough coloured bright yellow with curry powder and turmeric. They've been a staple in Jamaica since enslaved people there took the British Cornish pasty eaten by colonists and changed it to suit their own tastes. Since then they've been a celebrated snack for the entire country and Jamaican diaspora. Feel free to use any ground meat, or meat substitute, for the filling, but I really enjoyed the way the venison meat interacted with the spicy flavour of the patties. 
Prep Time

1 hr 30 min

Cook Time

30 min

Total Time

2 hr

Yield

16-24 patties depending on size
Cuisine

Course

Cooking Method

Difficulty
Ingredients
For the Pastry
4 cups (454g) all purpose flour
1.5 teaspoons (7mL) curry powder (preferably yellow Jamaican curry powder)
1 tablespoon (15mL) turmeric powder
1 teaspoon (5mL) fine salt
1/2 teaspoon (2.5mL) white sugar
1 cup butter, cold 
1 cup (-/+) cold water
For the Filling
2 teaspoons vegetable oil
1 large onion, finely chopped
3 scallions/green onions, finely chopped
1 lb (454g) ground venison
3 cloves garlic, minced
1 Scotch bonnet chili, de-seeded, deveined and minced (or other hot chili, or Scotch bonnet hot sauce)
1/2 teaspoon (2.5mL) kosher salt
1/2 teaspoon (2.5mL) white sugar
1 teaspoon (5mL) hot smoked paprika
1/2 teaspoon (2.5mL) black pepper
1/2 teaspoon (2.5mL) dried thyme
1/2  teaspoon (2.5mL) ground allspice
1/4 teaspoon (1mL) grated nutmeg
1/2 cup (125mL) breadcrumbs
Preparation
For the pastry
1
Sift the flour into a large bowl.
Add the curry powder, turmeric, salt, and sugar and mix well. 
2
Dice the cold butter into small cubes and add them into the flour.
Using a pastry blender or large fork, mash the flour into the butter and mix everything together until the consistency begins to look like rough bread crumbs. 
Add 3/4 cup (175mL) of the cold water and stir it in until it begins to become a dough. Keep adding water in small splashes until you have a slightly sticky mass of dough. You may need slightly more or less than a cup. 
3
Shape the dough into a rough rectangle and wrap in plastic wrap. 
Refrigerate for at least 1 hour. 
For the filling
4
Heat the oil in a skillet or frying pan. 
Add the onions and scallions and cook for about 5 minutes or until the onions begin to turn translucent. 
5
Add the ground venison and cook for 5 minutes or so, breaking it up until there are no longer any chunks.
Add the garlic, Scotch bonnet, salt, sugar, and spices and cook until meat is completely cooked through, another 5-10 minutes. 
Taste for seasoning and add any more salt or chili if you feel it is necessary. You want a very flavourful filling. 
6
Add the breadcrumbs and stir them in. Begin adding water in small splashes until the meat mixture takes on a saucy consistency. If it becomes too soupy, cook it down a little bit. You want it to be moist and saucy, but not spill out of the meat pie when you bite it. 
Take it off the heat and let it cool down. 
To make the patties
7
Preheat oven to 375°F (190°C, gas mark 5). 
Turn the dough out onto a floured surface. Sprinkle flour on the top of the dough and onto a rolling pin. 
Roll the dough out to 1/8″ (3-4mm) thick, using more flour if it gets too sticky. 
8
Use a bowl, glass, pastry cutter, or something to cut the dough into circles. You want them at least 3-5″ (7-12cm) in diameter. 
Spoon out some of the cooled meat mixture into each circle, closer to one side of the circle than the other. The amount you put in depends on the size of your circles. Try not to overstuff them. 
Wet your finger with water and run it around the edge of the circle. Now fold one half of the circle over the meat mixture so it meets evenly with the other side of the circle, forming a half moon. Use a fork to press the edges together, creating a ruffled edge. Make sure they are fully sealed. 
Using the flat of your hand, very gently press down on top of the patty so that it flattens out a bit, being sure not to push so hard that filling comes out. 
Repeat until all of the dough circles have been filled and sealed. You may end up with extra dough. You can discard it, bake it plain, or stuff it with leftovers or something you happen to have at hand. Be creative! 
9
Put the patties onto a foil lined baking sheet (or two) making sure that they aren't touching each other. 
Put into the oven on the middle rack for 30 minutes, spinning the tray(s) 180° halfway through cooking to maintain an even bake. 
10
After 30 minutes, take out the patties and let cool for as long as you can before tearing into them.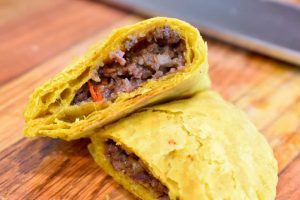 Serve on their own as a snack, or as part of a meal with salad. Enjoy!