Venison with Roquefort-Shrimp Sauce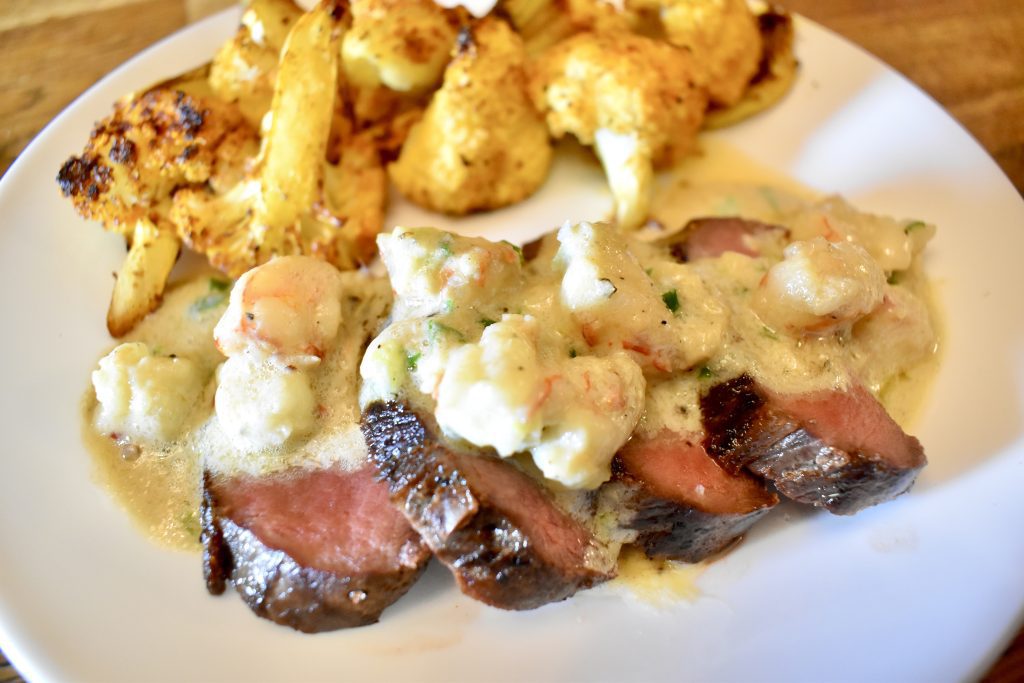 This venison with roquefort shrimp sauce is an elegant and delicious take on surf and turf with a robust blue cheese sauce!
Feel free to change the roquefort to your favourite style of blue cheese, and if you don't have access to venison, I would swap it out for a nice top sirloin steak. 
Prep Time

15 min

Cook Time

10 min

Total Time

25 min

Yield

2 servings
Ingredients
1 6″ (15cm) piece of venison loin (or 2 loin steaks)
Kosher salt
Cracked black pepper
1 tablespoon (15ml) fat or cooking oil
2 tablespoons (28g) butter
2 cloves garlic, minced
1/3 cup (80ml) sherry or white wine
3/4 cup (175ml) half and half cream
6 large raw shrimp, shelled, deveined, and chopped into large pieces (3-4 per shrimp)
1/4 cup (60g) blue cheese (I used creamy and bold roquefort cheese)
1 scallion, green parts only, sliced
Preparation
1
Season the venison loin or steaks generously with salt and pepper on all sides. 
Heat the fat or oil up in a skillet over medium high heat and add the venison. 
Sear on both sides until medium rare (140°F). 
Transfer to plate and let rest while you make the sauce. 
2
Add butter to the same skillet you cooked the venison in, over medium heat. 
Add the garlic and cook for 2 minutes.
Add the sherry or wine, cook 30 seconds, then add the cream, shrimp, and crumble in the blue cheese. Reduce heat to medium-low.
Stir until blue cheese melts and sauce begins to thicken. 
Stir in a few cranks of cracked black pepper and the sliced scallions. 
If sauce breaks (separates into oil and curd), add an ice cube and whisk it in until it reforms).
3
Slice the loin into steaks.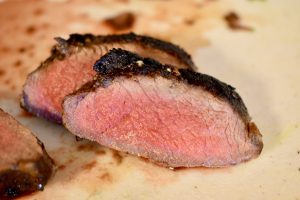 Transfer to plate, then drape the steaks with the shrimp and blue cheese sauce. Serve with a vegetable side like salad, or roasted Cajun cauliflower like I did here. Enjoy!
Notice how I didn't have you scroll through pages of mundane nonsense to get to the recipe? Notice that there were no annoying pop-ups or ads? That was on purpose!
I want finding and using my recipes to be easy for you, not frustrating. That does translate into a lot of lost income for me though. If you made this recipe and loved it, would you consider "buying me a coffee" and donating a buck or two through the Buy Me a Coffee app? It will help me keep pumping out recipes like this one!