Vietnamese Bún with Puffball Mushroom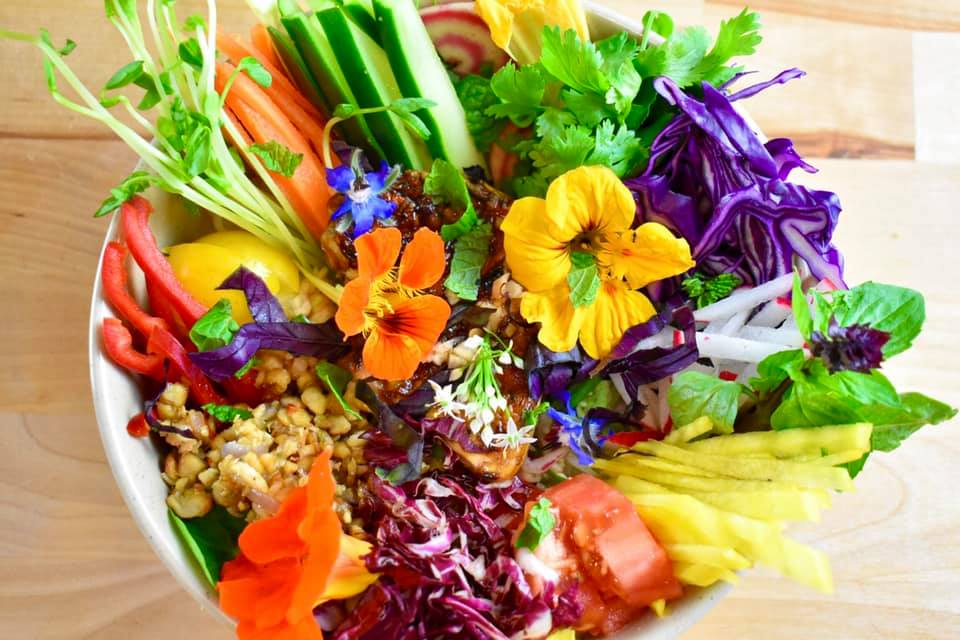 Bún is a traditional Vietnamese dish of rice vermicelli noodles topped with meat, veggies, and sometimes chopped spring rolls. It is served with nước chấm, a bracing sauce made primarily of fish sauce. For my take on this delicious classic, I did away with the meat and spring rolls and instead created two different puffball mushroom toppings, then stuffed as many different coloured edible flowers, herbs, and vegetables as I could fit into the bowl. The result is a real showstopper! If you can't find any puffballs in the wild, you can replace them with white button or portobello mushrooms from the grocery store. 
Prep Time

20 min

Cook Time

10 min

Total Time

30 min

Ready in

30 min
Cuisine

Course

Cooking Method

Suitable for Diet
Ingredients
For the Nước chấm
1 cup hot water
1/4 cup lime juice 
1/4 cup rice vinegar
1/2 cup palm or white sugar 
1/3 cup fish sauce (Vietnamese if possible)
2 cloves of garlic, minced
1 teaspoon to 1 tablespoon of Vietnamese chili garlic sauce (depending on your heat tolerance)*
2 tablespoons thinly shredded carrot (optional)
For the Mushrooms
1 lb (0.5 kg) puffball mushroom (or button/portobello)
2 tablespoons neutral vegetable oil
1 tablespoon lemongrass, minced 
1 tablespoon galangal (or ginger), minced
1 Thai birdseye chili, minced
2 large cloves garlic, minced
1 shallot, minced
1/2 tablespoon fish sauce
1/4 cup kecap manis (thick sweet soy sauce)*
For the Bún
1/2 package of Vietnamese rice vermicelli noodles
The above prepared mushrooms
An assortment of herbs, edible flowers, and vegetables, sliced into bite sized ribbons or pieces. I used:
Cilantro
Thai basil
Purple basil
Chives
Chive flowers
Nasturtium flowers
Nasturtium leaves
Borage flowers
Watermelon radish
Red radish
Red tomato
Yellow tomato
Golden beet 
Chiogga beet
Cucumber
Carrot
Pea sprouts
Bell pepper
Red cabbage
Radicchio
Preparation
For the Nước chấm
1
Combine all of the ingredients and stir until the sugar has all dissolved.
Set aside until everything is ready.
For the Mushrooms
2
Separate the mushroom(s) in half.
Take one half and slice into steaks (1 steak per person). Set aside. 
Take the other half and dice it into roughly 1 cm (1/2 inch) cubes. Don't worry about making them perfect as they will be cooking down. 
3
Pour 1 tablespoon of oil into a frying pan bring up to medium high heat. Add the diced mushrooms, lemongrass, galangal, chili, garlic, and shallot.
Fry, stirring regularly, until mushrooms have reduced in size and all moisture has evaporated, about 5-10 minutes. Once the pan is dry, add the fish sauce and stir to incorporate. Once the pan is dry again, tip the mushrooms into a bowl and set aside. 
4
Pour the other tablespoon of oil into the frying pan and bring back to medium high heat. Add the mushroom steaks and cook until the moisture is gone and a sear starts to develop. Begin brushing on the kecap manis white flipping the steaks every minute or so. This should develop a nice glaze on the mushrooms. Lower the temperature if it wants to burn. Once all of the kecap manis is used up and the mushrooms have taken on a nice dark colour, take off the heat and set aside. 
For the Bún
5
Meanwhile, put the dry noodles into a large bowl and cover with boiling water. Let sit until the noodles are soft and pleasing when you eat one, but not mushy (soaking time will depend on the thickness of noodle you purchased). 
6
Drain the noodles and gently wring out all of the water from them (you can bounce them around in a colander for a while to achieve this, or literally wring them out with your hands). 
Take out a medium serving bowl for each diner. 
Divide the noodles equally between the bowls.
7
Begin arranging the toppings onto the rice noodles. Each bowl gets a mushroom steak, a scoop of diced mushrooms, and artfully arranged herbs, flowers, and vegetables. Play around and use your imagination! 
8
Either serve each bowl with a small bowl of the nuoc cham, or alternatively, drizzle equal amount of it into each bowl before serving. 
Diners toss the noodles, toppings, and sauce together to eat the dish. Serve with sriracha and hoisin sauce. Enjoy!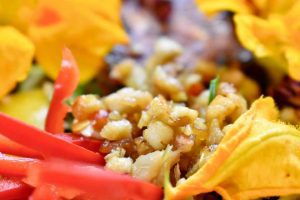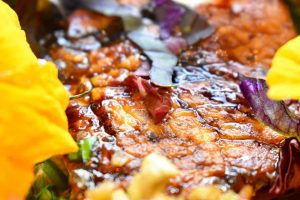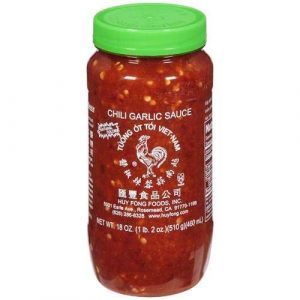 *This is the brand I use. If you can't find it, feel free to use chopped red chilis, or a different chili paste.
*To make your own sweet soy sauce, cook 1/4 cup soy sauce and 1/8 cup brown sugar together until sugar is totally dissolved and the sauce has thickened.