Swiss Chard and Potato Hand Pies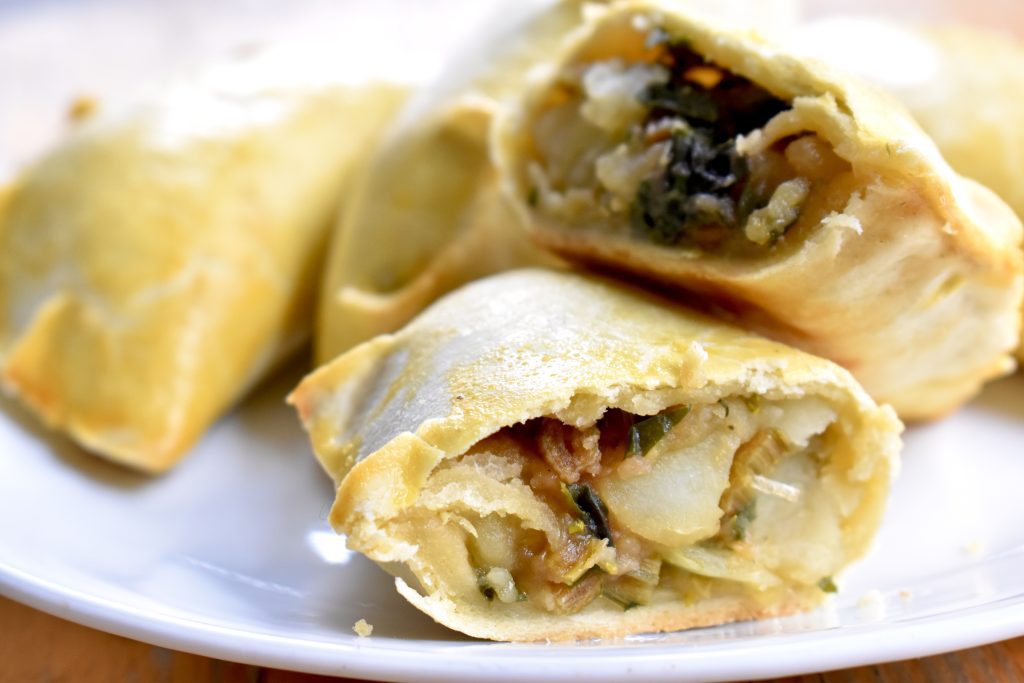 These Swiss chard and potato hand pies make for a delicious and filling meatless snack that will warm up your insides!
Prep Time

45 min

Cook Time

45 min

Total Time

1 hr 30 min

Yield

9-12 hand pies
Cuisine

Course

Cooking Method

Suitable for Diet
Ingredients
For the Filling
1 large russet potato, peeled and roughly chopped
Kosher salt
1 tablespoon butter
1 bunch Swiss chard
1 small onion chopped
3 cloves garlic minced
1 green chili (optional), minced
1 tablespoon fresh dill minced OR 1 teaspoon dried
Black pepper
For the Dough
3 cups all-purpose flour
1/2 teaspoon kosher salt
1 stick butter
1 egg + 1 beaten egg 
1/2 cup water
Preparation
For the Filling
1
Cover potatoes with 2 inches of water in a medium pot and add a pinch of salt.
Bring to a boil, then reduce to a strong simmer and cook until potatoes are tender.
Save 1/2 cup of the cooking water. 
2
Meanwhile, chop the chard ribs, then separately chop the leaves.
Melt the butter in a skillet over medium-high heat.
Add the chard stems and the onion and cook, stirring, for 5 minutes.
Add the chard leaves, garlic, chili, and dill and cook for 5 more minutes.
Transfer the cooked potatoes and reserved cooking liquid to the skillet and chop up the potato chunks with your spatula or spoon while stirring.
Season to taste with salt and pepper and cook until liquid has been absorbed. Let cool. 
For the Dough
4
Add the flour and salt to a large mixing bowl and blend well.
Add the butter and use your fingers to incorporate it into the flour.
Add one egg and start dribbling in the water, mixing everything with your hands until a clumpy dough forms. 
5
Cut the dough in half and roll it into two balls.
Flatten one ball with your hand on a floured surface and roll it out thinly with a rolling pin.
Use a small bowl or pastry cutter to cut out circles about 5″ (12cm) across. 
6
Add about 2 tablespoons of filling to the circle and fold it into a half-moon, pressing the edges together so they seal. 
Pinch the edge to crimp or use a fork to press. 
Continue until you run out of filling. You should end up with 9-12 pies. 
7
Transfer the pies to a baking sheet and brush with the beaten egg.
Bake for 25 minutes or until pies are golden brown. Let cool, then serve. Enjoy!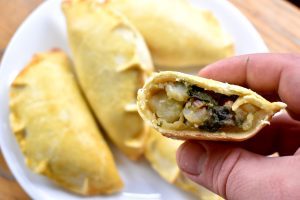 Notice how I didn't have you scroll through pages of mundane nonsense to get to the recipe? Notice that there were no annoying pop-ups or ads? That was on purpose!
I want finding and using my recipes to be easy for you, not frustrating. That does translate into a lot of lost income for me though. If you made this recipe and loved it, would you consider "buying me a coffee" and donating a buck or two through the Buy Me a Coffee app? It will help me keep pumping out recipes like this one!