Smoky Chorizo and Squash Soup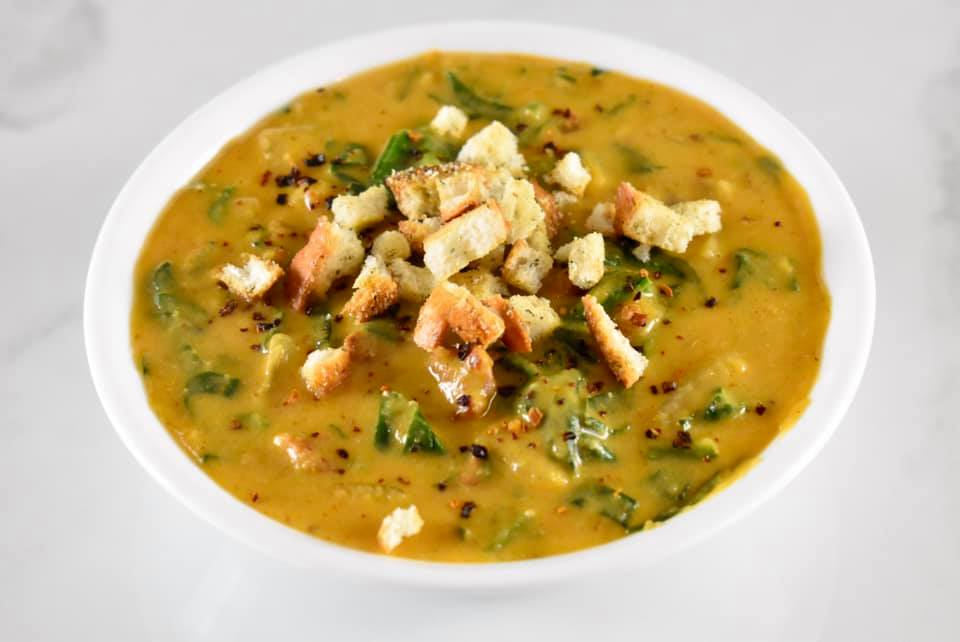 This smoky chorizo and squash soup takes regular puréed squash soup to a whole new level!
Warm, spicy, comforting, it's the perfect thing to take the chill out of  a cold day. 
You can use traditional Mexican pork chorizo, or try it with Portuguese, Spanish, or Argentinian chorizo instead. You could also swap the chorizo out for any other spicy sausage, or for a homemade wild game sausage. 
Prep Time

10 min

Cook Time

35 min

Total Time

45 min

Ready in

45 minutes

Yield

4 servings
Cuisine

Course

Cooking Method

Special Equipment
Ingredients
1 winter squash (acorn, butternut, buttercup, etc.)
1 tablespoon (15ml) + 2 teaspoons (10ml) vegetable oil
2 slices of bread
8oz (225g) chorizo sausage, loose (push the sausage out of its casing if need-be)
1 large onion, chopped
3 cloves garlic, minced
4 cups (120g) raw spinach, chopped
1 teaspoon (2g) cumin powder
1 teaspoon (2g) smoked paprika
1 teaspoon (2g) chili powder
1/2 teaspoon (1g) chipotle chili flakes/powder
1/2 teaspoon (1g) garlic powder
1/2 teaspoon (1g) onion powder
1/2 teaspoon (1g) black pepper
1/2 cup (125ml) whipping cream
2 oz (60g) cheddar or American cheese
Kosher salt
Preparation
1
Preheat oven to 350°F (175°C, gas mark 4)
2
Peel the squash, remove the seeds and gunk, then cut it into wedges.
Transfer the wedges onto a lined baking sheet and toss them in 2 teaspoons (10ml) of the oil. 
Put into oven for about 30 minutes, or until soft. 
3
Meanwhile, add the rest of the oil to a medium pot over medium heat. 
Add the crumbled sausage, and cook until crispy, about 15 minutes. 
Remove the sausage to a bowl or plate and set aside for the time being. Leave the oil behind in the pot. 
Add onions over medium heat and cook until browned, about 10 minutes. Add the garlic, spinach, and spices, as well as the cooked chorizo and cook for another 2 minutes. 
Turn off the heat. 
4
Once the squash is soft, remove from the oven and put into a blender. 
Turn off the oven. Take the 2 slices of bread and put them on the baking sheet and into the (turned off) oven to slowly toast. You want them crunchy like croutons, which should take 10 minutes or so. 
5
Add 1/2 cup (125ml) of water and the cream to the squash, then blend on high until very smooth. 
Pour the liquid over the sausage mixture in the pot and stir everything together well.
Turn on the heat to medium then begin adding water, 1/2 a cup (125ml) at a time until the soup reaches your desired consistency. I like mine pretty thick. 
Add the cheese and stir it in until it is fully melted. Since some sausage is saltier than others, and the amount of water you put it may be different than mine, it's up to you to taste for seasoning. Give the soup a taste and add salt until you're happy with the flavour. 
6
To serve, crumble the toasted bread over the soup to make croutons. Garnish with chipotle flakes or cilantro and serve hot. Enjoy!